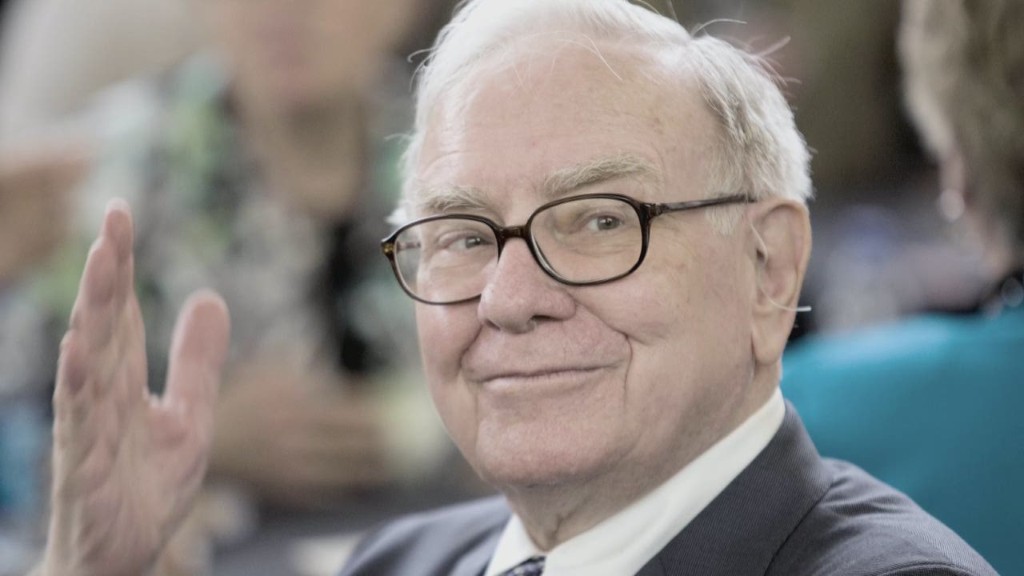 After a tough 2015, Warren Buffett finds himself back in a familiar position -- beating the market.
Both classes of Buffett's Berkshire Hathaway -- the only for the 1% A shares (BRKA)(do you have $219,000 in loose change in your couch cushions?) and the more affordable B shares (BRKB) -- are up nearly 11% this year, compared to just a 2% gain for the S&P 500.
Several of Berkshire's biggest stock holdings -- most notably Kraft Heinz (KHC), IBM (IBM) and Coca-Cola (KO) -- are outperforming the broader market as well, helping to offset the weakness in Wells Fargo (WFC) and other banks Berkshire has stakes in.
That should make for some happy shareholders at the company's annual meeting this weekend in Omaha.
Don't expect Buffett to gloat about this too much though. He and Berkshire vice chairman Charlie Munger both stress the importance of investing in the long haul.
Related: Buffett thinks politicians are way too negative about the U.S.
After all, Berkshire has trounced the broader market for decades.
That's the reason Buffett is revered by the throngs of investors that will flock to Omaha to see him and Munger speak ... and why many more will probably watch the first ever live stream of the presentation on Yahoo Finance.
Here are five things to keep an eye on this weekend.
More big deals? Investors will be listening for clues about what Berkshire might want to acquire next.
Buffett has been on a shopping spree over the past few years, most notably scooping up Heinz with private equity firm 3G and then Kraft, railroad Burlington Northern Santa Fe and aircraft components maker Precision Castparts.
The Precision Castparts deal, worth $37.2 billion, was Berkshire's biggest ever. But Buffett has often hinted in the past few years that he's constantly searching for ways to make Berkshire even larger.
Defending 3G ... and layoffs. Last year, several shareholders grilled Buffett about Berkshire's joint investments with 3G.
3G and Berkshire are the top investors in Kraft Heinz. Berkshire also has a stake in Restaurant Brands (QSR), the company that owns Burger King and Tim Hortons.
But 3G has often announced big layoffs at companies it acquires. There were job cuts at Heinz and then again at Kraft. That seemed to be a problem for some investors who buy into the notion that Buffett is a benevolent Uncle Warren.
Related: Buffett is betting big on oil stocks
In this year's shareholder letter, Buffett issued a stern defense of 3G. He wrote that the firm winds up "eliminating many unnecessary costs" at companies it purchases. And he said it's possible Berkshire and 3G could team up again.
Bashing Trump? Buffett, a Democrat, has already issued his support for Hillary Clinton in the race for president.
And even though Munger leans more to the right, he does not appear to be a fan of Republican frontrunner Donald Trump.
At this year's annual shareholder meeting of Daily Journal, a newspaper publisher that Munger is chairman of, Munger blasted Trump as not being "morally qualified" to sit in the Oval Office. Will this year's shareholder meeting turn into a Hillary rally?
Leaving home without AmEx? American Express is one of Berkshire's biggest investments. But the company has struggled for the past few years.
AmEx (AXP) has lost several key credit card partners, including Costco (COST) and JetBlue (JBLU). There are also concerns that AmEx may lose hotel chain Starwood (HOT) -- which is merging with Marriott (MAR), whose rewards card is backed by JPMorgan Chase (JPM) and Visa (V).
Buffett has gone out of his way to praise AmEx and CEO Ken Chenault in the past. But is Buffett's (and Munger's) patience finally wearing thin? AmEx has bounced back from its lows along with the rest of the market. But the stock is still down year-to-date.
Who is the next Warren? This will be the 51st annual Berkshire meeting. Buffett is now 85.
You don't need to be a numbers whiz to deduce that -- barring major advances in cryogenics --the odds are against 15, let alone 51, more meetings with Buffett at the helm. (I am looking forward to the 57th meeting in 2022 given the possible Heinz tie-ns.)
Buffett has coyly suggested that he knows who will take over for him. Hint. It's not Munger, who is 92.
Related: Berkshire Hathaway to livestream shareholder meeting
And Munger wrote last year that he thought two Berkshire lieutenants -- insurance head Ajit Jain and Greg Abel, who runs Berkshire's utilities -- were both "proven performers" that were in some ways even better executives than Buffett.
Many investors interpreted this to be a sign that Buffett wants an executive with expertise in running companies -- as opposed to investment managers Ted Weschler and Todd Combs -- to take over as Berkshire CEO.
So it will be interesting to see if either Buffett or Munger give any more hints this weekend.