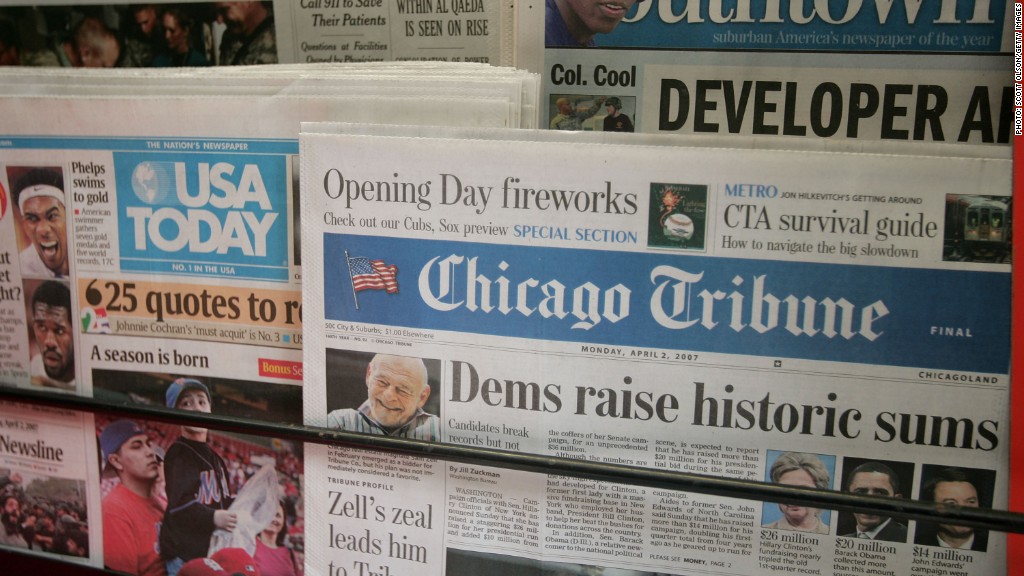 Gannett just made Tribune Publishing an offer it probably can't refuse.
On Monday, it announced an all-cash offer -- $425 million, plus the assumption of $390 million in debt -- that translates to a nearly 70% share-price increase on what Tribune (TPUB) was selling for just three months ago.
"Tribune has to say yes, or they have to find a higher offer," one newspaper industry veteran said. "There's no other way out."
That has some media insiders fearing for one paper in particular: The Los Angeles Times.
Under Gannett (GCI), these people say, the already beleaguered L.A. Times runs the risk of losing what national footprint it still has and becoming just another local paper in the sprawling "USA Today Network."
Gannett's current strategy has USA Today providing the company's nearly 100 local papers with a one-size-fits-all supplement of national and international news. This allows Gannett to save money and gives papers like The Baxter Bulletin and The Great Falls Tribune content they couldn't produce on their own.
But Gannett has never owned a major-market paper like the L.A. Times -- a paper that has the fourth biggest circulation in the country, still harbors national ambitions, and has a legacy of providing its own coverage from around the country and around the globe.
"The Gannett model has been to take that USA Today section and put it into all of their papers, which works if you're in Cincinnati or Des Moines," a Gannett veteran said. "But how do you make that work in L.A.?"
According to some, it doesn't. In a worst-case scenario, Gannett reduces the L.A. Times' editorial staff to a regional level, gutting what foreign and national bureaus it still has left and supplementing local coverage with USA Today content.
"What do you do with the foreign bureaus, the Washington bureau, the national stuff?" one insider asked. "There's a major cost-saving incentive there to put a bullet in it."
A Gannett spokesperson did not respond to a request for an interview.
Perhaps no one fears the USA Today influence more than the local power-brokers who tried to buy the paper away from Tribune just last year. That group, led by the billionaire philanthropist Eli Broad, had hoped to buy the Times and other southern California papers and turn them into the Golden State's most powerful private media company.
That group may stage another bid to acquire the Times from Gannett. But its ability to do so depends on whether Gannett decides that the Times is a cornerstone of its expansion strategy. And given the hefty premium it just offered for Tribune, it's not clear why Gannett would move to jettison the largest paper in the deal.
Whatever the case, Broad et al haven't waved the white flag yet, sources said.
"The big fight for Gannett is going to the local fight in L.A.," the Gannett veteran said. "The Broads of the world and the Angelenos in general aren't going to want a USA Today-ified L.A. Times."