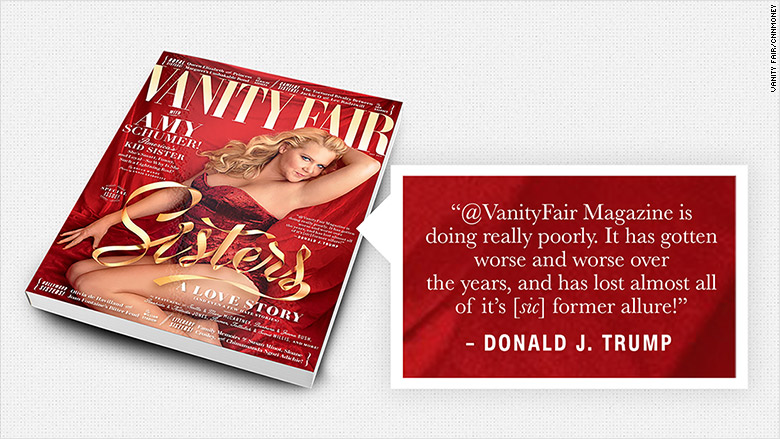 Graydon Carter has a message for his nemesis Donald Trump. And it's printed right on the cover of the May issue of Carter's magazine, Vanity Fair.
Appearing next to the magazine's cover star, Amy Schumer, is a mean Trump tweet about the magazine.
"Vanity Fair Magazine is doing really poorly. It has gotten worse and worse over the year, and has lost almost all of it's former allure!"
Carter turned the insult into a reason to check out his magazine cover.
"Each month, Vanity Fair chooses a quote to place on its cover -- a line from a notable figure that nods to what is inside the issue or playing out in the news," Vanity Fair's Emily Jane Fox wrote Monday. "But given that Trump has spent so much time featuring Vanity Fair and its editor, Graydon Carter, in his daily Twitter musings, it only made sense to acknowledge the years-long 140-character missives he has been launching at what must be his favorite magazine for the first time."
Trump posted the tweet last November. He has blasted Vanity Fair for years, sometimes predicting Carter's imminent dismissal and the magazine's imminent demise.
Neither prognostication has come true yet.
In a couple of dozen tweets at various times since 2012, Trump has lambasted Carter for having "no talent," for being a "real loser," and for being "sleepy" and "dopey." Once he wrote that "Graydon Carter is a major loser, just ask his wife!"
The feud between the two New York City A-listers dates back more than 25 years, to the days when Trump was a brash real estate billionaire on the rise and Carter was co-editing Spy, the legendary satirical magazine he founded with Kurt Andersen.
Carter is credited with coining the phrase "short-fingered vulgarian" to describe Trump in 1988. And Trump has never forgotten it.
Related: The joke about Donald Trump's hands goes back nearly 30 years
Carter recounted his history with Trump in his editor's note in Vanity Fair's November issue.
"The myriad vulgarities of Donald Trump -- examples of which are retailed daily on Web sites and front pages these days -- are not news to those of us who have been living downwind of him for any period of time," he wrote.
The timing of the May cover is intriguing. The issue is coming out just a few days before the annual White House Correspondents' Dinner in Washington. Vanity Fair and Bloomberg host the most exclusive party of the dinner weekend.
And Trump has a history at the dinner: When he attended in 2011, he was the butt of several jokes by President Obama.
The New York Times reported last month that that "evening of public abasement, rather than sending Mr. Trump away, accelerated his ferocious efforts to gain stature within the political world. And it captured the degree to which Mr. Trump's campaign is driven by a deep yearning sometimes obscured by his bluster and bragging: a desire to be taken seriously."
Carter, for one, has always refused to take Trump seriously.