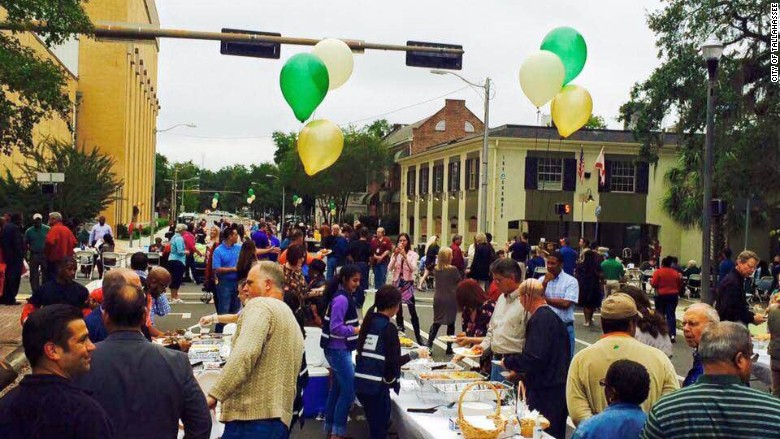 Innovation is happening in cities across the country.
From Akron, Ohio, to St. Paul, Minnesota, entrepreneurs, activists and designers are quietly collaborating on ways to reimagine the places where they live and work.
The Knight Foundation's Cities Challenge rewards these innovators.
One group wants to host communal dinners for city residents; another wants to create a park under an old railway.
For the second year, the foundation has awarded grants to projects that are devoted to improving their communities.
Related: Most innovative cities in America
This year, 37 projects from 19 cities won a total of $5 million. But the scope of the projects was even greater: More than 4,500 groups submitted their takes on innovation (from the 26 cities where the Knight brothers used to own newspapers).
Here are a few of the winning projects:
Using communal dinners to bond the community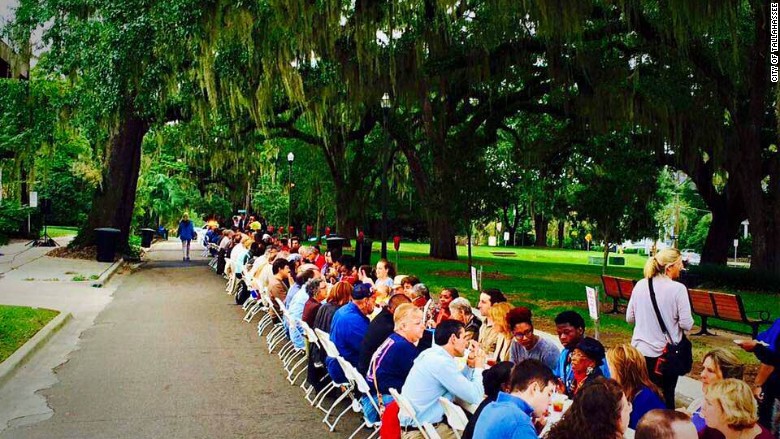 Last year, Tallahassee, Florida, hosted a large-scale communal dinner called The Longest Table, on a "table" that stretched two-and-a-half city blocks and served 400 residents.
It was the brainchild of Tallahassee Mayor Andrew Gillum.
"There were so many incidents that happened last year -- in Ferguson, Baltimore and elsewhere -- that were making the country feel divided," said Gillum. "People felt like they were not being heard or respected." It gave him pause.
"I felt we needed to move the dial in our own community, which is so diverse in race and economic status," he said. "We wanted get people who don't know each other to come together, break bread and have conversations."
Related: Urban infrastructure gets a second life
The city is repeating the event this year in October. And with The Knight Foundation's grant of $57,250, Gillum is adding a second event called "100 homes."
"We're asking 100 households in Tallahassee to entertain 6 to 10 people they don't know for dinner," said Gillum, who will be hosting one of the dinners at his home.
The grant money, he said, will help volunteer families who otherwise can't afford it buy groceries to host the dinners, which will take place simultaneously on June 26.
Reusing materials from vacant homes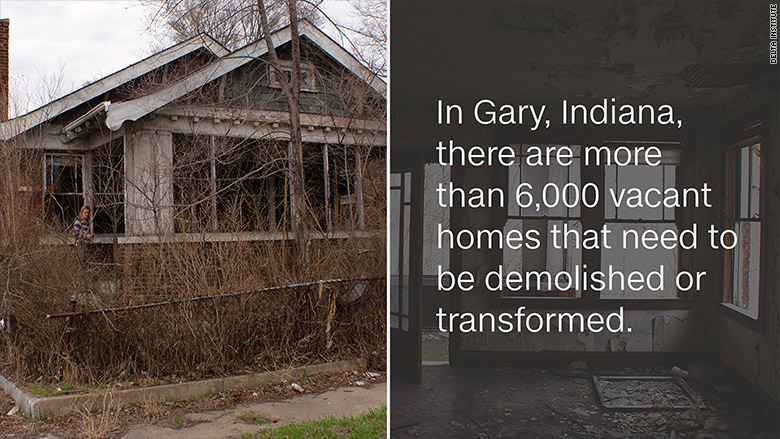 In Gary, Indiana, there are more than 6,000 vacant homes that need to be demolished or transformed.
"Gary is typical of a legacy city," said Eve Pytel, director with the Delta Institute, a nonprofit that helps cities on sustainability initiatives.
"It was a former industrial powerhouse that over time lost its businesses and was faced with challenges like joblessness and residents leaving," she said.
This resulted in thousands of blighted properties.
Related: America's abandoned factories in hot demand
These homes are not worthless, said Pytel. On the contrary, there's still tremendous value in the lumber, cabinetry, windows and doors.
"We toured 100 properties marked by the city for demolition," she said. "By our lowest estimates, we think there's at least $13 million worth of reuseable material in hundreds of these homes that will be demolished."
Delta has partnered with the city to pilot a program called Steel City Salvage, which will salvage materials from 12 homes.
The Institute received a $385,000 grant from The Knight Foundation for its initiative, which will help establish a reuse facility.
"The materials could be transformed into artwork by artisans, or used in other projects that would create jobs and support local businesses in Gary," she said.
Using tree debris to provide skills for the homeless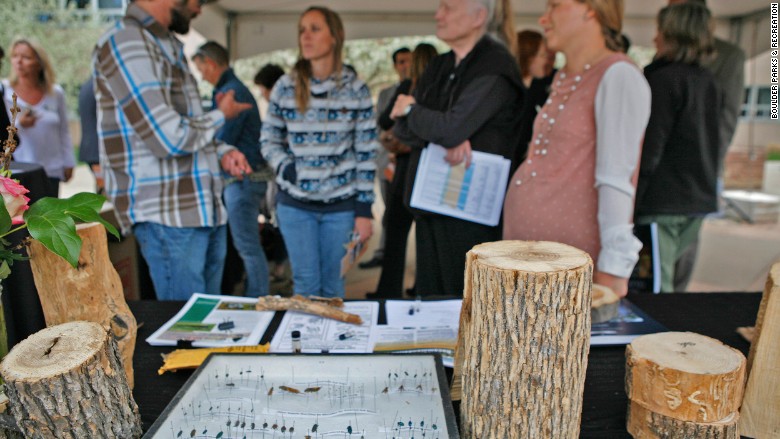 In Boulder, Colorado, the Emerald Ash Borer beetle infestation has killed millions of the native ash trees since 2013.
"It has destroyed 11% of the trees in public spaces and 15% of the trees in private areas," said Yvette Bowden, director of the Boulder Parks and Recreation department.
The city has been trying to figure out what to do with the dead trees.
"We wanted to prevent them from ending up in the yard as waste," she said. "As a community, we want to work together to repurpose the trees."
Related: How these 5 startups are reimagining the world
The city's Tree Debris to Opportunity initiative, which won $200,000 from The Knight Foundation, aims to do that.
Bowden said the money will be used to run three pilot programs over 18 months in which people from Boulder's homeless population will be trained with skills to repurpose the wood.
"The classes will teach them how to turn the debris from diseased trees into furniture, art, cutting boards and other products," she said. "We want the program to also enable them to find a viable job later on."
Pop-up plazas for people to congregate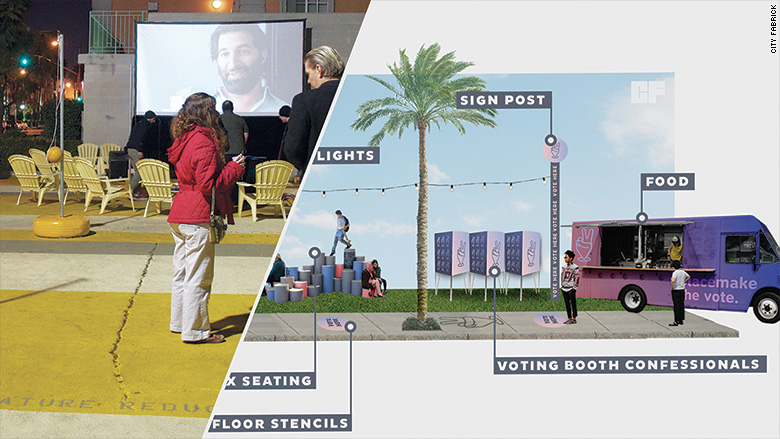 Imagine being able to quickly erect a pop-up plaza where city residents could congregate to discuss important civic issues.
"It's what we are hoping we can develop for cities with our pop-up kit for creating social spaces," said Brian Ulaszewski, executive director of City Fabrick, a nonprofit design studio in Long Beach, California.
City Fabrick received $153,000 from The Knight Foundation for its Place-make the Vote initiative.
The idea is to create temporary social spaces near polling stations where there has historically been a low voter turnout.
"By creating these spaces, we want to facilitate voter registration and educate people about the importance of voting," said Ulaszewski, adding that he hoped to have at least four pop-up plazas ready for the general election in November.
"It's amazing how easy it is to create these spaces using just a few cans of paint and plastic furniture," he said.
Transforming vacant space into an urban park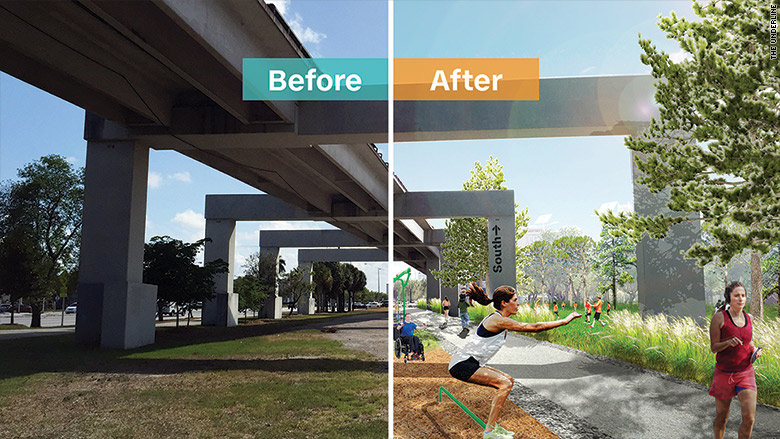 The Metrorail, which runs on an elevated track in Miami-Dade County, is 26 miles long. The space underneath most of is unused.
Meg Daly's vision is to transform 10 miles of it into an urban park called The Underline.
"It would be the only linear park in the country that's connected to a mass transit system," she said.
The transformation is necessary for the community, said Daly.
"Miami-Dade County is the fourth most dangerous in the country for pedestrians and the most dangerous place in the state for bicyclists," she said. "The infrastructure isn't there to safely allow these activities."
The Underline would include pedestrian and bike paths and 100 acres of open space with gardens, open air gyms, dog parks and play areas for kids.
Daly, through her Friends of the Underline nonprofit, has already raised $7 million for the project, which she estimates will cost $80 million overall. The initiative received $250,000 from The Knight Foundation, which will fund an outdoor gym.
"A lot of young people live here. A public urban amenity like this will attract more young talent because it will improve their quality of life," she said. "But it will take a village to get it done."
Pop-Up Minimum Grid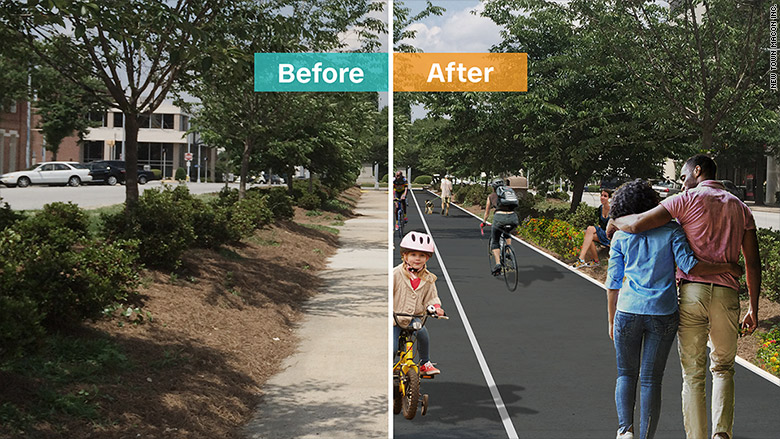 Downtown Macon, Georgia, has undergone a revitalization that's attracted more restaurants, bars and music venues to the area.
"It''s a beautiful, historic downtown that was brought back to life five years ago, especially to attract more young people," said Josh Rogers, CEO of New Town Macon, which is working to make downtown Macon more desirable.
The area is highly walkable, but still has challenges, primarily that sidewalks aren't for walking and cycling.
"Macon has one of the highest pedestrian death rates in all of Georgia," Rogers said.
So New Town Macon wants to create a Pop-up Minimum Grid initiative, for which it received $151,900 from The Knight Foundation. It's a two-day exhibit that would transform part of downtown by creating two paths -- one for walking, one for cycling -- and beautifying it with seasonal foliage and signs.
Rogers said the idea is to show the city how the sidewalk can be adapted to better accommodate foot traffic and cyclists.