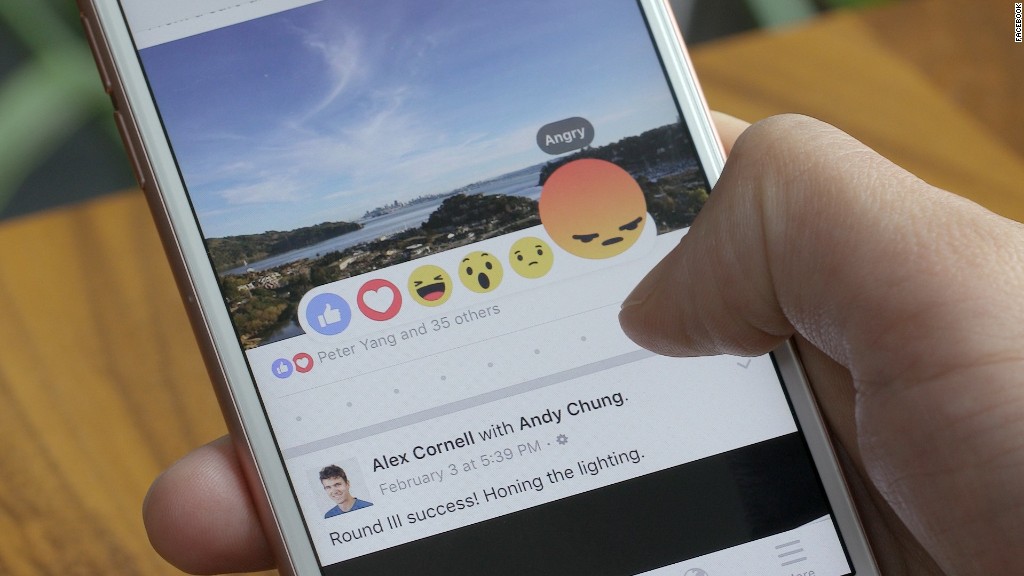 Remember the FANG stocks that were all the rage in 2015?
Facebook. Amazon. Netflix. Google. These four titans of the Internet were market leaders last year. Hence the cutesy acronym.
FANG has lost its bite this year though. In fact, you could now just call the group F. Facebook is the only one of this formerly Fab Four in positive territory in 2016.
Facebook is also trouncing social media rivals Twitter (TWTR) and LinkedIn (LNKD). Their stocks have plunged this year.
So will Facebook keep rallying after its earnings report on Wednesday?
The company is doing extremely well. There is no doubt about that. Earnings and revenue are each expected to increase by nearly 50% from a year ago.
But Facebook probably needs to surpass Wall Street's forecasts.
Related: Beyonce isn't going to save Twitter
Google parent Alphabet missed on sales when it reported its results last week. And it paid a steep price. Shares plunged nearly 5.5%.
Here are some of the things that Wall Street will be focusing on.
Strength in the core: Facebook finished the fourth quarter with 1.59 billion monthly active users.
That number has tended to grow by about 2.5% to 4% for the past few quarters. So Facebook probably needs to report a monthly active user total somewhere between 1.63 and 1.6 billion or investors may be disappointed.
Mobile: The vast majority of Facebook's growth in both users and advertising dollars is coming from mobile. That trend needs to continue.
In the fourth quarter, mobile users accounted for 80% of overall ad revenue, up from 69% a year ago.
Instagram: Analysts will also be paying close attention to what's going on at Instagram due to concerns that rival social media service Snapchat is becoming more influential with younger users.
Related: Google got pounded by the strong dollar
Facebook acquired Instagram for what now looks like a steal -- $1 billion -- shortly before it went public in 2012. But any signs of a slowdown at the photo and video sharing site could be a cause for concern.
Messaging: Facebook has both its own Messenger standalone app as well as WhatsApp, a popular messaging site that it acquired for $19 billion in 2014.
Investors will be paying close attention for any more information about how many users both services have -- as well as an update on plans to monetize them.
CEO Mark Zuckerberg unveiled plans for chatbots at the F8 developer's conference earlier this month -- ways for Facebook users to "talk" directly to businesses about any questions they have and potentially even buy things directly from Facebook.
Virtual insanity: Wall Street will be hoping for more details about how the company's Oculus Rift headsets are selling -- even though Facebook CFO David Wehner said in January that Oculus revenue wouldn't be material this year.
Related: Zuckerberg talks drones and bots
Facebook acquired the virtual reality company in 2014 for $2 billion. And Zuckerberg spent a lot of time at F8 discussing how Facebook planned to become an even bigger player in video and virtual reality.
The company is unlikely to drop any hints about future deals it plans to make during the earnings call. But don't be surprised if Facebook makes even more acquisitions in this area as well.
After all, the company had $18.4 billion in cash as of the end of the fourth quarter -- and that number is now probably closer to $20 billion.