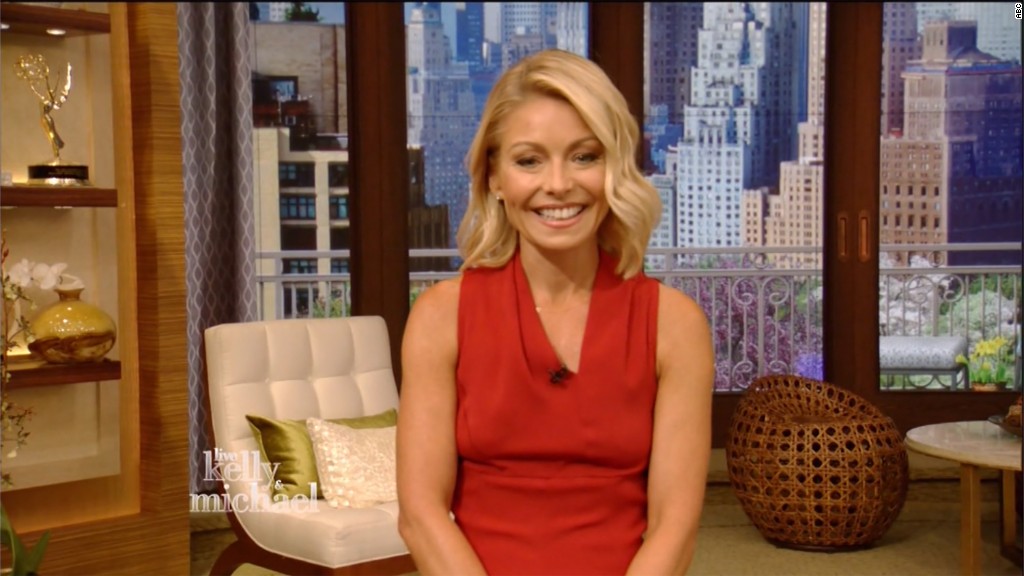 Kelly Ripa is back on "Live with Kelly and Michael." But Michael Strahan won't be there much longer.
ABC confirmed on Tuesday afternoon that Strahan is leaving the talk show on May 13 -- several months sooner than originally expected.
Strahan was originally set to leave the show in the late summer and start full-time on "Good Morning America" in September.
But not anymore.
"After meeting with the producers of both 'Live' and "GMA,' and after speaking with Kelly and Michael, we have decided on a plan that best advantages both shows for the future," an ABC spokesman said.
"To that end, Michael's last day on 'Live' will be on Friday, May 13, which not only gives the show the chance to have a nice send-off for him during the May book, but to also immediately begin the on-air search for a new co-host," ABC said. "This plan also allows GMA to start integrating Michael into the show more often this summer before his full-time start in September."
ABC had previously said that it would start on-air tryouts in the fall. People magazine was the first to report the change in plans.
Gossip columns have been filled with items about alleged tension between Ripa and Strahan.
On Tuesday's show, Ripa and Strahan complimented each other, but fans sensed that something wasn't quite right.
Ripa triumphantly returned the show after a week-long absence and an unusual dispute with the Walt Disney Company (DIS).
She spoke candidly about it on Tuesday, confirming that Disney and ABC executives apologized to her for keeping her in the dark about Strahan's impending exit.
"Our parent company has assured me that 'Live' is a priority," she said.
Ripa said the dispute with ABC started a "much greater conversation" across the country "about communication and consideration and, most importantly, respect in the workplace."
Read full transcript of what Kelly Ripa said
Ripa walked on set dressed head to toe in red. In an unusual start to the show, she stood alone, away from Strahan, and acknowledged the widespread news reports about her sick-out.
"I needed a couple of days to gather my thoughts. After 26 years with this company, I earned the right," she said.
"And let's be honest," she jokingly said to the studio audience, "I know half of you called in sick to be here, so we get each other."
The former actress sought to diffuse tensions with humor. Her first words were "Our long national nightmare is over."
And she profusely congratulated Strahan for his new full-time role on ABC's "GMA" -- which is what started the controversy.
"I am thrilled for you," she said, looking across the studio at him.
But the camera stayed on Ripa the whole time during her comments -- a demonstration that ABC wanted to get this moment right.
After her remarks, the show got back to its usual business. "Back to regularly scheduled programming now," one source close to the program said.
That's what ABC wants. But time will tell whether Ripa or the viewing public hold any lasting grudges.
The public dispute started last Tuesday when ABC announced Strahan's move. It had been in the works for weeks; "GMA" co-hosts Robin Roberts and George Stephanopoulos knew in advance. But ABC management decided to withhold the information from Ripa. She found out just half an hour before the news leaked out.
Ripa was "beyond angry," a source said afterward, primarily because she felt disrespected by ABC.
Ripa skipped work for the rest of the week, sending the producers scrambling to find fill-in hosts.
Disney-ABC Television Group president Ben Sherwood and his deputies had deliberated about when and how to tell Ripa, believing that she would be disappointed by the news no matter when she was told.
But they subsequently acknowledged that they "misfired."
As speculation mounted about when -- or if -- Ripa would return to work, Sherwood and other top executives apologized to her.
As she recounted on Tuesday morning, they assured her that "there is a commitment to this show; to the people who work here; and most importantly, to you, the viewers."
The communication helped get Ripa back to her talk show table -- since faulty communication was the original problem.
Questions linger about whether last week's dust-up with ABC makes Ripa more likely to leave "Live" when her contract is up, either later this year or sometime next year.