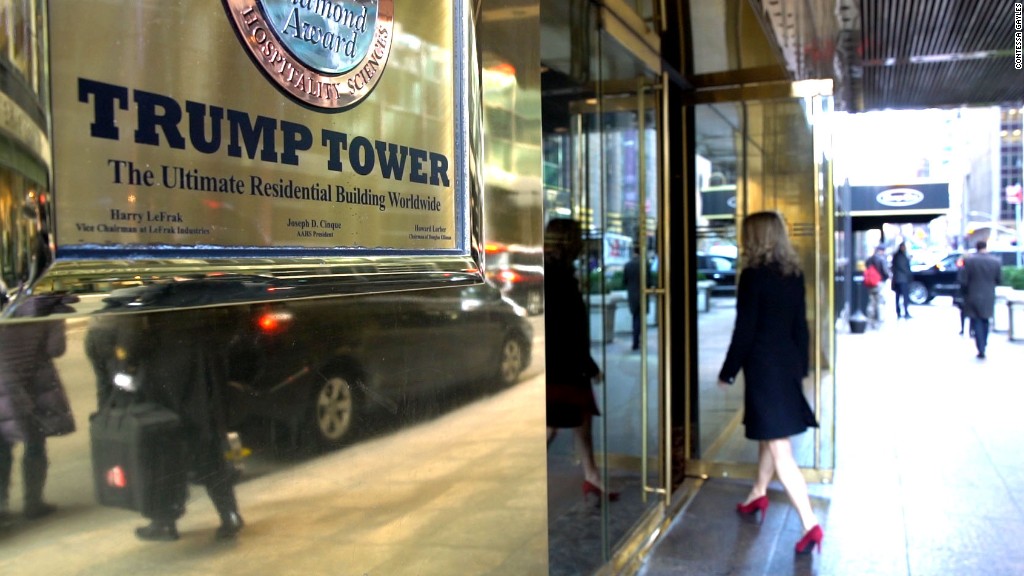 Dozens of the world's most famous people mingled at the Time 100 gala on Tuesday night, but one man towered over the rest: Donald Trump.
The GOP frontrunner arrived late and left early -- "I'm gonna go give a speech," he casually told his tablemates -- but he was the center of attention all night long. The final performer, Nicki Minaj, jokingly dedicated a song to Trump and Joe Biden, long after Trump had exited.
In conversations with well-wishers, selfie-takers and journalists, Trump seemed to be rehearsing comments for his victory speech later in the evening. Informed that he was winning over 60% of the vote in some of Tuesday's five primary states, he repeatedly said, "Don't forget, that's with three people" in the race.
Trump was in his element at the gala, which Time magazine holds each year to celebrate its "100 Most Influential People" list. Not surprisingly, Trump was on the list.
Unusually tight security at the venue, midtown Manhattan's Jazz at Lincoln Center, was an early sign that he was expected to attend. During the cocktail hour, attendees traded guesses about whether he would actually stop by, and photographers lingered at the foot of the main staircase, awaiting his arrival.
There was some tongue-bitting involved when Trump's name came up; other power brokers in the room included Samantha Power, Rand Paul, Wendi Murdoch, Arianna Huffington, Karlie Kloss, David Chang, Nick Kristof, and David Koch.
Perhaps most intriguingly, RNC chairman Reince Priebus -- a fellow Time 100 honoree -- arrived early and was peppered with questions about the night's primaries.
As the networks were just beginning to project Trump's state-by-state victories at 8 p.m., the candidate walked one of the red carpets with his wife Melania, flashing his thumbs-up sign and stopping for numerous interviews.
They sat down at table 12 just in time for opening remarks -- and just in time for other attendees to snap photos of the couple and text them to friends.
Manhattan media parties don't get much glitzier than the Time 100. As singer Ariana Grande took the stage for a four-song set, it had the feel of date night, especially with Melania celebrating a birthday. Trump swayed along to Grande's song "Dangerous Woman" and occasionally leaned over to speak with Time Inc. chief content officer Norman Pearlstine, who was seated next to him.
When the program paused and dinner was served, a crowd formed around Trump immediately.
Related: Megyn Kelly lands Donald Trump interview
Martha Stewart leaned over a railing to greet him.
Emily Smith and Keith Kelly of the New York Post took notes.
Charlie Rose and his "CBS This Morning" co-host Gayle King both urged him to come on the morning show.
Chris Licht, formerly Rose and King's executive producer, told Trump about his new job running Stephen Colbert's "Late Show."
And Priebus, who was seated just one table away at the dinner, leaned over to tell Trump something privately.
"We had a clean sweep tonight," Trump told a circle of attendees.
"We're getting there," he said to Pearlstine.
The Trumps' steak dinners went untouched. The clock ticked past 9 p.m., the original time for Trump's victory speech.
"The anti-establishment populist is late to his victory speech because he was at a Manhattan party hosted by Time Magazine," Bloomberg View columnist Eli Lake tweeted.
At one point, Trump remarked that he wanted to stay longer, but had to head across town. He began to make a move toward the exit, but not before another dozen photographs and selfies.
Priebus, a few feet away, interrupted a conversation with Rose to say bye. The two men whispered, and then Trump called Rose over, knowing the newsman wanted to eavesdrop. Trump reiterated his earlier point: that he wasn't just winning in each state, he was winning by over 50% in each state.
"I'll talk to you tomorrow," Trump said to Priebus, and with that, he headed home to Trump Tower. The room instantly had less energy. But Trump was invoked again a few minutes later, during after-dinner speeches, when Caitlyn Jenner mentioned the ongoing controversy about so-called "bathroom bills" in some southern states.
Trump said last week on the "Today" show that Jenner could use any bathroom in Trump Tower that she chooses, and Jenner revealed she stopped by the building for a bathroom break earlier in the day. It was hard to tell if she was joking.
Meanwhile, over at his victory party, Trump took questions from reporters and called Priebus "a very good man." The change in tone was notable; two weeks ago, the candidate said the chairman "should be ashamed of himself" for presiding over an unfair nomination process.
Trump also had kind words for journalists, perhaps because he had just come from an event where a national magazine had honored him and TV hosts had lined up to ask for interviews.
"I want to thank the media... The media has covered my very fairly over the last few weeks."