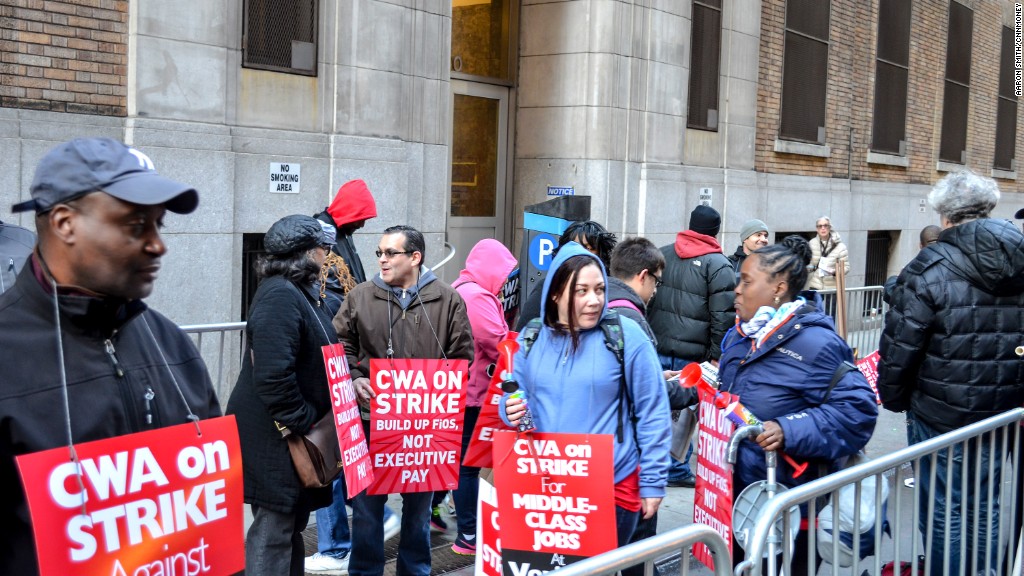 Cord-cutting has been taken to a new extreme at Verizon -- and the company is suggesting striking workers are to blame.
Verizon (VZ) said Wednesday it is investigating 57 instances of network sabotage and other criminal activity during the two weeks since 36,000 workers walked off the job.
In a normal year, the company said such incidents are "rare," with just about six or so reported. But Verizon said the nefarious activity has "accelerated" since the strike began on April 13.
Verizon said the criminal incidents have taken place across five states and includes "intentionally damaging Verizon equipment," vandalizing terminal boxes and "severing" fiber-optic cables.
For instance, Verizon said vandals in Salisbury, MA sliced wires inside a terminal that provided 911 emergency services to local residents. Service was later restored. There have been 17 incidents alone in New Jersey, mostly in the northern part of the state, Verizon said.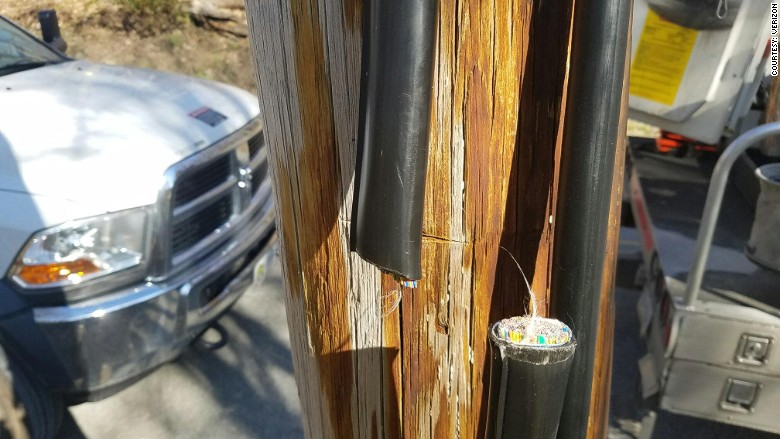 Related: Verizon workers: 'Why I'm on strike'
Verizon hasn't found the perpetrators but it says "these malicious actions take place as Verizon is experiencing a strike, now in its 15th day." The company said it's working with authorities to pursue criminal charges.
"These are criminal activities, affecting people's safety and putting lives at risk," Michael Mason, Verizon's chief security officer, said in a statement.
The Communications Workers of America, the Verizon union on strike, noted that regulators have criticized the company in the past for failing to keep up with maintenance issues and wear and tear.
"Sadly, Verizon executives want to blame problems on the men and women who are building the company's massive profits, but the fact remains that it is Verizon executives who are shortchanging customers and workers alike," the union said in a statement.
Verizon made similar claims of sabotage in 2011 during an even larger strike that involved 45,000 workers. At that time Verizon said a police station and a hospital lost service after phone lines were cut. It led to an FBI investigation. The CWA condemned those acts, saying it does not condone illegal action of any kind.
Related: Verizon CEO says Bernie Sanders 'disconnected from reality'
Verizon is currently offering rewards of up to $10,000 for information leading to the arrest and prosecution of those who intentionally damage the telecom giant's equipment. The company urged anyone who witnesses sabotage to call 911.
The Verizon strike, the largest in the U.S. since the 2011 Verizon strike, involves mostly workers who service Verizon's landline phone business and FiOS broadband services.
Verizon workers are upset over jobs being shipped overseas to Mexico and other countries, as well as the company hiring low-wage, non-union contractors.
-- CNNMoney's Aaron Smith and David Goldman contributed to this report.