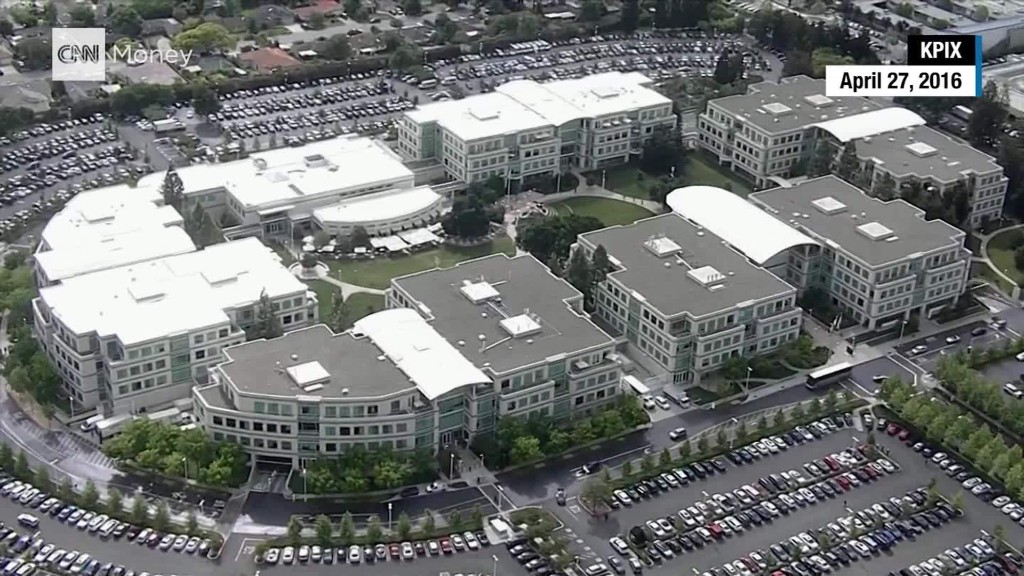 An Apple employee was found dead in a conference room at the company's Cupertino headquarters this morning.
Deputies from the Santa Clara County Sheriff's department were called to 1 Infinite Loop around 8:35 a.m. on Wednesday. They found a man inside an Apple (AAPL) conference room and declared him dead at the site, Sergeant Andrea Urena said at a press conference Wednesday afternoon.
"We are heartbroken by the tragic loss of a young and talented coworker," Apple spokeswoman Kristin Huguet said in a statement without providing further details on the man's identity.
The police wouldn't say how the employee died. Authorities are not searching for any suspects, though they are interviewing people on campus.
Related: Apple's iPhone sales sink for the first time ever last quarter
Deputies determined that there were "no other individuals involved," Urena said. "They believe it was an isolated incident and that there was nobody else on the campus or in the public that are at risk."
The Santa Clara County Coroner's Office will conduct an investigation into the incident and determine the cause of death. The Apple building remains open for business.
"Our thoughts and deepest sympathies go out to his family and friends, including the many people he worked with here at Apple," Huguet said. "We are working to support them however we can in this difficult time."
The incident comes one day after Apple announced disappointing earnings. It was the company's worst quarter in over a decade.
--Hope King and Jethro Mullen contributed reporting.