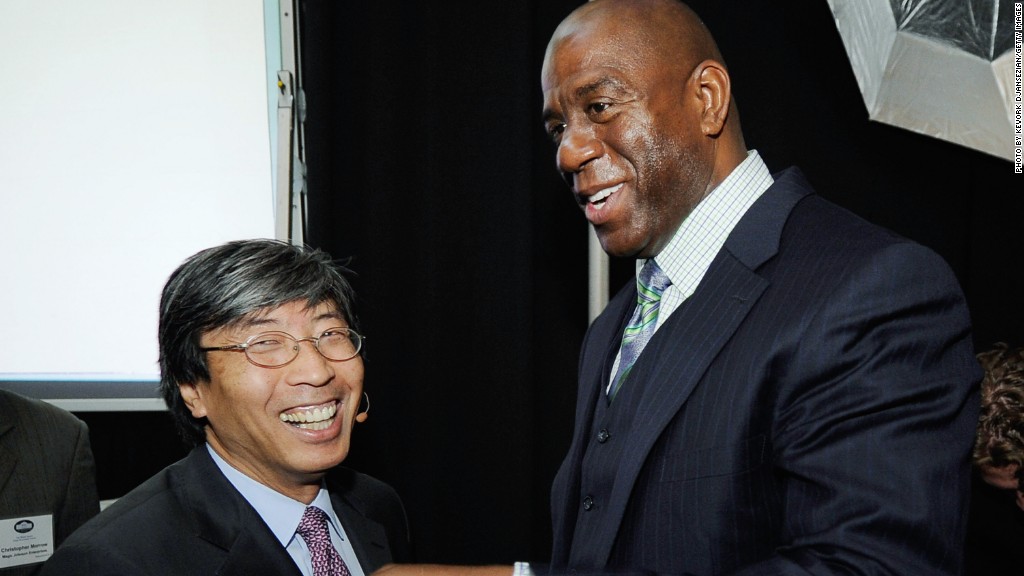 A little-known cancer-fighting biotech firm with little revenue and no approved drugs has lavished a $148 million pay package on its billionaire CEO.
NantKwest (NK), which last year became the most valuable biotech IPO ever, is rewarding CEO and majority shareholder Patrick Soon-Shiong with $132.2 million in stock options and $15 million in stock awards for 2015.
The mega payday, announced in a filing on Wednesday, is believed to be the biggest reported compensation package of last year, exceeding the $100 million given to Google (GOOG) CEO Sundar Pichai.
In a statement to CNNMoney, NanKwest noted that Soon-Shiong earned $1 in base salary and the stock awards were mostly tied to "strategic milestones."
Soon-Shiong is also part-owner of the Los Angeles Lakers and is reported to be a brilliant surgeon who Forbes says is worth $12.1 billion. He amassed that fortune by founding a pair of drug companies that were later sold.
Soon-Shiong, who was born in South Africa and came to the U.S. over 30 years ago, owned 58.1% of NantKwest's stock as of the end of 2015.
The $148 million pay package is sure to raise eyebrows though. NantKwest went public in July 2015, just months before the universe of biotech stocks crashed amid a focus on overpriced drugs. The company's $2.6 billion valuation at the time of the IPO was the largest ever for a biotech firm, according to Renaissance Capital.
Related: Priceline CEO out over affair with employee
NantKwest is attempting to harness natural killer cells to treat cancer and other infectious diseases. However, the company still does not have any approved drugs and generated just $14 million in sales in the final three months of 2015.
Its stock price peaked at $38.48 on the day of the IPO but it's since crashed to just $9 apiece today. NantKwest has a market valuation of just $733 million -- not a whole lot bigger than Soon-Shiong's compensation package.
"NantKwest went public at the worst time, at the top of valuations for biotechs," said Kathleen Smith, principal at Renaissance Capital, which manages IPO-focused ETFs.
Smith noted: "This guy's got a hot hand."
Before NantKwest went public, the company gave Soon-Shiong a warrant to purchase nearly 18 million shares at an exercise price of $2. Most of those shares vest once certain performance conditions are met and the rest over the course of several years.
NantKwest did not respond to a CNNMoney question about the pay package.
Soon-Shiong is hardly the only CEO to get a big payday following a successful IPO. GoPro (GPRO) founder and CEO Nick Woodman landed a pay package that was valued at $285 million at the end of 2014.
As members of the Buffett-Gates Giving Pledge, Soon-Shiong and his wife Michele Chan have promised to give away at least half of their wealth.