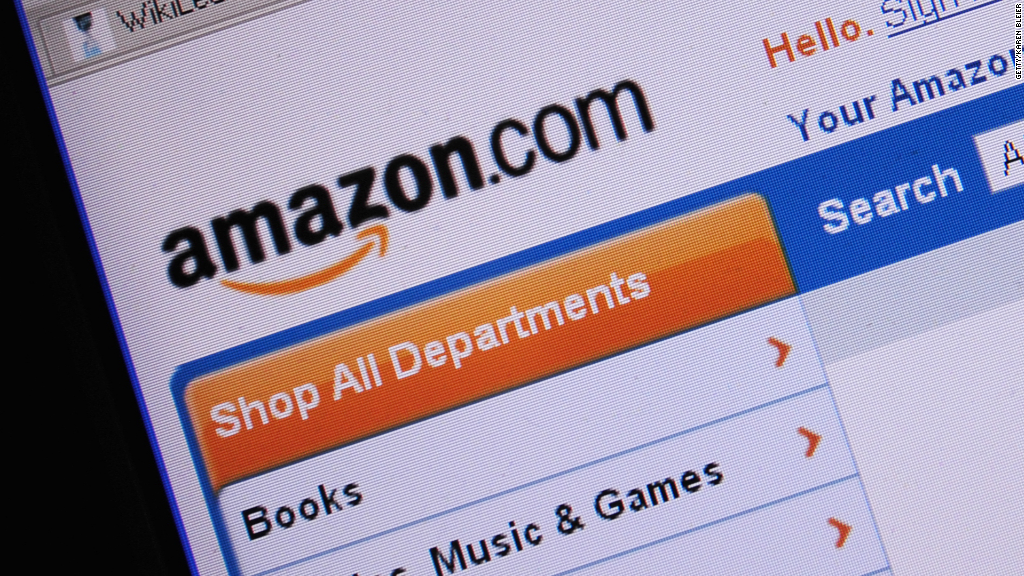 The days of Amazon as the perennial money loser appear to be over. The new, profitable Amazon looks like it's here to stay.
Amazon on Thursday announced its fourth-straight profitable quarter, backed by way better than expected retail sales and robust growth in its cloud business.
Shares rose as much as 12% in after-hours trading.
Amazon (AMZN) is outperforming everyone's wildest expectations, helped by Prime and its Amazon Web Services cloud business.
The company continues to add Prime members and attract customers with its highly reviewed products, such as the surprise-hit Amazon Echo smart home hub. As Amazon continues to add services for its Prime members, including streaming video, streaming music and same-day delivery, customers are becoming increasingly loyal and willing to buy more from Amazon.
Meanwhile, growth at its retail rivals is virtually nonexistent. Walmart (WMT), Macy's (M), Sears (SHLD) and others are closing stores and laying off employees.
For years, Amazon had been taking a loss on its retail endeavors to undercut the competition. But its cloud business has been booming. Amazon would have continued losing money if not for strong growth in AWS.
On the earnings call, Amazon said it would be investing more in original programming. It hopes the new $8.99 monthly subscription plan will appeal to lower income customers who may not want to pay for a full year at once.
Profit
First quarter of 2015: -$57 million
First quarter of 2016: $513 million
Amazon's profit was about double what Wall Street analysts had expected.
Sales
First quarter of 2015: $22.7 billion
First quarter of 2016: $29.1 billion, up 28%
Amazon's sales have been booming in recent quarters. The last time Amazon reported earnings, it set an all-time sales record.
Retail
First quarter of 2015: $15.6 billion
First quarter of 2016: $20.5 billion, up 31%
The biggest part of Amazon remains its retail business, and it has been growing at a startup-like pace. Analysts expect that to continue.
Amazon Web Services
First quarter of 2015: $1.6 billion
First quarter of 2016: $2.6 billion, up 63%
Amazon Web Services hosts companies' online content and apps in Amazon's giant data centers. It has big-name customers, including Netflix, Airbnb, Yelp, Expedia, Major League Baseball and Slack.
AWS' electric growth helped bring Amazon into the black over the past several quarters. CEO Jeff Bezos has predicted that cloud sales will one day surpass Amazon's retail revenue.
Media
First quarter of 2015: $5.3 billion
First quarter of 2016: $5.7 billion, up 8%
Sales of books and music grew, albeit by a much smaller amount than Amazon's retail business.
The media segment does not include Amazon Prime Instant Video sales, about which the company remains secretive.
Shipping costs
First quarter of 2015: $1 billion
First quarter of 2016: $1.5 billion, up 44%
Amazon's net shipping losses exceeded $1 billion for the third straight quarter and surpassed last year's total. That's why investors will have a close eye on anything Amazon announces about drone delivery, building its own logistics business and other attempts to control delivery costs.
On that front, Amazon recently purchased trailers for its sort centers and is leasing Boeing 767s.
"It gives us flexibility," said Phil Hardin, Amazon's director of investor relations. "We think the economics will make sense over time."
Current quarter
Second quarter of 2016: $28 billion to $30.5 billion
Before Amazon provided its outlook for the current quarter, Wall Street analysts had expected that Amazon would post $28.3 billion in sales between April and June.