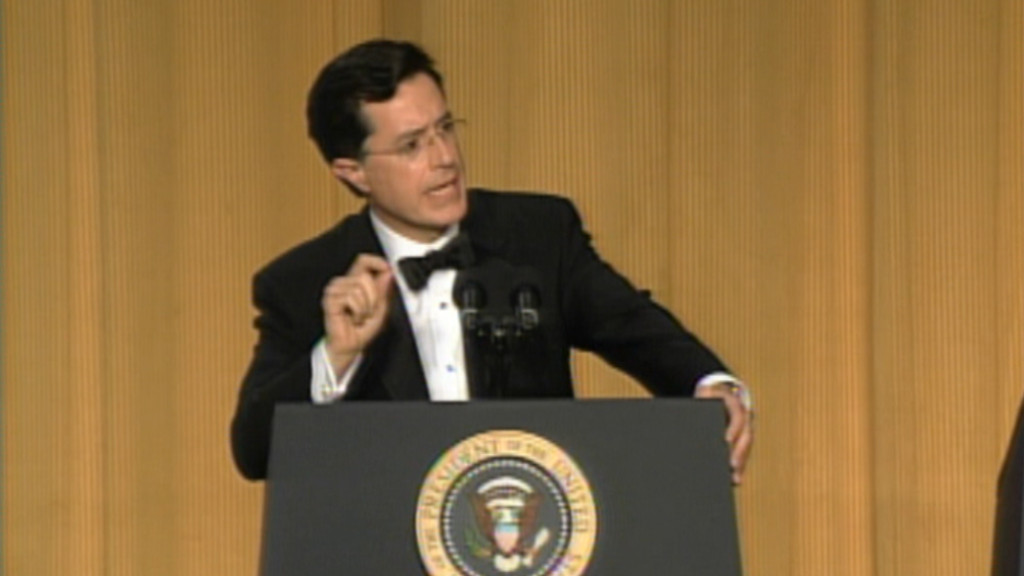 Larry Wilmore will tackle what's become a difficult assignment on Saturday night, serving as the entertainment for the White House Correspondents Dinner. And if the balancing act playing that event has become more treacherous for comics, the host of Comedy Central's "The Nightly Show" can thank the guy he replaced in his current gig, Stephen Colbert.
It's been a decade since Colbert's memorable performance at the correspondents dinner, where -- in his trademark persona spoofing a conservative TV host -- he skewered then-President George W. Bush, as well as the assembled press corps for essentially serving as stenographers during his administration. Describing the process of Bush's decisions and the media's coverage as "Make, announce, type," Colbert told the room, "Just put 'em through a spell check and go home. Get to know your family again."
Response to the speech was widely divided, panned by many in attendance as uncomfortable and even disrespectful. Much of the next-day response, however, lavishly praised Colbert for his comedic fearlessness. The routine became a YouTube sensation.
The correspondents association, too, drew some fire for acting surprised by what transpired. Then-colleague and boss Jon Stewart, for example, quipped on "The Daily Show" that Colbert was somehow "under the impression that they'd hired him to do what he does every night on television." The group received additional ridicule the following year for choosing impressionist Rich Little as its headliner, perceived as a "safe" choice in the wake of Colbert's barbed material.
Partisan rancor has only added to the delicacy of delivering stand-up in this environment, and Wilmore -- once "The Daily Show's" "senior black correspondent" -- is known for his own brand of pointed satire, often using race as a jumping-off point.
With his ratings lagging well behind Colbert's level, the appearance could be an opportunity for Wilmore to make his own cultural mark, and perhaps remind some people to give his show a second look.
As for Colbert, while his White House Correspondents moment further burnished his critical cachet, translating that to the wider platform of CBS' "Late Show" has been something of a challenge. The host trails "The Tonight Show Starring Jimmy Fallon" by a sizable margin.
As Colbert's experience indicates, it's virtually impossible to please everyone in this setting. But if people are still referencing Wilmore's speech a decade from now, odds are he'll have done something right.