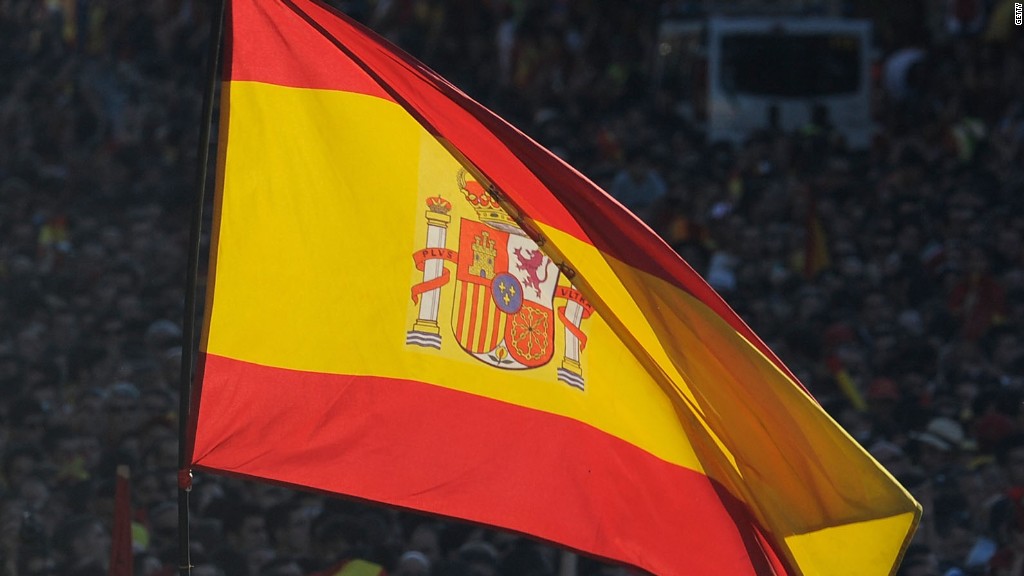 Boom! Europe is back. At least for now.
The eurozone economy grew 0.6% in the first three months of the year compared to the previous quarter, easily outpacing both the U.S. and the U.K.
Growth was double the pace of the previous six months, and way better than expected. Economists were forecasting expansion of about 0.4%. (U.S. GDP grew by 0.5% but more like 0.1% if calculated in the same way as the Eurozone data.)
Spain and France delivered much more robust growth than expected. And unemployment in the eurozone fell to 10.2% in March, the lowest since 2011.
Europe is getting a lift from ultra cheap money, low energy prices, a rebound in consumer spending, and government support for refugees.
Related: U.S. economy grows less then expected
The arrival of more than 1 million migrants is straining Europe's system of open borders. But it's also giving the economy a boost.
"It is lifting public spending, which is helping growth, and there is also a knock-on effect on consumer spending," said Howard Archer, chief European economist at IHS Economics.
Low energy prices meant a return to deflation this month. But they also represent savings for consumers, who appear to be spending at least part of that windfall.
Related: Brexit is already hurting the UK economy
Household spending, and retail sales, bounced back in the first quarter. Both had suffered after the terror attacks in Paris late last year.
But economists say the faster pace is unlikely to be sustained. The global slowdown, a loss of consumer confidence, and uncertainty over Britain's future in the European Union could weigh on growth in the second quarter.
And Europe's lead over the U.S. could evaporate just as quickly.
"The U.S. number seems to be the customary outlier to the downside at the start of the year that will be followed by a stronger second quarter," said Holger Schmieding, chief economist at Berenberg.