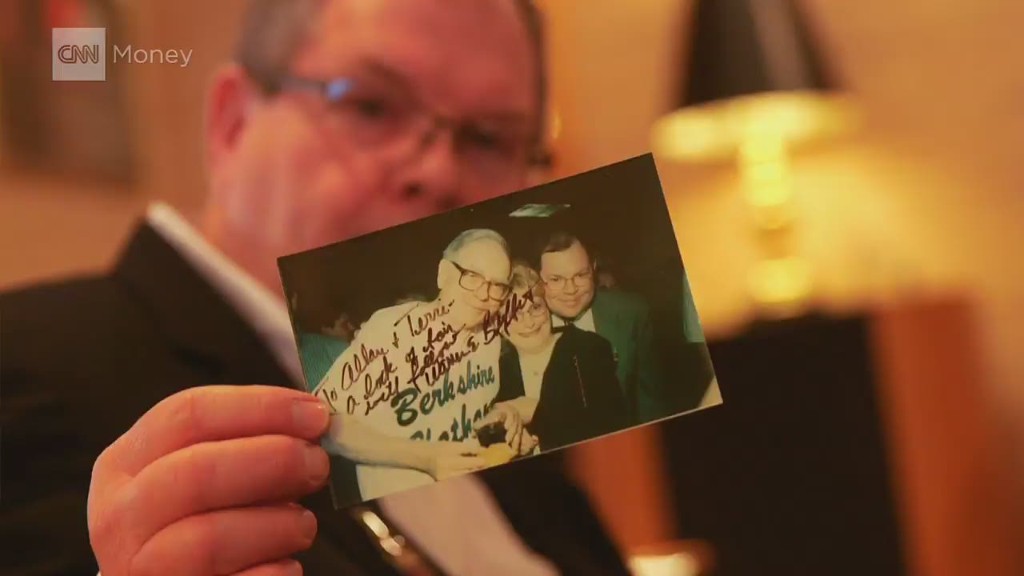 Live from Omaha ... it's Warren Buffett and Charlie Munger!
For the first time ever, Berkshire Hathaway's annual shareholder meeting was webcast live on Yahoo Finance for anyone to see.
Berkshire (BRKB) meeting virgins probably loved the Catskills comedy club-esque shtick.
Buffett, 85, predictably joked about being the young one. Vice chairman Munger is 92.
Buffett also continued to defend his investment in Coca-Cola (KO) -- despite concerns about the health effects of soda -- by simply professing his love for the product.
He joked that a fictitious twin who ate more broccoli and didn't drink Coke would probably not have lived as long as he has. A glass of Cherry Coke was by Buffett's side.
When one shareholder curiously tried to compare Berkshire to Hogwarts and Buffett to Professor Dumbledore, Buffett said he'd never read Harry Potter. (The shareholder also claimed Munger was Snape. Doesn't that mean Charlie has to kill Warren?!?)
Buffett also defended Berkshire's long practice of not giving Wall Street any earnings guidance. He said it was "silly." But Berkshire is unique. What other company can get away with releasing their earnings on a Saturday like Berkshire does?
The company's latest results were a mixed bag, by the way.
Berkshire reported a sizable jump in net earnings thanks to investment gains. But its operating profit plunged due to weakness at the company's Geico insurance unit and Burlington Northern Santa Fe railroad.
Related: Warren Buffett's favorite oil stock is tanking
There were some interesting insights from the morning session of the meeting.
Buffett, well-known for not being the biggest fan of tech stocks, admitted his admiration for Amazon (AMZN) CEO and fellow uber-rich dude Jeff Bezos. (Bloomberg estimates Buffett's net worth as $68.4 billion and that Bezos is just behind him with $58.1 billion.)
"We're not going to out-Bezos Bezos," Buffett said, in response to a question about the effect of online retail on traditional retailers.
Buffett added that what the company has accomplished in a relatively short period of time is remarkable.
It's a telling remark considering that Berkshire owns a large stake in Walmart (WMT) -- which has arguably been hurt most by the rise of Amazon. Berkshire also is a big investor in Costco (COST).
Buffett conceded that Berkshire was "slow" to embrace the Internet. He said that he has tended to be resistant to thinking about new possibilities.
But he added that Berkshire eventually jumped online with both feet and is now "well situated" digitally in all its businesses -- not just retail.
To that end, Munger said that Berkshire's Geico insurance unit has been one of the biggest beneficiaries of e-commerce.
Still, don't expect Buffett and Munger to invest in Amazon anytime soon. The two continue to be quintessential value investors ... and Amazon is trading at nearly 125 times this year's earnings forecasts.