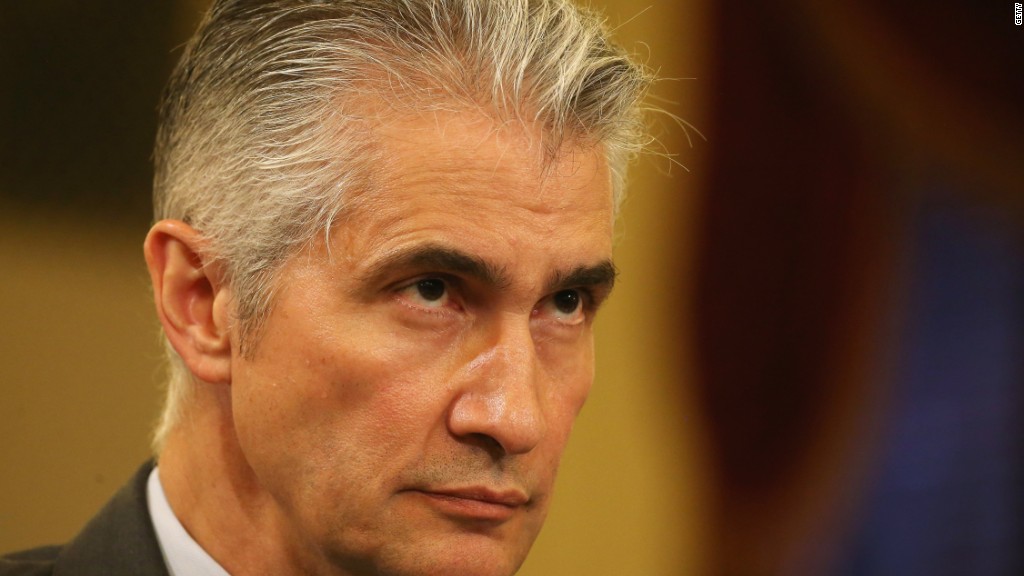 The former CEO of United Airlines got $36.8 million in severance pay and other benefits when he stepped down, according to filings released Friday.
Jeff Smisek left his role as CEO, president and chairman in September after a federal corruption probe into United's (UAL) relationship with the Port Authority of New York and New Jersey.
Smisek's exit pay included a $4.9 million severance package, $1.7 million as part of United's annual incentive program and $29.4 million in equity-based awards.
Friday's filings reveal that among the benefits Smisek received were lifetime flight privileges and parking benefits at United's hub airports in Houston and Chicago.
Related: United Continental chairman to step down
Smisek will continue to get life insurance coverage and he and his dependents will have health coverage until he qualifies for Medicare.
He also got to keep his car, which he'd chipped in for while serving as CEO.
United's board can force Smisek to repay roughly $10.1 million of his severance pay, according to the filings.
After Smisek stepped down, he was replaced by Oscar Muñoz who took over as CEO. Muñoz is expected to become chairman of the board in 2018.