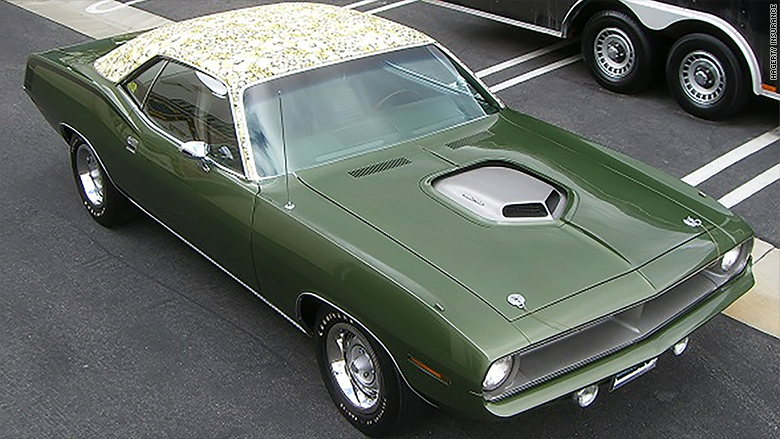 An avocado-green 1970 Plymouth Hemi 'Cuda worth $1.4 million was stolen from a home in Westchester County, just north of New York City. The good news is it should be easy to spot thanks to its distinctive flower-patterned vinyl top.
The "Mod Top" option was offered by Chrysler (FCAU), which made Plymouth cars, for a short time in a bid to win more female customers. Only one buyer ever chose to get that flowery feature on a Plymouth muscle car that had the 425-horsepower Hemi engine option.
A 1970 Plymouth Hemi 'Cuda, with or without the flowered roof, is an extremely rare and valuable car.
"This is a work of art," said Joe Stephenson, managing director for special investigations at Hagerty Insurance, the company that insures the Plymouth. "It's just like a Picasso or any other valuable work of art."
Steven Juliano of Pelham Manor, New York was the Hemi 'Cuda's most recent owner, at least until someone stole the car from him around midnight on Monday, April 25.
"We're trying to determine if this was a targeted theft or if it was a crime of opportunity," said Stephenson.
The car was stolen as it was being prepared to be shipped to another location, he said. It's not clear if the thief knew the value of this particular car or was simply very lucky.
Given the publicity surrounding the theft of this particular 'Cuda, it will be extremely hard for whoever has it to sell it, or even to show it off without authorities being alerted, said Stephenson. Even if the flowered top is peeled off, it would still be fairly easy to identify the car.
Related - Criminal's muscle car collection auctioned for $2.5 million
"They're going to try to sell it, eventually, to an honest buyer," Stephenson said.
Juliano declined to speak to CNNMoney when reached through his insurance company.
The flowered, vinyl top is actually the only part of the car that is not original, Stephenson said. The patterned vinyl is a reproduction of the covering that was on the car when it was new.
Hagerty Insurance is offering a reward of up to $50,000 for information leading to the safe return of the muscle car.