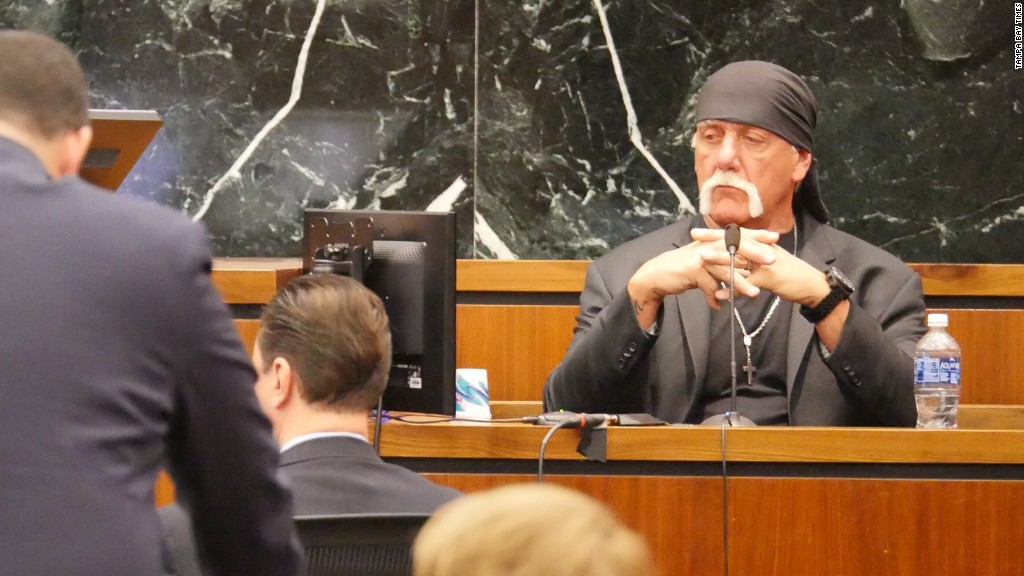 Ex-wrestler Hulk Hogan has filed another lawsuit against Gawker.
Hogan filed the suit Monday in the same Florida state court where he won a $140 million judgment against Gawker in March for invading his privacy by posting a snippet of a Hogan sex tape.
The new suit alleges that Gawker "intentionally inflicted emotional distress upon him by leaking a sealed transcript of surreptitiously recorded private oral communications in a bedroom to the media."
The transcript that Hogan, 62, is referring was reported by The National Enquirer in July 2015. The recording included Hogan using the n-word.
When the recording emerged, Hogan was fired by his longtime company, World Wrestling Entertainment, which also removed him from its hall of fame.
Related: Documents the Hulk Hogan jury didn't get to see
Hogan, whose real name is Terry Bollea, said in August that the backlash from the controversy caused him to become suicidal.
"Gawker threatened Plaintiff repeatedly with the public release of a written transcript ... containing racially insensitive remarks," but Gawker was unable to do so because of a protective order "prohibiting its public dissemination," the suit states.
The documents also noted that Gawker CEO Nick Denton wrote in an article shortly before the National Enquirer story was published that "Mr. Bollea's 'real secret' would soon be revealed."
Related: Hulk Hogan not worried about Gawker's appeal: 'I made my point'
It added, "Only 14 minutes after the Enquirer posted the court-protected confidential transcript... [Gawker managing editor at the time A.J.] Daulerio sent a tweet to Plaintiff's Twitter account stating: 'XOXOXO' (i.e., hugs and kisses) and attaching a link to the Enquirer's post."
Gawker scoffed at the accusation Monday.
"This is getting ridiculous," Gawker said in a statement. "It was absurd enough that Hulk Hogan claimed $100m for emotional distress and economic damage for a story about a sex life that he'd already made public. Now Hulk Hogan is blaming Gawker for racist remarks he made on another sex tape, which Gawker never had."
Related: Gawker's Nick Denton certain he will still beat Hulk Hogan
Gawker's statement also denied it leaked the information -- a point that the company said they have "said before and are happy to say again."
"It's time for Hulk Hogan to take responsibility for his own words, because the only person who got Hulk Hogan fired from the WWE is Hulk Hogan," Gawker added.
The latest filing comes after Hogan was awarded $115 million in March in an invasion of privacy suit against Gawker. Jurors then added another $25 million to the damages on the punitive part of the case.