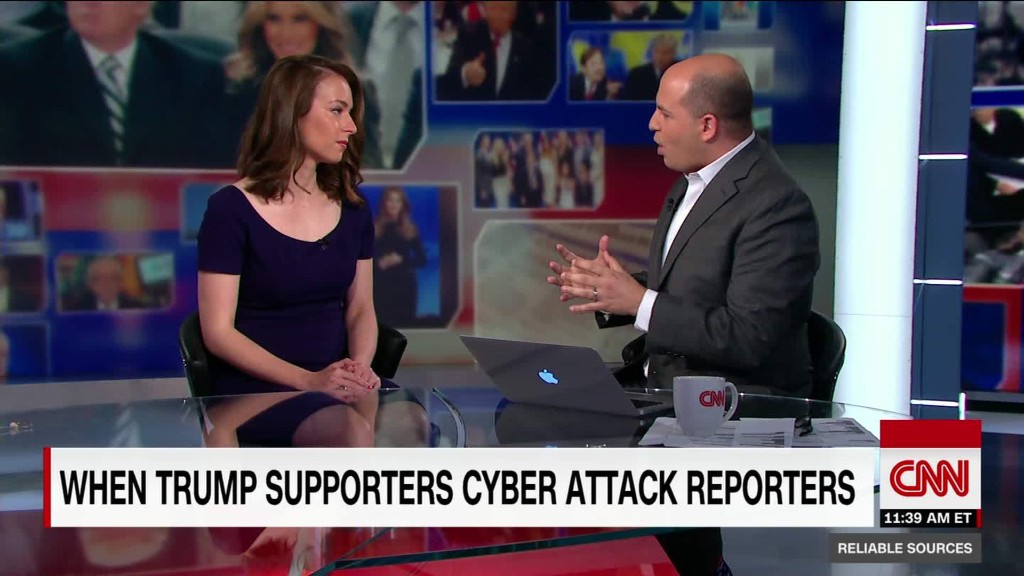 The hate just keeps coming.
Nearly a week after GQ magazine published her profile of Melania Trump, Julia Ioffe continues to receive vile tweets and comments, many of which targeted her for being Jewish.
On Sunday's "Reliable Sources," she described it as "the most obscene anti-Semitic stuff I have frankly ever seen directed at me in my life."
But Ioffe said she is not intimidated by the deluge.
"That's what they want to do," she said. "They want to silence criticism. They want to scare reporters from digging further. Our job is to dig."
Ioffe is the latest in a long list of writers, commentators and other public figures who have experienced attacks from so-called Trump trolls.
These online commenters are not affiliated with Donald Trump's presidential campaign, but some of them self-identify as Trump supporters.
Related: Trolls target journalist after Melania Trump profile
The usually anonymous or psuedo-anonymous Twitter and Facebook users swarm their victims with derogatory messages and memes. In Ioffe's case, some of the images reference anti-Semitic stereotypes about Jews.
When she retweeted one of the attacks, a cartoon of a man on his knees being shot execution-style with the subject line "They know about you!," the Commentary editor John Podhoretz responded, "I got that one too."
Podhoretz and a number of other prominent conservative critics of Trump have been on the receiving end of such hate since the early days of Trump's campaign.
New York Post op-ed editor Seth Mandel tweeted on Monday that the widespread coverage of harassment against Ioffe "is a bit late: we on the right have been getting it for months."
"Obviously what happened to Ioffe is awful, that's the point. It's a fraction of what Jewish conservatives have been dealing with," he added.
One of the unique aspects of Ioffe's story is that Melania Trump personally criticized Ioffe. Trump wrote on Facebook that the GQ profile — which delved into her family history in detail, including a "secret half-brother" — was "yet another example of the dishonest media and their disingenuous reporting."
She said the story had "numerous inaccuracies," but Ioffe said Trump "has not submitted any requests for corrections or anything."
Related: Trolls target journalist after Melania Trump GQ article
Does Ioffe believe that the Facebook post triggered the torrent of hate?
"You know, I'm hesitant to say that she sent these people to my virtual doorstep," Ioffe said, adding that she didn't think that was Trump's intent.
But she observed that "I'm not the first person that this has happened to, or the last one that this will happen to. And I think it's important that people see what happens, you know — that this isn't just Trump telling his supporters to boo at the press section at his rallies... This general disdain for the media is starting to cross certain thresholds."