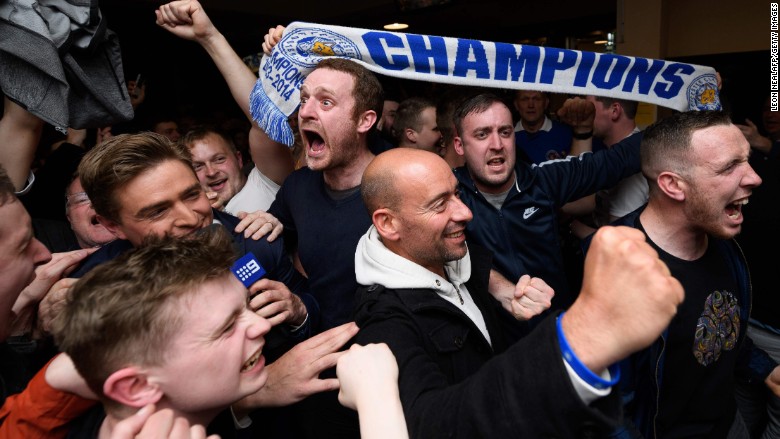 Monday had to be a bittersweet day for Bloomberg News editor-in-chief John Micklethwait.
The sweet part was that his perennial loser soccer team, Leicester City Football Club, won the Premier League championship.
Here's the bitter part in Micklethwait's own words:
"For around 20 years, every August I have bet 20 pounds on Leicester City to win their league," Micklethwait, an Englishman, wrote in a column last week. "Last summer, having moved to New York to work for Bloomberg, I missed making my routine bet...but, somewhere deep down, I assumed it was 20 pounds ($29) saved."
Not so much.
On Monday, six days after Micklethwait's column was posted, Leicester cinched the England's Premier League title -- beating 5,000 to 1 odds.
His 20 pounds would have made him 100,000 pounds ($146,730) richer.
A spokesperson for Micklethwait said he declined to speak with CNNMoney.
The team from Leicester, a city in central England about a two hour drive northwest of London, had long odds because it had to contend with perennial soccer powerhouses.
Related: Who's the NBA's MVP? If you consider salary, the answer will surprise you
Manchester City, Manchester United, Arsenal and Chelsea have dominated the league -- and they each bring in three times more annual revenue than Leicester, according to data collected by Sky Sports.
As Micklethwait pointed out: "Last year's Premier League winner, Chelsea, spent 215 million pounds assembling its squad, roughly 10 times the cost of Leicester's team."
And when Leicester entered England's Premier League last season, it finished 14th out of 20 teams.
Nonetheless, Leicester has won 22, tied 11, and lost only 3 games this year. And when Tottenham fell out of the running for the Premier title on Monday, Leicester won the crown.
Related: Twitter to live stream Thursday Night Football games
That made reality what Micklethwait said would be the "the most outrageous surprise in modern team sports."