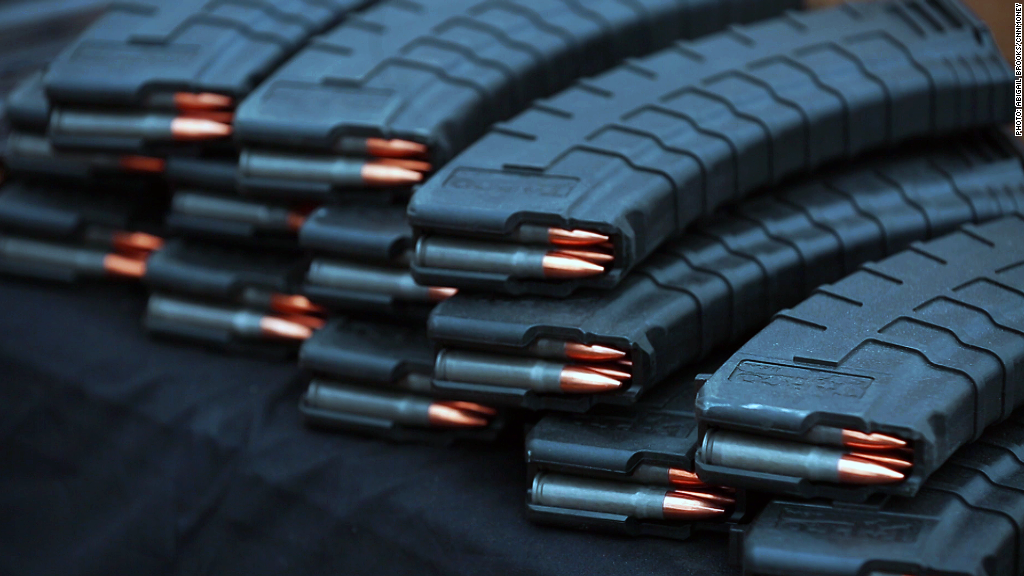 Sturm, Ruger & Co. reported a huge uptick in gun sales and profit for the first quarter.
The gun manufacturer said that first quarter net sales jumped 26% and earnings surged 50% compared to the year-ago quarter.
Sturm Ruger acknowledged that it's riding a nationwide wave of rising gun sales. The FBI has reported that background checks surged 36% in the first quarter of this year, compared to the same period in 2015. If background checks continue the pace set during the first three months, then 2016 could break a new record.
Ruger said that nearly a third of the sales were from its new products, such as the AR-556 semiautomatic rifle.
The LC9s, a line of semiautomaic pistols, also performed well. Some of the LC9s are available in pink camo, purple and other color schemes tailored to female shooters. The company advertises the LC9s as "slim, lightweight and compact personal protection."
Related: Gun industry adds tens of thousands of jobs
Aside from the new products, Ruger (RGR) didn't pinpoint a particular trend that's driving sales. But analysts and gun sellers have said the increase is driven by a twofold fear: People are worried about violent crime and also the specter of increased gun control.
Smith & Wesson (SWHC) also reported a dramatic sales and profit increase in its most recent quarter, which it attributed to the rising popularity of handguns for personal protection.