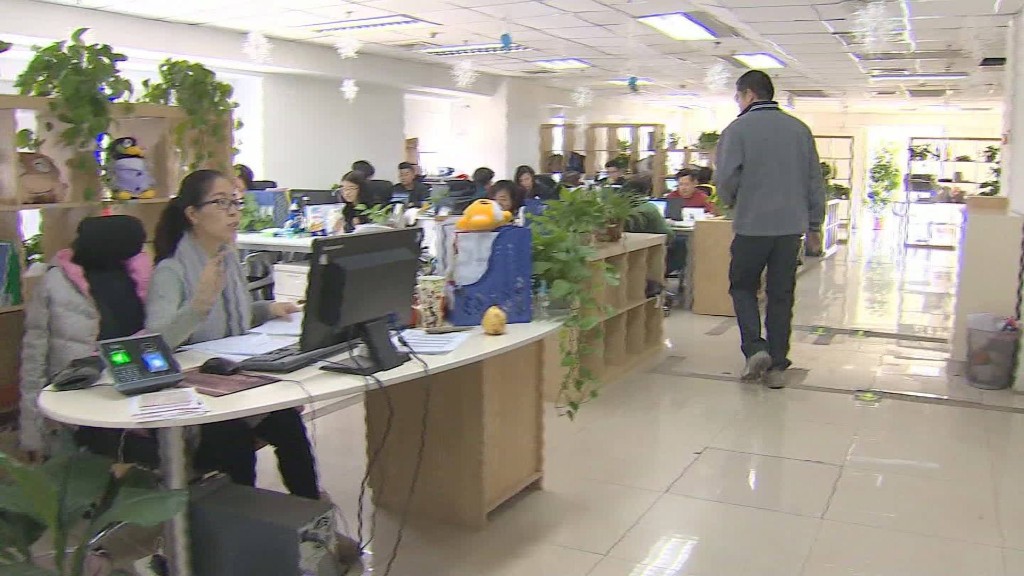 One of China's biggest tech companies is under investigation amid outrage over the death of a university student whose family claims it used its Internet search engine to look for medical treatments.
Baidu has found itself at the center of a social media storm that has raised questions over how accountable Internet firms are to their users over the search results they provide.
News of the probe by Chinese authorities prompted Baidu's (BIDU) stock to plummet nearly 8% in New York on Monday.
The company, which runs the dominant search engine in China, was mentioned in a widely shared online post written in February by Wei Zexi, who was suffering a rare form of cancer.
Wei recounted that in a desperate move to save him, his parents had borrowed money and sought an experimental treatment at a military hospital in Beijing based on Baidu search results.
"Baidu, I didn't know how evil it is and how it ranks medical information based on a bidding process," he wrote. "We thought: Baidu, a top-ranked hospital ... everything must be legitimate."
After a failed treatment, Wei died less than two months later at the age of 22.
Related: Top Apple investor dumps stock over China fears
As word of his story spread, scathing attacks on Baidu multiplied, first across Chinese social networks and then in traditional media. Fury was directed in particular at the company's alleged advertising practices for medical services.
China's cyberspace regulator announced Monday that, following up on leads from Internet users, it was sending an investigation team into Baidu in conjunction with the country's business administration and health authorities.
In several statements, the company expressed deep regret over Wei's death but defended its business practices by posting a copy of the military hospital's medical services certificate.
"Baidu always stands with Internet users and it is our responsibility to protect their legal rights," it said. "We will fully cooperate with law enforcement agencies in their investigation and crackdown on all illegal activities."
"We also call on relevant regulators to strengthen their supervision of hospitals to create a trustworthy environment of medical treatment for all patients," it added.
On Tuesday, the Chinese Health Ministry and the military announced a joint investigation into the military hospital involved in the case. The hospital didn't respond to calls seeking comment.
State media also stepped up coverage of the practice of military hospitals contracting medical services out to dubious private companies, which some called the main culprit in Wei's case.
Related: China's PayPal rival is now worth $60 billion
But many Chinese Internet users have expressed anger that Baidu's search results allegedly blurred the line between a paid advertisement for the experimental treatment and more helpful information for Wei and his family.
Long frustrated by their government's blocking of Google (GOOGL) services, Chinese Internet users portrayed Baidu as an unscrupulous business that has only thrived because of China's extensive censorship system known as the Great Firewall.
Wei made a subtle point on access to Google in his post.
"A Chinese student in the United States helped me Google relevant information and contacted many hospitals there," he wrote after his treatment failed. "Only then did we find out that American hospitals had long stopped using the technology (used in the treatment) due to poor results in clinical trials."
Some analysts point out that Baidu -- an Internet giant worth more than $60 billion -- makes for an easier public target than a complex web of murky entities in the Chinese healthcare sector.
But they also note that Baidu has been linked to similar controversies in the past and that the company has little incentive to dig deeper into its advertisers from the medical industry.
"Ad sales from China's medical service industry account for a big part of Baidu's total ad revenues," said Hong Bo, a prominent independent IT industry commentator. "I think it would be very difficult for them to give up on this huge amount of income."
Baidu doesn't disclose ad revenues by sector, but has said that health care was one of its "top revenue verticals" last year.
In a statement Tuesday, the company said it takes extra care when screening medical advertisers and had cleaned up its customer base over the years.
"We do apply particular vigilance to the healthcare vertical because we understand its importance and sensitivity," it said.
In January, Baidu came under fire after Internet users accused it of selling the management rights for a hemophilia online forum to a private hospital, which censored critical posts and used the platform to promote itself. After the government summoned its representatives, Baidu said it would halt such practices and punished three executives.
In several reports since 2008, state-run national broadcaster CCTV has accused Baidu of false advertising and selling fake drugs.