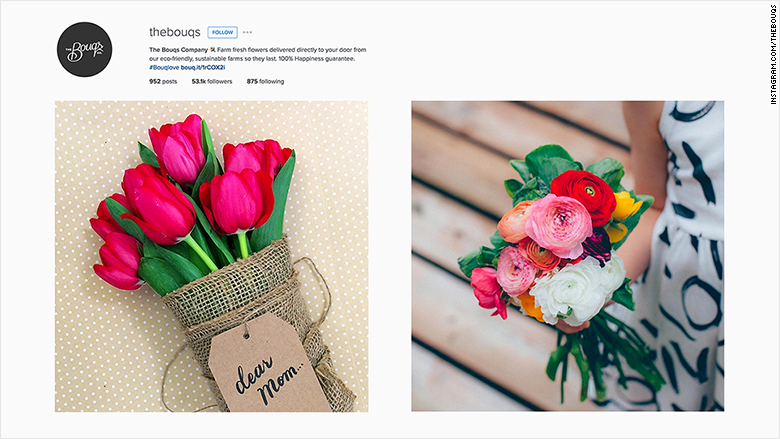 Most would agree that mom deserves only the freshest cut flowers.
A startup called Bouqs aims to be the go-to place for purchasing farm-to-home flowers at affordable prices.
When it comes to flowers, shoppers usually have no way of knowing where they come from or how old they are.
"The good and the bad, they all get mixed up," Bouqs cofounder John Tabis told CNNMoney.
Tabis and cofounder JP Montúfar started Bouqs in 2012 to bring transparency to the flower industry.
It carefully sources its flowers directly from roughly 50 eco-friendly farm partners -- most of which are in South America. It vets and visits every farm it partners with to ensure they abide by fair labor practices.
Bouqs provides packaging for farmers which are then placed in cold storage trucks.
Bouqs orders start at $40 and are delivered to consumers just four days old. That's a big difference from the standard floral arrangement, which tends to be 20 days old, said Tabis. That's why flowers are typically so hard to keep alive for more than a few days.
Bouqs flowers are so fresh that they might actually look dead, with buds still closed when you get them. But just give them a few days to flourish.
Bouqs is expecting a big Mother's Day season, estimating it will deliver 250,000 orders this Sunday. Last year, Bouqs said its Mother's Day orders eclipsed Valentine's Day purchases by 81%.
In fact, the window has closed for deliveries from South America in time for Mother's Day.
But there's still time to purchase from Bouqs. It has U.S. farm partners in Pennsylvania, California and Washington which deliver next-day orders. It also partners with artisan shops (some of whom it sells flowers to, others which practice as Bouqs preaches) that are based in the U.S. for same-day deliveries.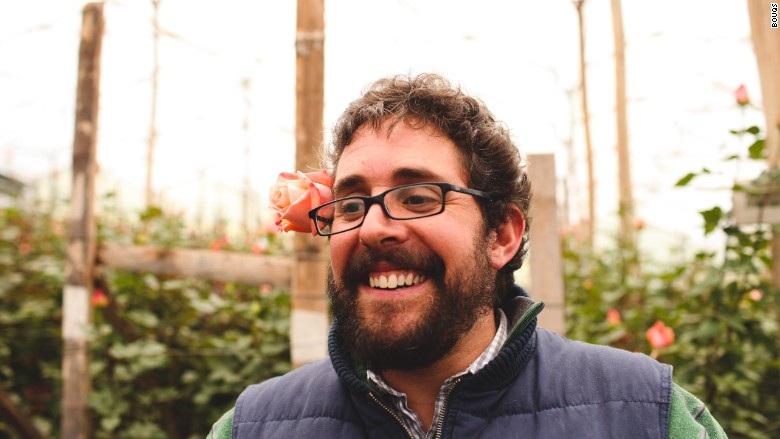 Part of the reason Bouqs is able to do what it does is because cofounder Montúfar lives in Ecuador today, where he's originally from.
He said he spends about 50% of his time visiting farm partners. "I check them out all the time," said Montúfar. "We work to make sure conditions are great, that water is being recycled, no red label chemicals are being used ... We act as agents and work with farmers that we know and trust."
One such farmer is Gino Descalzi, who runs a 22 acre rose farm in Ecuador. He said 10% of his sales come from Bouqs' business. He told CNNMoney he enjoys working with Bouqs because they're paying fair wages but also paying consistently and on-time. He gets a paycheck once a month without delay.
According to Bouqs, farmers like Descalzi earn about 20% more when they work with Bouqs.
Soon, Bouqs will add video interviews to its website so customers can learn more about who they're purchasing flowers from.