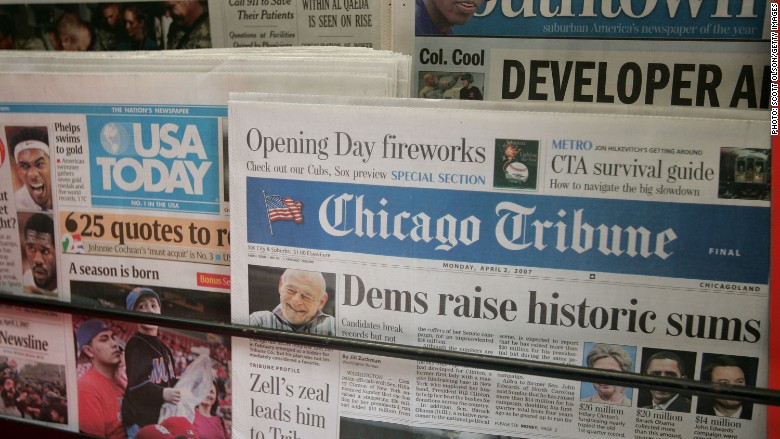 Tribune Publishing has rejected Gannett's $815 million takeover offer, arguing that it "understates the company's true value."
The owner of The Los Angeles Times and The Chicago Tribune said Wednesday that Gannett's proposal "is not in the best interests of its shareholders."
Gannett, which owns USA Today and nearly 100 local newspapers, made the unsolicited $815 million offer in late April. The offer valued Tribune stock at $12.25 per share, a 65% increase on its market valuation.
The rejection comes two days after the Tribune issued a statement calling Gannett's bid an "opportunistic attempt to steal the company."
Related: Tribune calls Gannett's appeal to stockholders a bid to 'steal the company'
The rejection by no means brings an end to the negotiations, however, and industry insiders anticipate that Gannett will return with another offer.
On Wednesday, Gannett chairman John Jeffry Louis said it was "unfortunate that Tribune's Board would deny their shareholders this compelling, immediate and certain cash value by rejecting our offer without making a counterproposal or otherwise negotiating or providing any constructive feedback."
Gannett also noted that its $12.25 per share offer price represented "a significant premium to the $8.50 share price at which Tribune recently issued common shares to its chairman Michael Ferro."
Robert Dickey, Gannett's CEO, also reiterated that Gannett was "best positioned to advance Tribune's publications and journalism."
Related: Can the L.A. Times survive Gannett?
Meanwhile, Tribune CEO Justin Dearborn announced Wednesday that the company intended to turn The Los Angeles Times into its own unit and add seven foreign bureaus, setting the stage for a re-expansion of a paper that recently shuttered international desks.
The L.A. Times' new foreign bureaus will be based in "entertainment-oriented" cities like Hong Kong, Seoul, Mexico City, Moscow and Mumbai, Dearborn said.