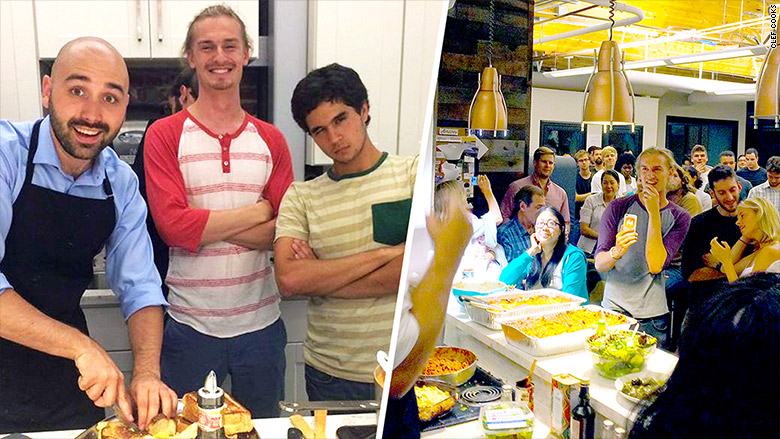 In San Francisco, longtime natives say the tech invasion has driven up rents and destroyed the city's character.
In Oakland, a startup called Clef is doing its part to unite the local community by hosting free dinners for anyone who wants to attend.
For the past three years, Clef has been hosting weekly Wednesday night dinner events called Clef Cooks.
They attract local politicians, small business owners, nonprofit workers, writers, and tech workers over home cooked meals. Clef has hosted more than 130 dinners to date. Typically about 25 people show up. One time, 125 people came. In all, they've had about 1,500 guests break bread with them.
"If I'm taking up space, I need to give something back," said Brennen Byrne, co-founder of Clef, which is focused on developing tech security software.
Clef Cooks have moved to a monthly format -- the first Wednesday of every month -- a more sustainable undertaking for the growing startup, according to Bryne. In a Medium post about the change, he referred to the events as a "wonderful refuge in the middle of every week, a reminder to step back from our work and enjoy the people around us."
Byrne, 25, is from Alabama and lived in San Francisco for several months, seeing first hand the soul sucking impact of gentrification.
Related: SF techie: 'I shouldn't have to see the despair of homeless people'
"You go to a bar and people ask how much money you raised and from who," Byrne told CNNMoney. "It's been overrun by an industry."
Byrne said he moved to Oakland because he wanted to "embed in a community that's talking about real problems versus hype problems."
Oakland residents are fearful of a similar tech takeover in their city that could push out its culturally rich and diverse population. With Uber's impending move into the city (it recently purchased the former Sears building in Oakland and is slating to open it up by 2017), there's a sense of urgency of preservation.
In addition to hosting meals, Clef launched a Tech Equity Initiative in 2015 to get local nonprofits and startups to band together to get under-resourced students access to computers, tech training and mentors. The goal being to create balanced growth with limited displacement of the existing community.
As an entrepreneur running a tech startup, Byrne is aware that he's part of what's changing in Oakland.
"There's a sense of inevitability," he added. "I'm not sure gentrification can ever not suck."