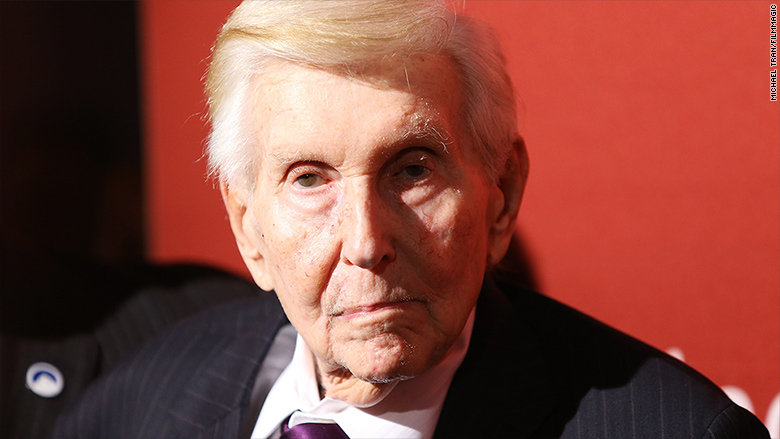 Sumner Redstone, the 92-year-old chairman emeritus of Viacom and CBS, was videotaped taking questions from lawyers at his Beverly Park mansion on Thursday.
That footage will be used as evidence in the contentious legal battle over Redstone's mental competency in a trial that opens Friday in Los Angeles County Superior Court. The public and the press will not see the tape, but the court will provide a transcript.
For Manuela Herzer, Redstone's 51-year-old former girlfriend who brought the lawsuit, the tape could help prove that the former Viacom/CBS chairman was not of sound mind when he booted her from his mansion and signed an order revoking her authority over his healthcare decisions.
But the verdict will affect more than Herzer. If Redstone is found to be incompetent, it could open the door for a power struggle at both Viacom (VIA) and CBS (CBS).
Two questions are at issue in the trial: First: Did Redstone lack the mental capacity to remove Herzer from overseeing his healthcare. Second: If Redstone was mentally competent, was his decision to remove Herzer the result of "undue influence."
Related: Sumner Redstone's health care decisions now in daughter's hands
The case will be tried before Superior Court Judge David J. Cowan without a jury.
If Cowan rules that Redstone lacked mental capacity, the trial could end there. Otherwise, it will progress to the issue of undue influence, which could bring a full cast of characters to the witness stand, including Redstone's daughter, Shari Redstone, and possibly Viacom Chairman Philippe Dauman and CBS Chairman Leslie Moonves.
Such a trial threatens to introduce embarrassing details for the aging Redstone. Herzer's suit described Redstone as "vacant, expressionless and out of touch," basically unable to talk, walk or stand by himself," and yet "fixated on having sex on a daily basis."
Redstone's lawyers denied those claims.
Related: Philippe Dauman succeeds Sumner Redstone at Viacom
Reports state that Redstone's speech is so impaired that his nurse is needed to interpret what he is saying.
Redstone's lawyers argue that Herzer and Sydney Holland, another former girlfriend, took advantage of the ailing media mogul in order to gain access to his wealth. Their latest filing notes that Herzer transacted business with and for Redstone "and continued to use his credit card liberally (to say the least) around town."
"She deceived him, he found out about it, and he threw her out of the house. Period," Redstone's lawyers wrote in court documents.
Related: Viacom slashes Sumner Redstone's pay
Herzer's lawyers believe that she was a victim of "plots and schemes" to have her removed. Herzer has also insinuated that Redstone's daughter Shari, the vice-chairman of both the Viacom and CBS boards, wanted the former girlfriend out of the picture in order to shore up her standing as heir apparent to her father's empire.
"The rosy picture painted by Shari of her supposed reconciliation with her father is a smoke screen," she said in a recent court statement. "Her sudden conversion to the loving, omnipresent daughter coincides with this epic battle."
The two sides had reached a settlement last month, but it fell apart. The trial, which begins at 8:30 a.m. PT on Friday, is scheduled to until May 16.