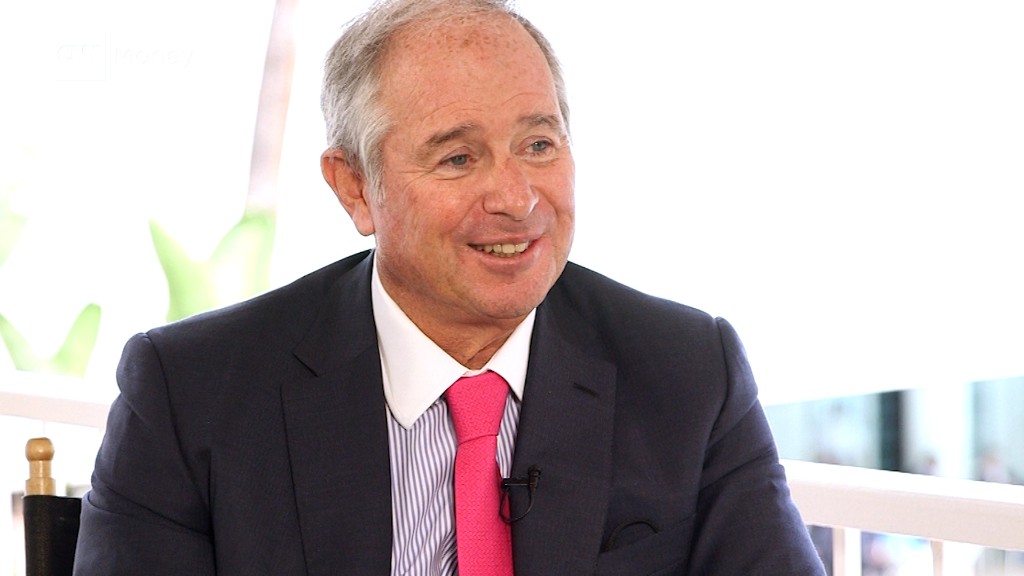 China and America may butt heads often on a litany of issues but the aspirations of people in both countries are pretty much the same.
That's how American billionaire Stephen Schwarzman sees it. After all, he says, President Xi Jinping's first speech as president was about the "China dream."
"What's the China dream? (It) sounds a lot like the American dream," Schwarzman, the CEO of private equity firm Blackstone, told CNN's Cristina Alesci at the MIlken Global Conference in Los Angeles. "[Xi] wants people to have higher wages, he wants them to have better housing and he wants them to have better health care."
Schwarzman defended China's recent economic slowdown, saying it is a natural transition.
He says pursuing the China dream would only be possible if the country transitioned to a consumer-focused economy like the U.S., shifting away from its export-driven economy, which was the primary driver of the country's double-digit growth in previous years.
Related: Schwarzman: Trump is 2016' P.T. Barnum
Schwarzman, who is worth an estimated $12 billion, stopped short of saying he's "bullish" on China but he's clearly committed to the country. This year, Schwarzman began a scholarship fund, named after him, to sponsor U.S. students who want to pursue a one-year Master's degree in Beijing. The focus will be on policy, economics, business and international relations.
When markets turned south in January, many investors blamed it on China's economy slowing down faster than expected, also known as a "hard landing." Schwarzman doesn't buy that argument.
"I thought that was a really simplistic over-reading of the situation. In fact, nothing really changed," Schwarzman argues. "China is rebalancing its economy."
Schwarzman, one of the most influential Republicans on Wall Street, does express concern about the anti-China and anti-trade rhetoric on the campaign trail in America, and what it means for relations between the world's two largest economies.
Related: Trump becomes presumptive GOP nominee
"If the U.S. starts violating [World Trade Organization] agreements...then that becomes a different world for business generally," Schwarzman said. "The higher that rhetoric goes, the more anxious somebody would be on the other side."
In November, Schwarzman found Donald Trump "fascinating" and good for American democracy. But he also compared him to a former circus titan.
"He's the P.T. Barnum of America," Schwarzman jokingly told Alesci in November.
On Tuesday, however, with Trump hours from securing the presumptive nomination, Schwarzman's tone on Trump wasn't so lighthearted. He declined to say if he would support Trump. He didn't sound thrilled about the presumptive Republican nominee.
"It's one thing to get a job, it's another thing to do a job," Schwarzman said.