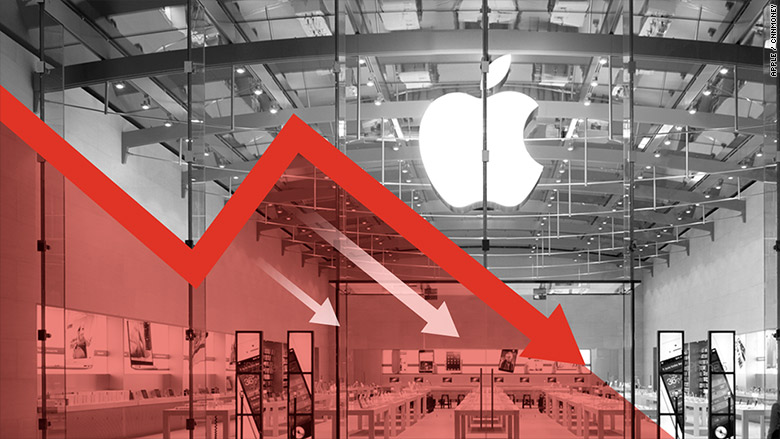 Things keep getting worse for America's favorite stock.
Apple (AAPL) stock on Friday slipped below $92, the level it briefly crashed to when financial markets went haywire last August.
But in August, investors were freaking out about all stocks. These days, it's Apple they're freaking out over. The stock is down 12% this year and closed out the week at its lowest level since June 2014.
It's the latest blow to Apple, which is easily the most popular stock held by individual investors.
Apple's problems really gathered steam last week after the iconic company revealed its first sales decline since 2003. Apple's rare sales shrinkage was fueled by a drop in iPhone sales, a reflection of how the iPhone 6S has failed to generate the kind of enthusiasm previous versions of the phone have.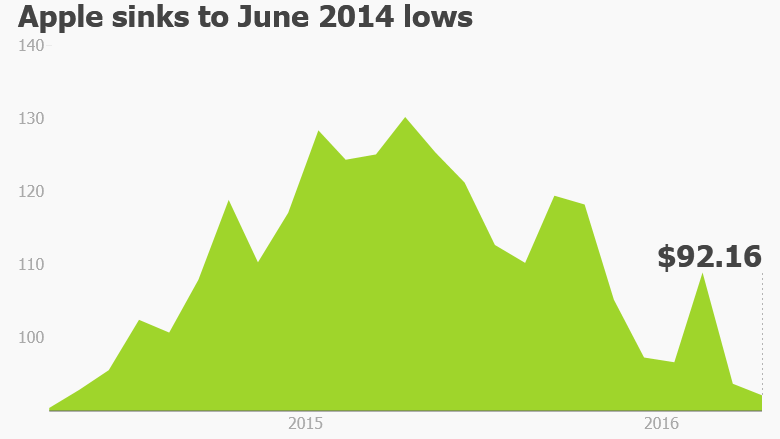 Related: Why I'm not selling my Apple stock
Just days later Carl Icahn, arguably Apple's biggest cheerleader in recent years, told the world he had dumped his entire stake in Apple. The billionaire investor pointed to the risks involved with Apple's efforts to navigate the treacherous Chinese market, the company's second-biggest source of sales behind the U.S.
Even though Icahn insists Apple is still a "great company," he told CNBC he's worried how the Chinese government can "make it very difficult for Apple to sell there."
That risk was on full display last month when Apple's iBooks and iTunes Movies services went dark in China, reportedly at the order of a Chinese censorship regulator.
Against that backdrop, Apple CEO Tim Cook plans to visit Beijing later this month to meet high-level government officials, Reuters reported. It wouldn't be the first time Cook has visited China.
Apple declined to comment to CNNMoney on the report.
Related: What's wrong with Apple stock?
China concerns have helped make Apple the second-worst Dow stock this year behind only Intel (INTC). But while Icahn and others are down on Apple, many Main Street investors remain undeterred. Most retail investors CNNMoney recently surveyed informally say they have not sold any Apple shares in the past year, nor do they plan to.
Apple fans -- on and off Wall Street -- point to the fact that the stock is pretty cheap, especially compared with lofty valuations in the rest of the market. Apple shares are currently trading at just 11 times projected 2016 earnings. By comparison, the S&P 500 is trading at more than 17 times this year's estimated profits.
Apple is also sitting on a ton of cash -- just over $230 billion. Some investors hope it will deploy those resources on a major acquisition and continue to return lots of it to shareholders through dividends and buybacks.
But the real key to restoring Apple's growth trajectory is likely in its ability to come up with a game-changing new product, or at least a new iPhone that excites consumers and investors alike.
--CNNMoney's Heather Long and Paul R. La Monica contributed to this report.