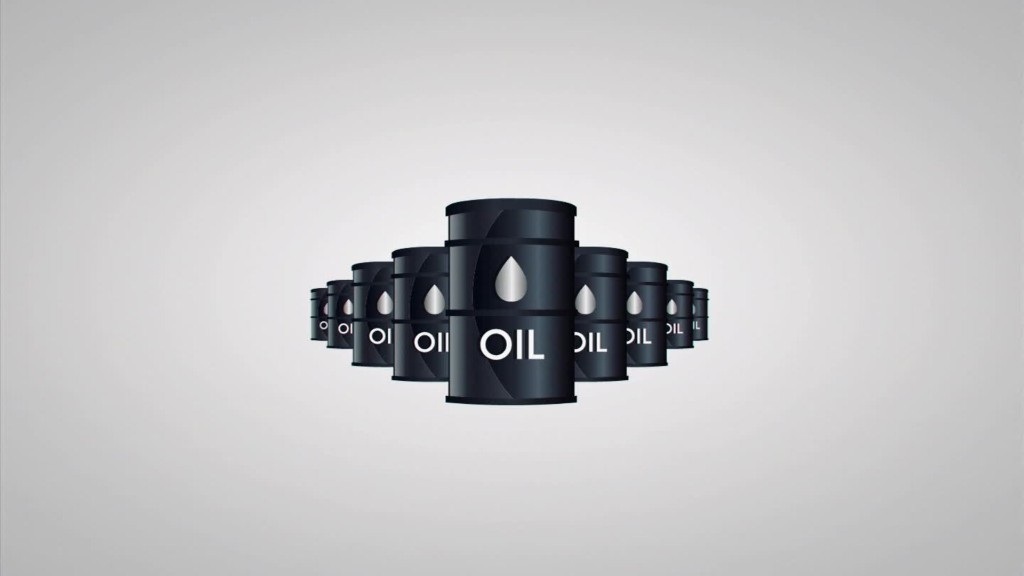 Oil prices has stopped crashing, but oilfield services company Weatherford International is still in crisis mode.
Weatherford (WFT) stock has plummeted 30% this week, its biggest weekly plunge since the 2008 financial crisis. One of the biggest oilfield service providers in the world, Weatherford sells tools and services to oil drillers. Many of these drillers have either stopped or drastically slowed their activity because prices have fallen below where they can turn a profit.
This week's panic selling of Weatherford stock was triggered by a larger-than-feared loss in the first quarter that set off concerns over its ability to "weather" the storm in the oil market.
Not only did Weatherford swing to a loss of $105 million, its revenue plunged 43%, and the company issued a darker view for the coming quarters.
"The brutality and length of this down cycle has challenged the entire industry," Weatherford CEO Bernard Duroc-Danner said in a statement.
He said all of the company's regions and product lines "suffered the brunt of this harsh industry decline" that included "extremely low levels of customer activity and punitive pricing."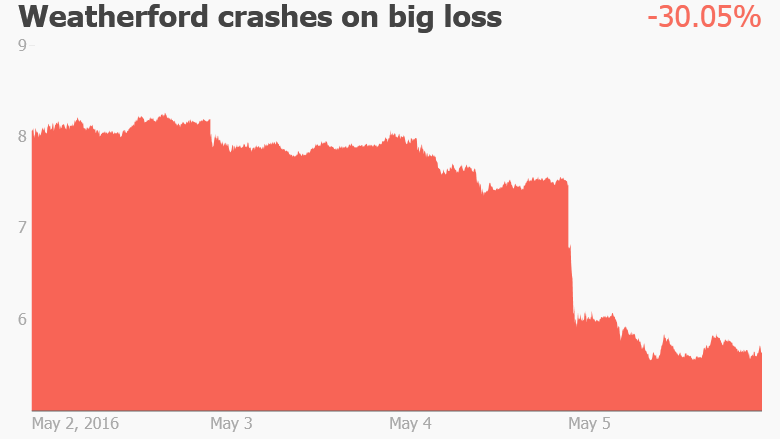 Related: Raging wildfires in Canada threaten oil supply
Like rivals Baker Hughes (BHI) and Schlumberger (SLB), Weatherford has been slammed by the dramatic decline in U.S. oil rigs to six-year lows.
Weatherford also said that while banks will continue providing a credit line, it'll be much smaller than in the past.
That's not good because Weatherford is sitting on nearly $7 billion in debt and has looming bond payments due in the next few years. Analysts said the combination could require the company to sell off assets, refinance debt or sell more stock to investors.
Weatherford is "walking a thin line," Wells Fargo analyst Judson Bailey wrote in a research report.
Wells Fargo downgraded Weatherford to "market perform," citing a "significantly greater concern about the company's liquidity position in a 'lower for longer' environment as well as financial flexibility in a recovery."
Weatherford is scrambling to improve its financial position. The company has already slashed over 4,000 jobs and plans to cut another 2,000 in an effort to save $300 million a year. Weatherford has cut capital spending plans by 63%, raised $630 million through a stock offering and plans to shut 9 manufacturing plants as well as more than two dozen other facilities.
"We are confident in our ability to successfully navigate the current challenging industry conditions," Duroc-Danner said.