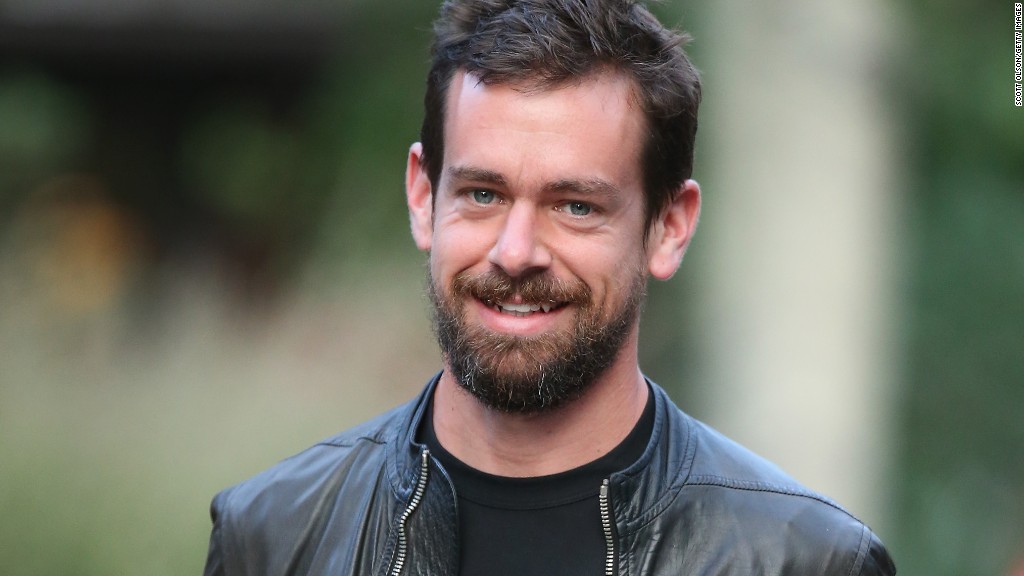 The indie coffee shop you go to instead of Starbucks may let you swipe your credit card through a Square Reader attached to an iPad.
But that's not helping Square too much.
Square (SQ) shares plunged nearly 20% Friday morning -- wiping out its year-to-date gains -- after it reported a bigger-than-expected quarterly loss.
That's more bad news for Square CEO Jack Dorsey. The other company he runs, Twitter, isn't exactly lighting Wall Street on fire either. Twitter (TWTR) hit a new all-time low earlier this week.
If this keeps up, don't be surprised if more investors call for Dorsey to make a choice between the two and give up one of his CEO roles.
Related: Twitter just can't win on Wall Street
Square's biggest problem is that it is spending a lot. Revenues actually soared 51% and topped Wall Street's forecasts.
But costs are growing more rapidly than sales. Operating expenses were up 72% in the quarter. Product development costs rose 63%.
Still, some analysts think the big drop in the stock on Friday might be an overreaction.
Jason Kupferberg, an analyst with Jefferies, noted in a report that Square is posting growth in its Square Capital unit -- which lends money to small businesses -- as well as Caviar, the food delivery service it acquired in 2014.
Square also boosted its revenue outlook for the full year.
And unlike Twitter, shares of Square (say that five times fast) are still a bit higher than their IPO price. The company went public late last year at $9. The stock was trading at about $10.50 Friday morning.
But it will be interesting to see if Square can stay above its IPO price after a big chunk of new shares are eligible to hit the market.
The so-called lockup period for many Square investors who had a stake in the company prior to the IPO will expire on May 16. The company noted that 64 million stock options and warrants will be eligible to be exercised then.
Flooding the market with more stock could dilute the value of existing shareholders.
Related: 30% of banks jobs under threat due to digital disruption
More worrisome though is the fact that the increased supply of stock could allow more short sellers -- who borrow a stock and sell it with the hopes of buying it back later at a lower price -- more opportunities to bet against Square.
"Short sellers will have the ability to increase their positions, and maybe more importantly, the cost of these stock borrows will drop significantly, making the Square short trade more profitable," wrote analysts at S3 Partners, a research firm focused on short selling.
Investors also need to be worried about increased competition from big credit and debit card processing firms like First Data (FDC), as well as PayPal (PYPL) -- which owns the payment sharing app Venmo.
Square is undoubtedly helping many small businesses cut costs. The company isn't going away anytime soon. But given all the risks, the stock looks more like a square peg trying to fit in a round hole.