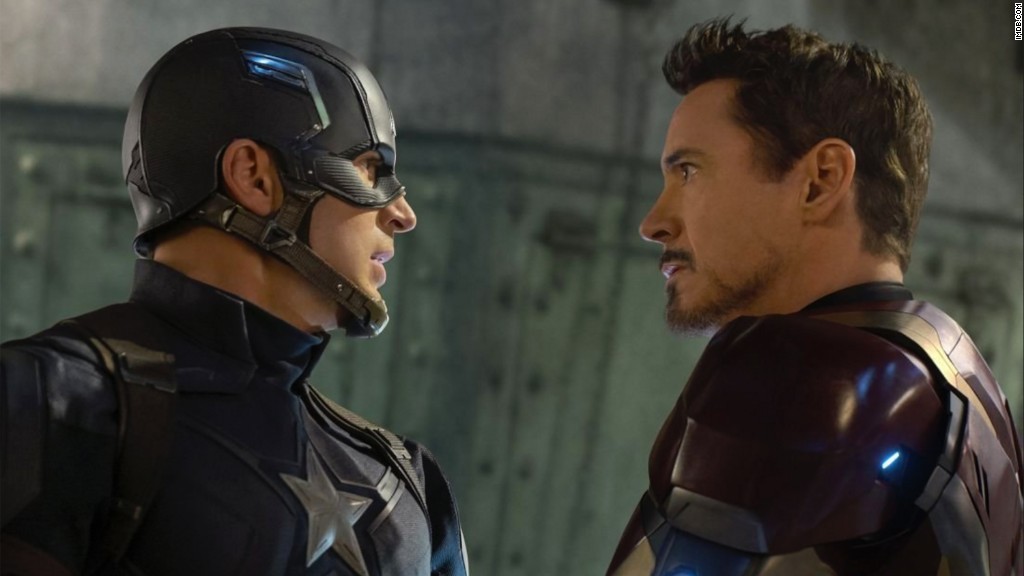 Captain America and Iron Man battled to blockbuster numbers this weekend.
"Captain America: Civil War," the latest film in Disney's Marvel franchise, punched its way to an estimated $181.8 million opening in North America this weekend.
That makes the film, which pits Chris Evans' Captain America against Robert Downey Jr.'s Iron Man, the fifth biggest box office opening in history.
Including "Civil War," Disney (DIS) films make up four of the top five openings in box office history.
Since opening overseas last weekend, "Civil War" has made $678.4 million globally, including $95.8 million in China, the world's second largest movie market.
The film helped lift Disney pass the $1 billion mark at the domestic box office for the year. The studio has made $1.1 billion in North America in just 128 days, a record time.
While the film is another big success for the Disney and its Marvel brand, "Civil War" did come in on the lower end of some projections.
Industry analysts projected the film's opening to fall closer to $200 million with Disney setting its projections at roughly $175 million.
However, with strong acclaim from critics and audiences, who gave "Civil War" a CinemaScore of "A," the film looks to have long-term playability over the next weeks and months.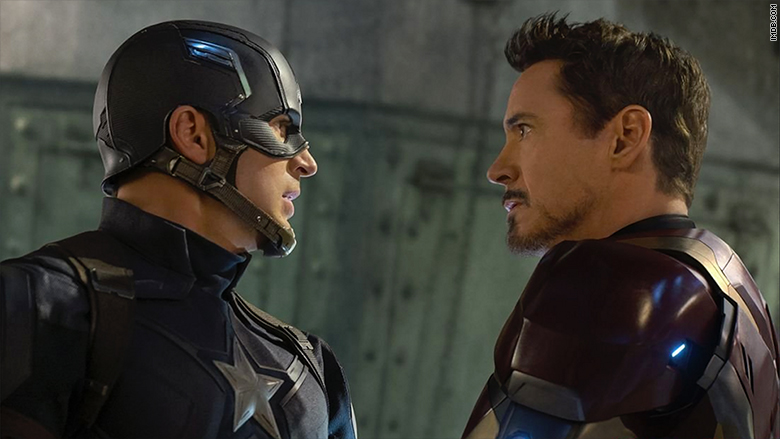 Related: Review: 'Captain America: Civil War' sets standard for superhero team-ups
"Though the excitement surrounding the film escalated the opening weekend projections to perhaps unrealistic highs, the long-term appeal for 'Civil War' is undeniable," said Paul Dergarabedian, senior media analyst at comScore (SCOR). "It should put the film in one of the top slots on the all-time global box office list when the film completes its theatrical run."
Disney also took the second spot at this weekend's domestic box office with "The Jungle Book," which brought in $21.9 million.
The reboot of the animated classic has so far made $776.2 million worldwide since opening last month.
Related: Spider-Man doing what he can to boost box office for 'Captain America: Civil War'
With its substantial opening, "Civil War" did not just kick off the summer movie season in a big way, but it set the table for a stellar year at the cinemas for Disney.
The studio has more potential blockbusters on its schedule with Pixar's "Finding Dory" next month, Marvel's "Doctor Strange" in November, and "Rogue One: A Star Wars Story" in December.