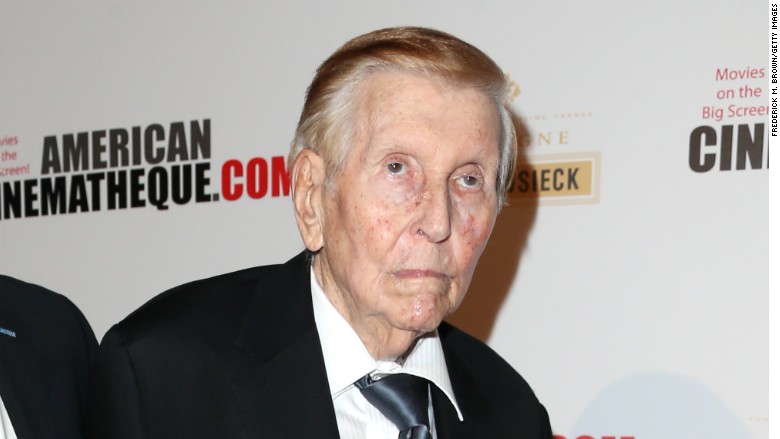 The challenge to Sumner Redstone's mental competency was dismissed by a Los Angeles judge Monday.
The case had been brought by Redstone's former girlfriend Manuela Herzer.
The trial arose after Redstone, the 92-year-old chairman emeritus of Viacom (VIA) and CBS (CBS), had evicted Herzer, 51, from his mansion and said she was no longer in charge of his health care.
Judge David J. Cowan of Los Angeles Superior Court tossed out Herzer's claim after listening to a deposition of Redstone on Friday. During the deposition, taken one day earlier, Redstone was often unintelligible or didn't answer questions.
But when asked if he wanted Herzer to be responsible for his health care decisions, Redstone repeatedly answered with vulgar epithets. And he clearly said "Shari," when asked who he wanted to be responsible for his health care.
Related: Sumner Redstone judge will decide on Monday whether to toss the case
"There is no good cause for judicial involvement where the court has now heard directly from Redstone that he has lost trust in Herzer, does not want her in his life and instead wants his daughter Shari to look after him if necessary," Cowan wrote.
"Redstone is presumed to have capacity and Herzer's expert did not establish that he lacked capacity to change his agent," the judge wrote.
He added, "The court has no business interfering with his perogatives."
Shari Redstone, his daughter, was in tears after the judge announced his ruling Monday. She simply shook her head when asked to comment on the decision.
A lawyer for Redstone, Gabrielle Vidal of Loeb & Loeb, said, ""Mr. Redstone is grateful that the court dismissed this case and honored his stated wish to keep Manuel Herzer out of his life and healthcare decisions. Mr. Redstone looks forward to spending time with his loved ones in peace."
Herzer had argued that Redstone was lacking mental capacity or was under undue influence when he ousted Herzer from control over his healthcare.
Pierce O'Donnell, Herzer's attorney, said, "We are disappointed that the court terminated the case after one day... We believe that this is reversible error. We are filing an immediate appeal and will seek to expedite it."
Herzer's lawyer also filed a new lawsuit Monday, this time against Shari Redstone, her sons, nurses who worked for Redstone and up 50 unnamed people.
The new suit alleges that they intentionally destroyed "Herzer's special relationship with Sumner and causing Sumner to disinherit her, thereby losing her $70 million inheritance." The new lawsuit seeks $70 million in damages.
The court papers claim that at Shari Redstone's instigation, nurses and other staff members eavesdropped and spied on her.
Herzer's earlier lawsuit described Redstone as often incoherent and and physically frail. Monday's documents state he is "unable to walk, talk intelligibly, dial a phone, type on a computer.... Sumner is totally dependent on his nursing staff. His home is a virtual intensive care unit with 24/7 nursing care and on-call physicians."
On Friday, Dr. Stephen Read, a psychiatrist who examined Redstone for Herzer's legal team, testified that Redstone as "a very thin shadow" of his former self: suffering from dementia and delusions, completely unable to function on his own, and often angry or tearful at his physical and mental limitations.
Related: Sumner Redstone deposed ahead of competency trial
At one point, Read said that Redstone enjoyed betting on sports, but did not know who the teams were. So family members ensured Redstone would win every bet by showing him prerecorded games, the doctor said.
The questioning of Redstone was a key moment in a trial that could have had major implications for his $40 billion media empire.
A ruling by Cowan, who had presided over the brief trial without a jury, that Redstone was incompetent could have opened the door to a power struggle over control his media empire.