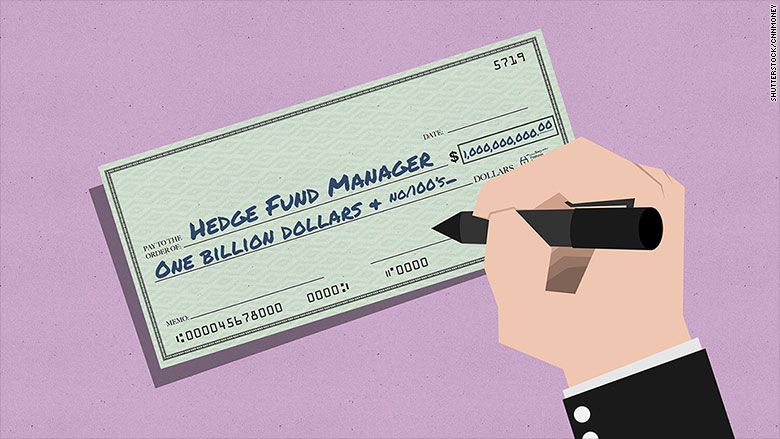 The average hedge fund lost money last year. But that didn't stop the industry's top managers from making billions.
The top 25 hedge fund managers earned a combined $13 billion in 2015, according to an annual ranking by Institutional Investor's Alpha.
That might sound like a reward fit for a "master of the universe," but some are bound to be disappointed: As recently as 2013, the top 25 managers pulled down more than $21 billion.
Kenneth Griffin, founder of Chicago-based Citadel hedge fund, topped the list for a second straight year, although he is sharing the crown with James Simons of Renaissance Technologies. Both managers brought home $1.7 billion.
The ranking also reflects the rising influence of computers: Half of the managers in the top 25 used computer-generated investing strategies. Institutional Investor's Alpha describes six of this year's top eight managers as "full-fledged quants."
Related: Hedge funds love these stocks. Regular investors don't
Hedge fund managers can rake in hundreds of millions even if their performance isn't great because most have a fee structure where they get 2% of any assets under management. On top of that, there's a bonus-like fee if their funds outperform certain targets.
The Institutional Investor's Alpha ranking includes management and performance fees, as well as returns on money that managers invest in their own funds.
Related: How this 77-year-old trader made a lot of money
In 2015, hedge funds were battered by intense market volatility and a sharp decline in energy prices. As a result, funds failed to outperform the stock market, posting negative returns in the low single digits, according to research firm HFR.
That means you would be better off putting your money in a basic index fund than with the highly paid hedge fund manager.
Here are the top 10 earners on the list:
1. Kenneth Griffin, Citadel: $1.7 billion
1. James Simons, Renaissance Technologies: $1.7 billion
3. Raymond Dalio, Bridgewater Associates: $1.4 billion
4. David Tepper, Appaloosa Management: $1.4 billion
5. Israel (Izzy) Englander, Millennium Management: $1.15 billion
6. David Shaw, D.E. Shaw Group: $750 million
7. John Overdeck, Two Sigma: $500 million
8. David Siegel, Two Sigma: $500 million
9. O. Andreas Halvorsen, Viking Global Investors: $370 million
10. Joseph Edelman, Perceptive Advisors: $300 million
10. Christopher Hohn, TCI Fund Management: $300 million