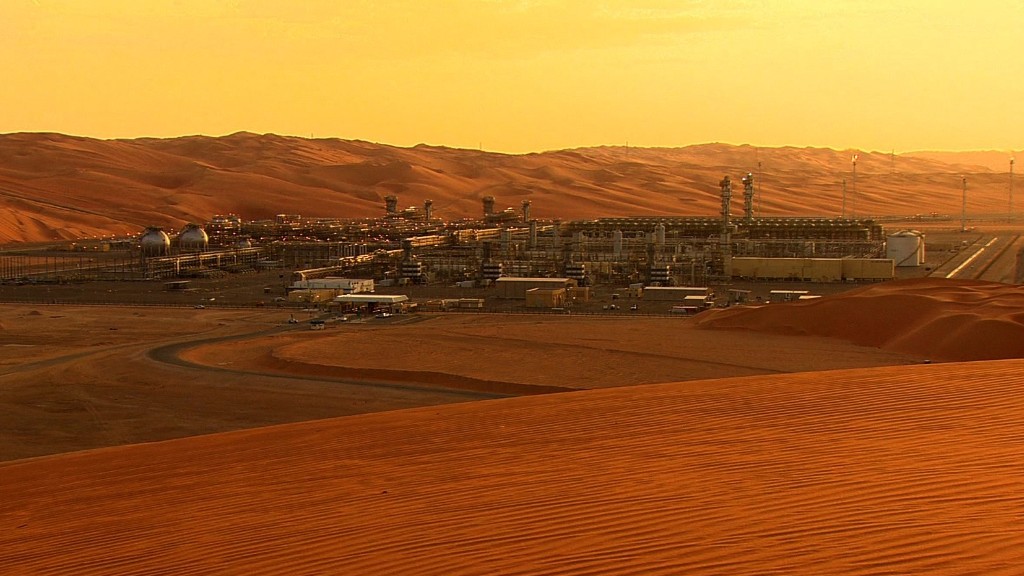 It's time to start paying attention to Saudi Aramco.
Saudi Arabia's state-owned oil company is the biggest in the world. It's being prepared for a mammoth stock market listing to raise money to help reduce the kingdom's addiction to oil.
A small portion of Saudi Aramco will be listed as early as 2017, and the shares could trade on up to four markets: New York, London, Hong Kong and Saudi Arabia's capital Riyadh.
Here's what you need to know about this oil behemoth before the IPO comes around:
$2 trillion
Deputy crown prince Mohammed bin Salman, who is pushing economic reform, estimates that the IPO will value the Saudi Arabian Oil Company -- Aramco for short -- at more than $2 trillion.
That would make it about four times the size of Apple (AAPL) and over five times the size of ExxonMobil (XOM), the West's biggest oil producer by market value.
But just how much Aramco is worth is hotly debated. Per Magnus Nysveen, a senior partner at Rystad Energy, believes that oil would have to be trading at $70 a barrel -- not $45 -- to support the prince's estimate.
Robin Mills, founder and CEO at Qamar Energy, estimates the company is worth much less -- between $250 billion to $400 billion -- because it pays a huge amount of tax and faces a declining market in the long run.
1 in 8 barrels
Aramco says it produces one out of every eight barrels of oil in the world, or about 12% of global production, more than any other single producer.
It pumps about 10.3 million barrels per day. That is more than twice its closest competitor Rosneft, Russia's state-owned producer.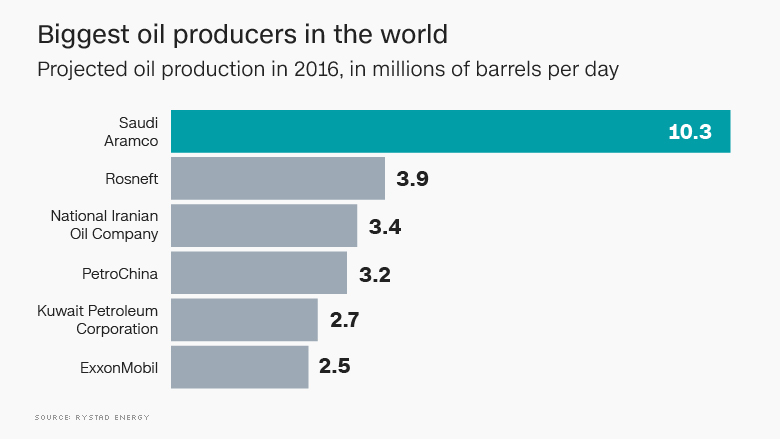 261 billion barrels
Aramco says it has 261 billion barrels of oil in reserves, giving the company plenty of resources to exploit in the years ahead. That's more than all of North America's oil reserves put together.
BP's highly respected report on oil statistics estimates Saudi Arabia has even more in reserve -- 267 billion barrels -- which is nearly 16% of the global total. But not everyone is convinced that these figures are 100% legit.
"Saudi Arabia's official estimates are overstated," said Rystad Energy's Nysveen. "It might be 267 billion barrels of oil in the ground, but it's impossible to prove according to agreed regulations."
One million barrels
That's roughly how much oil the U.S. buys from Aramco each day. Japan imports a similar volume of Saudi oil, as does India.
China is Aramco's biggest overseas customer, buying about 1.4 million barrels per day, according to Rystad data.
Aramco sells about 75% of its oil overseas, with the balance sold at discounted prices into the domestic market.
93% tax
Aramco does not say how much tax it pays, but Qamar Energy's Robin Mills estimates the rate at 93% since the company hands nearly all its revenue to the state.
Indeed, the oil sector accounts for roughly 87% of the country's budget revenues.
Such a high tax rate could dissuade investors from buying into the IPO as they may worry that they won't get a fair share of the profits.
Mills said the company and kingdom will want to rethink the current tax arrangement ahead of the IPO.
"If they lowered the taxes, they probably could get to the $2 trillion [valuation]," said Mills.
$9.90
Saudi Arabia and Kuwait are the only countries in the world that can pump a barrel of oil for less than $10.
Many other major oil producing nations have much higher pumping costs, which means they suffer huge setbacks when prices fall too low.
Saudi Arabia also suffers from lower revenue, but it isn't forced to shutter operations.
This helps explain why it keeps pumping oil into an oversupplied market -- it helps the country maintain its market share at the expense of other producers.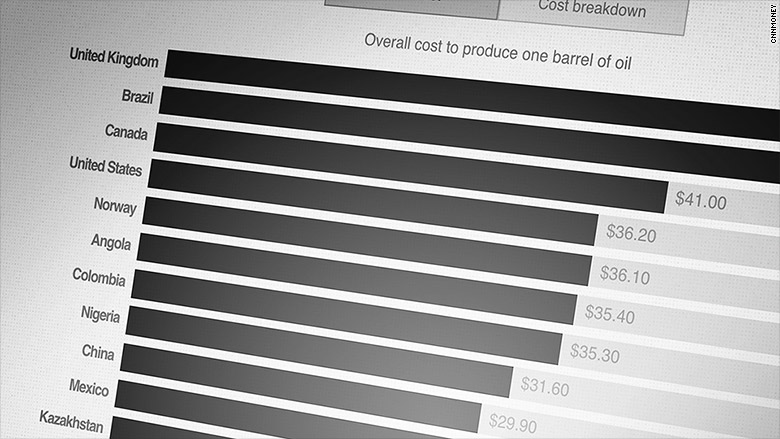 65,000 employees
Aramco said it employs about 65,000 workers in a country with a population of 28 million.
But the company estimates that it currently creates work, either directly or indirectly, for about 200,000 people.
It's hoping to grow that figure to about 500,000 jobs over the next decade as it looks to expand into related sectors such chemicals.
--CNNMoney's John Defterios contributed to this report.