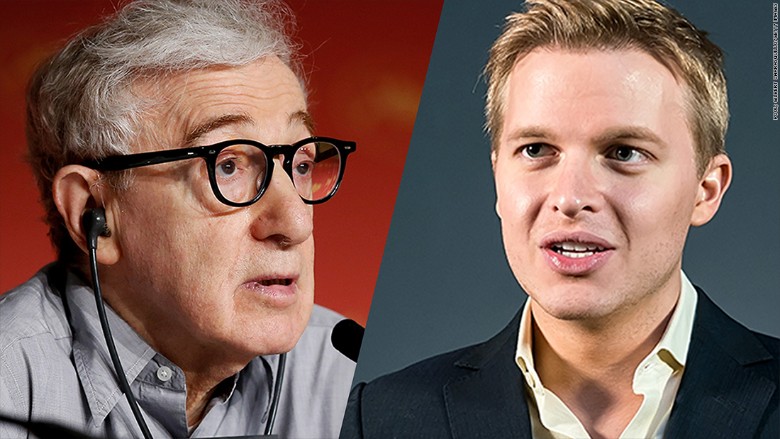 Ronan Farrow says he's encouraged by the torrent of supportive reactions to his stunning essay in The Hollywood Reporter about the sex assault allegations against his father Woody Allen, who he calls a "predator."
In the essay, Farrow condemned what he called the media's "dangerous" contribution to a "culture of impunity and silence."
Hours after it was published on Wednesday, he told CNNMoney he sees fresh, disturbing evidence of media acquiescence to Allen. He pointed to the tweets about Allen's presence at the Cannes Film Festival, where he is premiering his new movie "Café Society" starring Blake Lively and Kristen Stewart.
"If you're sitting at Hotel du Cap filing a Q+A with Blake Lively that asks who she's wearing but not why she worked with an alleged child molester, it might be time for some soul searching," Farrow said.
Shortly after Farrow's essay was posted online, Allen, Lively and and others attended a press conference at Cannes, and several journalists in attendance noted that the entertainment press did not ask Allen about it.
"The overwhelming support from other journalists says a lot about how far we've come," Farrow told CNNMoney. "But the complete lack of tough questions at Cannes as my article is one of the top trends on Twitter shows how far we still have to go."
The revived accusations did not go entirely unnoticed, however.
Later in the day an emcee at the film festival brought it up in front of Allen, reportedly saying, "It's very nice that you've been shooting so many movies in Europe, even if you are not being convicted of rape in the U.S." Instead of laughs, there were gasps, according to local reports.
Farrow is not there; he is on assignment in Arizona.
Asked to describe the initial reactions to his essay, he said, "The reaction has been overwhelmingly one of solidarity, from reporters and — most meaningfully for me — from survivors of sexual assault. Many have reached out today to say my speaking out made them feel less alone. That makes any fallout I may face worth it."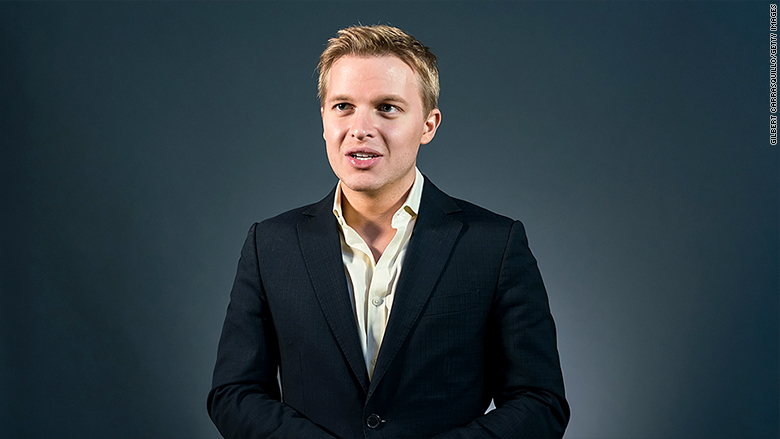 Farrow is a reporter for NBC News with a recurring investigative series on the "Today" show.
He told CNNMoney that Wednesday's essay wasn't the last time he'll speak about this topic.
"We don't always get to speak truth to power as reporters, but I try to grab the opportunities I do get," he said. "I'm working on a story involving sexual assault survivors right now that I hope will handle these issues correctly. I hope my 'Today' series and whatever else I do in the future can play a part in giving voice to people who need it."
Farrow's essay came more than two years after his sister Dylan wrote in detail about Allen allegedly touching and sexually assaulting her when she was a young girl.
Farrow said little at the time about his estranged father, although he tweeted, "I love and support my sister and I think her words speak for themselves."
At the time, he had just started to host a weekday show on MSNBC. "Initially, I begged my sister not to go public again and to avoid speaking to reporters about it," he revealed in the essay on Wednesday, saying he is now "ashamed" of that.
On Wednesday he said explicitly, "I believe my sister... But more importantly, I've approached the case as an attorney and a reporter, and found her allegations to be credible. The facts are persuasive and well documented."
Allen has never been convicted of a crime. Farrow said this fact is important to note, but "it is not an excuse for the press to silence victims, to never interrogate allegations."
Related: Amazon Studios' deal with Woody Allen
Farrow also criticized journalists who shy away from pressing Allen and his movie collaborators in order to protect relationships with powerful P.R. people and preserve access to celebrities.
The publication of his essay seemed specifically timed to the Wednesday evening premiere of "Café Society" in France.
Allen and the movie's stars "can trust that the press won't ask them the tough questions. It's not the time, it's not the place, it's just not done." But that kind of silence "isn't just wrong. It's dangerous," Farrow wrote. "It sends a message to victims that it's not worth the anguish of coming forward. It sends a message about who we are as a society, what we'll overlook, who we'll ignore, who matters and who doesn't."
When asked via text message "Why now?" — as in, why's he speaking out now? — Farrow flipped the question around.
"Why now?" is a "veiled critique I've seen a lot in response to my sister and to [Bill] Cosby's accusers," he said. "It's a well worn response to women coming forward about sexual abuse and harassment. (Look for the same phrase in coverage of Anita Hill as well). The implication is clear: What's this lady's game? Where's the ulterior motive?"
"Speaking plainly about these issues is hard. I've seen few high profile cases where an ulterior motive would drive someone to do so," he added.
Sign up for the Reliable Sources newsletter
In Farrow's case, he said, the reason for his timing is self-evident — The Hollywood Reporter was criticized for a recent cover story about Allen that sidestepped the sex assault allegations.
The magazine subsequently contacted Farrow "and asked if I would bring them a tougher perspective," he said. "Their openness to confronting the criticism is a sign of change. It's not fun for me to do, there may be fallout for my own career, but I frankly don't care. Saying yes was the right thing to do. The only thing I could do, ethically."