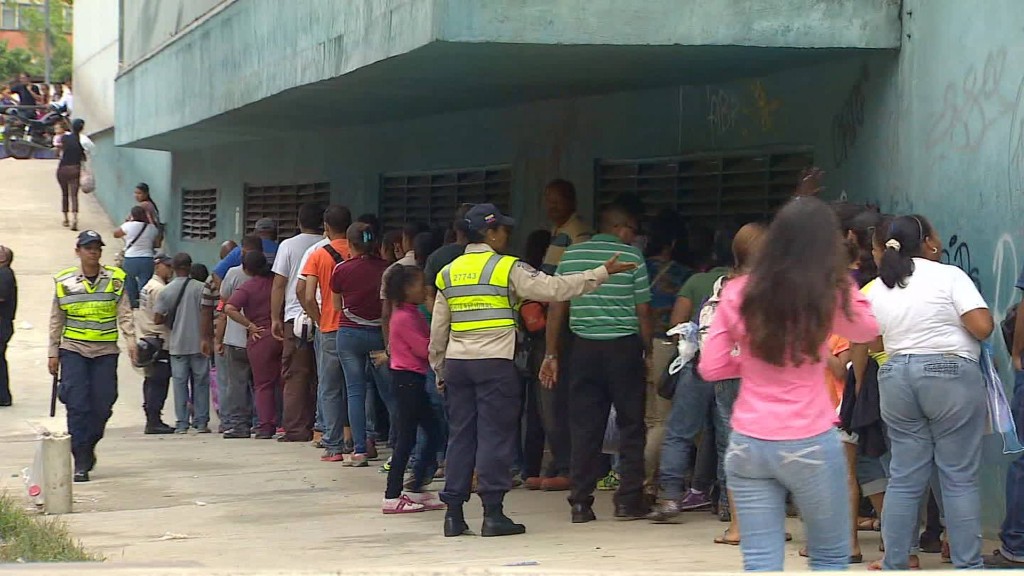 Corruption is under the spotlight in much of Latin America today.
Senators in Brazil will vote Wednesday to impeach President Dilma Rousseff, who is accused of hiding a budgetary deficit to help her win re-election in 2014.
But Brazil is far from alone. An anti-corruption wave seems to be sweeping across the region. Last year, Guatemala's former president, Otto Perez Molina, went to jail after a corruption scandal engulfed his government. Now leaders and dealmakers in Argentina, Chile and Venezuela are also being exposed for their own bribery or corruption scandals.
"It's a good thing, it means that the rule of law is starting to work," says Russ Dallen, managing partner at LatInvest, an investing firm based in Miami. "It's not your father's Latin America anymore."
Dallen points out that corruption has been endemic in Latin America's highest levels.
The Panama Papers database, released Monday, confirms this view. Out of the top 10 countries in the world that used intermediaries to setup offshore companies, five are Latin American: Panama, Guatemala, Brazil, Ecuador and Uruguay. Several current and former Latin American officials were named in the leak.
Here's a rundown of the corruption scandals unfolding across the region.
Related: Brazil Vice President: I want to regain people's trust
1. Brazil: the Petrobras scandal
Brazil's top politicians, billionaires and company execs have been imprisoned and arrested over the last two years as a massive bribery ring at the state-run oil company Petrobras has been unraveled by investigators.
Now it's reached the highest rung with the president facing impeachment Wednesday. The official charge against her -- manipulating fiscal deficit -- is unrelated to Petrobras. But critics argue that she can't claim complete innocence in the Petrobras scandal. Rousseff was the chairwoman of Petrobras during much of the time when the bribery took place.
Many of Rousseff's allies, from her campaign manager to predecessor Luiz Inacio Lula da Silva, have been charged with money laundering or accepting bribes.
"We're getting all the dirty laundry out, especially in Brazil," says Kathryn Rooney Vera, research director for BullTick Capital Markets, a firm based in Miami.
Related: Latest on impeachment proceeding against Rousseff
2. Argentina: former president investigated
On Friday, police raided apartments owned by former President Cristina Fernandez de Kirchner in Buenos Aires, the nation's capital. Kirchner and her two adult children are alleged to have laundered money through Los Sauces, a real estate partnership run by the family, which owns several hotels and properties in Patagonia.
Kirchner hasn't been formally charged with a crime, but one of her closest allies, Lazaro Baez, has also been arrested by police for money laundering linked to Kirchner's hotels.
What happens next to Kirchner is unclear, but the evidence against her is mounting.
Related: Argentina wins by victory to help end 15 years in default
3. Chile: President's inner circle accused of bribery
Allies and aides close to Chilean president Michelle Bachelet are accused of accepting bribes from one of the country's largest companies, Sociedad Quimica y Minera, a fertilizer company. In an interview with CNN, Bachelet denied that she had any knowledge of the scandal.
"I don't know if anyone close to me had accepted any bribes," Bachelet told CNN's Samuel Burke in early April.
Bachelet hasn't been charged with a crime. However, several politicians across the spectrum have been linked to the scandal.
Related: Brazil has a 'great president' says Chile president
4. Venezuela: corruption left and right
When it comes to Venezuela, where do you start? The country is suffering through an economic crisis that's quickly becoming a humanitarian crisis, where people are going without basic food items, health care or electricity.
But that's just bad governance, experts say. The corruption in Venezuela is another story.
It is being targeted by the United States.
In December, U.S. officials arrested and filed suit against two Venezuelans in the U.S., Roberto Rincon and Abraham Jose Shiera Bastidas, for bribing officials at the country's state-run oil firm Petroleos de Venezuela (PDVSA). Investigators have said as much as $1 billion in bribes were sent between the businessmen and PDVSA.
It came after family members of President Nicolas Maduro were arrested by U.S. authorities in Haiti for drug trafficking in November. The two relatives were allegedly transporting 800 kilograms of cocaine en route to the United States.
Also last year, President Obama slapped sanctions on high-ranking Venezuelans with assets in America.
These acts against corruption could be historic for the region, some say.
"If this crackdown continues, it will go down as one of the most important changes to Latin America in the 21st century," Brian Winter, editor-in-chief of the magazine America's Quaterly, wrote earlier this year. The title: "Corruption Busters."