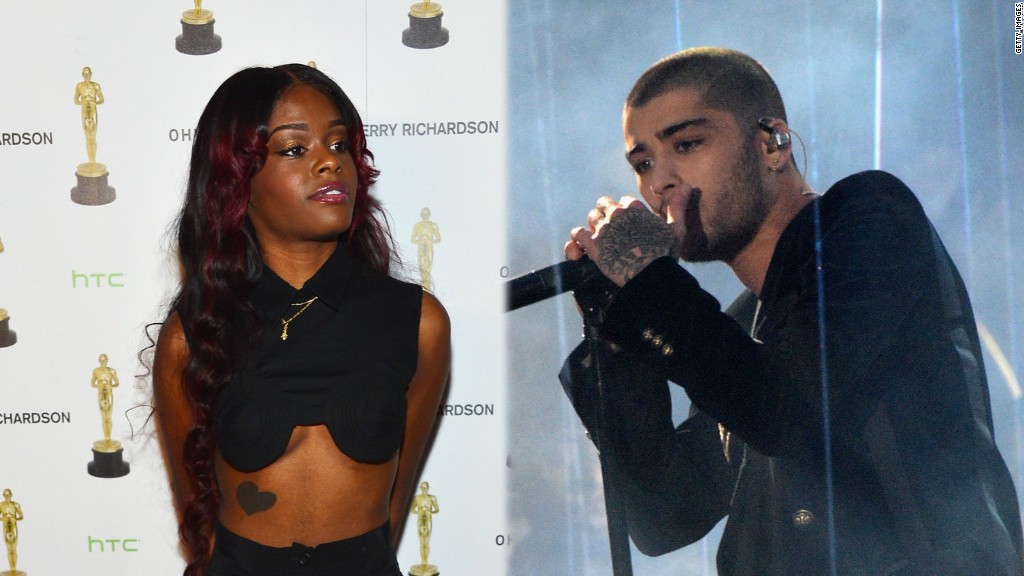 One Direction fans who petitioned for Twitter to suspend Azealia Banks account after her racist and homophobic rant against Zayn Malik got their wish.
Anyone trying to access the rapper's account early Thursday was greeted with a page which read, "This account has been suspended. Learn more about why Twitter suspends accounts, or return to your timeline."
Banks went in the wrong direction on Tuesday when she took offense to some of Malik's tweets, which she assumed were aimed at her. She responded with inflammatory tweets about the former One Direction member which included racial and gay slurs.
That was then followed by an epic Twitter (TWTR) beef battle with 14-year-old Disney actress and One Direction fan Skai Jackson, which created a ton of buzz. Banks went after the young star in a series of insulting tweets after Jackson tweeted, "Azealia Banks needs to simmer down a little."
Here's why people are talking about Azealia Banks
Banks calling Malik a "curry scented b***h" spawned a hashtag using that phrase. To protest Banks, people of color began sharing selfies with the hashtag.
Some questioned why Banks -- a purveyor of provocative tweets who has attracted attention for everything from endorsing Trump to lashing out at other celebs -- has been allowed to keep spreading her vitriol.
"@twitter why is @AZEALIABANKS still an active account when she has broken so many terms of use," one person tweeted. "Let alone verified."
On Wednesday, London's Rinse FM's Born & Bred Festival canceled Azealia Banks' upcoming headline appearance.
On Thursday afternoon her fans were applauding what they believe to be her return to Twitter. An unverified account was launched under her name with one of the first tweets saying "I've realised I should probably just stick to music the world can't handle the truth."