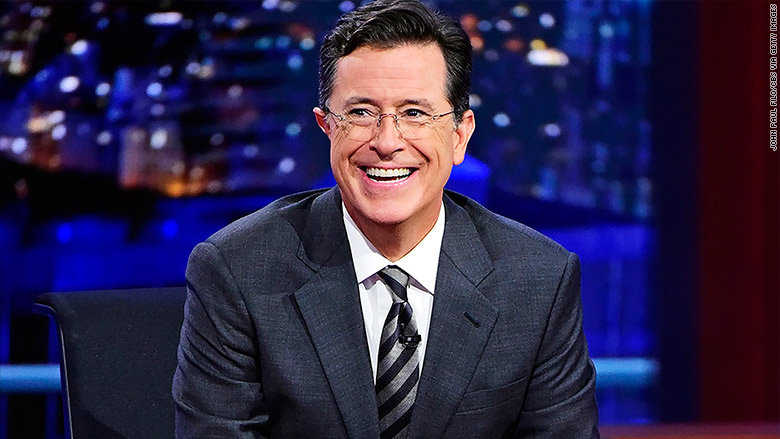 Did Stephen Colbert just get a Chris Licht bump?
"The Late Show with Stephen Colbert" had its best weekly audience since mid-February, CBS announced on Thursday.
The late night variety show averaged 2.57 million viewers for the week ending May 6. This is the host's largest audience since February 19.
The positive numbers are notable because they come roughly a month after Chris Licht took the reins of "The Late Show" as its new executive producer and showrunner.
Before Licht, who had been the executive producer of "CBS This Morning," Colbert had largely been in charge of his own show.
Related: Stephen Colbert's 'Late Show' gets new boss from 'CBS This Morning'
The boost did not appear to be tied to a list of blockbuster guests. The biggest name of the week was Bill O'Reilly, who he had lampooned for years on the Colbert Report.
Licht's morning to late night switch raised eyebrows in April as it appeared to be a behind the scenes shakeup for the at times sluggish "Late Show."
There have been some changes, albeit minor ones, at the program since Licht's arrival such as switching up how Colbert opens the show.
Roughly a month later, the move appears to have had some positive effects.
But alas for Colbert, Jimmy Fallon still reigns over the late night kingdom.
NBC's "The Tonight Show with Jimmy Fallon" had a healthy lead over his closest rival, averaging 3.20 million viewers.
Fallon also sizably beat Colbert with a rating of 0.81 to 0.51 in the advertiser beloved demo of those aged 18 to 49-years old.
ABC's Jimmy Kimmel, the third contender to the late night crown, averaged 2.12 million.