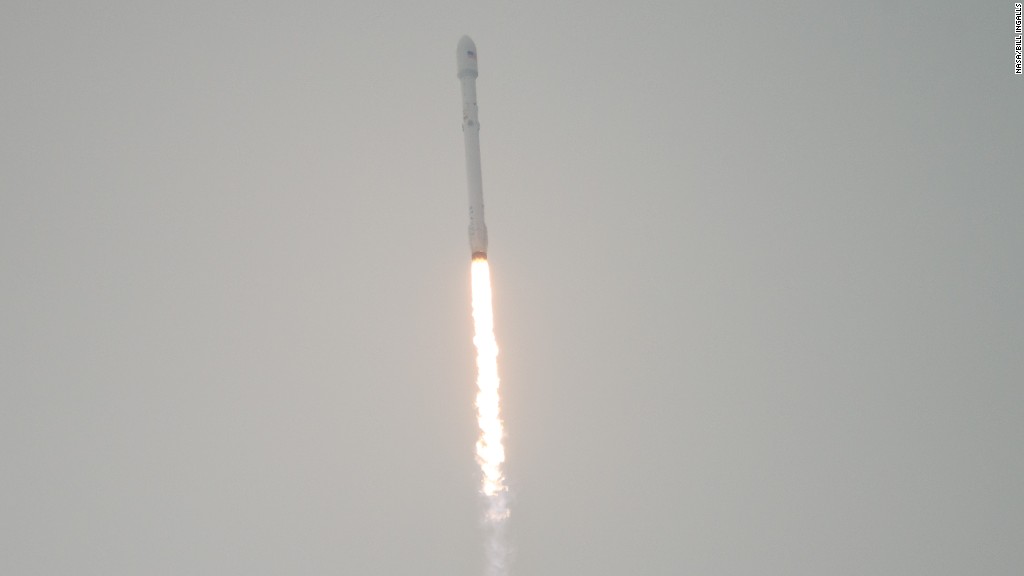 Boeing just fell behind SpaceX in the race to be the first private company to carry U.S. astronauts to space.
Boeing said Tuesday that it has pushed the date of its first manned space mission back from 2017 to 2018. Boeing's CST-100 Starliner, which will carry the astronauts, is still under development.
SpaceX, led by Tesla Motors (TSLA) CEO Elon Musk, says it intends to have a manned mission in 2017 using its Dragon space capsule. Unlike the Starliner, Dragon is already built and in use, delivering supplies to the International Space Station with unmanned missions. But it will need to go through further testing before it can carry humans.
Related: NASA gets record number of astronaut applications
Both Boeing and SpaceX have contracts with NASA to take astronauts to the International Space Station. It doesn't really matter which one makes the first trip -- it's really just a matter of bragging rights -- since NASA will send multiple missions using both carriers.
NASA's last space shuttle flight was five years ago, and since then the agency has depended on the Russian space program to carry astronauts to space.
The company's vision is still "that the CST-100 wil be the first of the new American capsules to take astronauts to space," said Leanne Caret, CEO of Boeing's defense, space & security unit, at the company's investor day. But company spokesman Todd Blecher said that goal of being first is the company's aspiration, rather than a forecast.
"We want to be the first. But that depends on a number of things, including our progress, SpaceX's progress, and the decisions that NASA will make," he said.
Related: Defense stocks near all-time highs
Boeing's manned launch is being delayed due to a variety of issues which have come up during the development of Starliner, said Rebecca Regan, a Boein (BA)spokeswoman. NASA was involved with the scheduling decision, she added.
"They're right there with us. We're working shoulder to shoulder with them," she said. "I would say we're making really great progress. The most important thing is to get a safe spacecraft."
A SpaceX spokesman did not have any comment on Boeing's change of plans, but did confirm that it's is still aiming for a 2017 manned mission.
The two companies are also in a space race to go to Mars. SpaceX CEO wants to have an unmanned mission to Mars as soon as 2018, and to send the first humans to Mars sometime "around 2025." While SpaceX is working with NASA on its Mars mission plans, it is not under contract with the agency on that project. Boeing however is working on developing a rocket for NASA known as the Space Launch System, which the space agency plans to use to go to Mars by the 2030's.