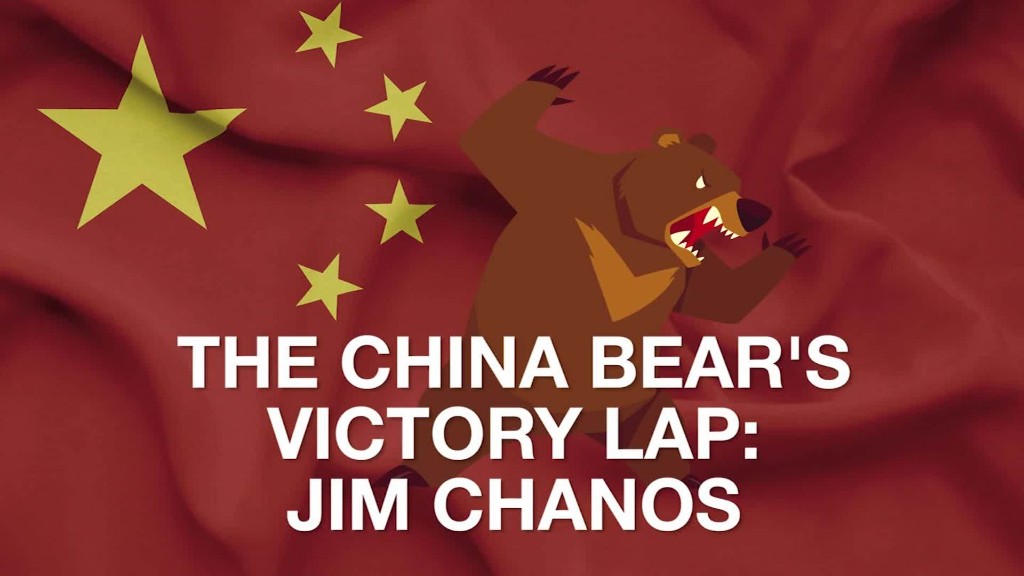 Famous investor Jim Chanos thinks Alibaba's accounting looks shady -- even by China's standards.
"The accounting at Alibaba is some of the most questionable I've ever seen" for a major company, Chanos said of the world's largest retailer.
Chanos' crusade against Alibaba could be self-motivated. After all, he has a lot to gain if Alibaba's stock tanks. That's because Chanos has a negative bet -- or is "short" -- Alibaba (BABA) stock since last November.
But people don't just brush aside what Chanos says. He is the well-known billionaire short-seller who made his career by being early to see the problems that led to Enron's collapse in an accounting scandal early last decade.
Speaking this week at the SALT hedge fund conference in Las Vegas, Chanos expanded on his bearish view, complaining about a lack of transparency and Alibaba's "exploding" capital spending. Chanos said he challenges anyone to tell him if the business is truly profitable or not.
The fact that Alibaba is based in China only increases Chanos' skepticism.
"I default to my view on China: If there's something you don't see, 99% of the time it's not good news," he said.
In addition, Chanos believes Alibaba uses off-balance-sheet entities that make it difficult to know how much money the company actually makes. Chanos is concerned that Alibaba's delivery operations are part of a separate entity not included in its financial statements, says Fortune. Chanos seemed to be referring to Cainiao Network, the logistics and distribution network Alibaba owns a stake in.
While Alibaba declined to comment directly to CNNMoney on the Chanos comments, the company did note that it recently began to break out the results of Cainiao, which is made up of a network of companies that employs an estimated 1.5 million people and handles an average of 30 million packages a day.
Alibaba reported a loss of $15 million for Cainiao last quarter. Those losses were offset by accounting gains tied to the fact that the division got a higher valuation when it recently raised about $1.5 billion in March. Alibaba said the investment was made by sovereign wealth and private equity firms, including GIC, Temasek and Primavera.
"We believe that Cainiao Network's successful fund raising validates its standalone business model and future potential," Alibaba said in the earnings release.
Still, this is not the first time accounting questions have been raised about Alibaba. In 2014 potential accounting problems were discovered by Alibaba at its recently-acquired film division. Alibaba Pictures Group said at the time it may not have fully complied with accounting requirements and may have under reported losses.
Last September Barron's raised questions about the company's numbers in a story titled "Alibaba: Why it could fall 50% further."
MarketWatch too noted at the time that the Hong Kong division of PwC that audits Alibaba has not been inspected by the U.S. audit regulator due to restrictions from China's government. PwC did not respond to a request for comment from CNNMoney.
However, Alibaba pushed back strongly to the Barron's article, saying it contained "factual inaccuracies" and the company "stands by our reporting financials and operating metrics."
It's also worth noting that many Wall Street analysts seem to be big believers in Alibaba. Nearly three-quarters of the analysts covering Alibaba have buy or overweight ratings on the stock, according to FactSet.
Related: Oil billionaire: I'd cut off Muslims from coming to America
And as noted, Chanos is not exactly an independent source here. He is a longtime China bear, realizing as early as 2009 that the country's debt-fueled economy was due for a big setback. He was right. China's economy is now growing at the slowest pace in seven years.
Asked by a reporter if China is doing worse than "we" think it is, Chanos said yes and joked, "China is worse than even I think it is."
Chanos said China's explosive economic growth of recent decades was largely driven by investment and credit.
"There's no magic here," Chanos said.
That's why Chanos said his hedge fund Kynikos Associates is actively betting against companies exposed to China's massive debt build-up: second-tier banks, shadow banks and asset managers.
Related: China reverts to bad old ways to prop up economy
Chanos also revealed he will vote for Hillary Clinton if she wins the Democratic nomination for president, as he expects she will. Chanos had been a vocal proponent of Vice President Joe Biden running for the White House.
Chanos called the 2016 election cycle a "strange race" and said many supporters of Trump at the SALT conference are backing him simply because "they don't like Hillary."
"I suspect some of that will play out on the Democratic side as well," he said.
--CNNMoney's Sophia Yan contributed to this report.