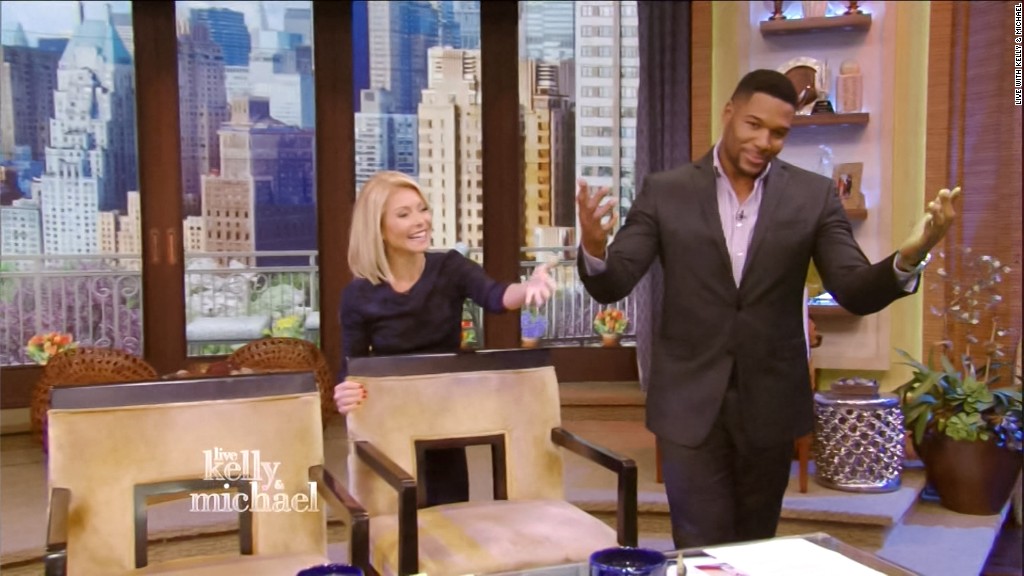 ABC's mishandling of Michael Strahan's departure from "Live With Kelly and Michael" garnered so much attention as to neglect the other half of the equation -- how helpful the former NFL star will be as a full-time addition to "Good Morning America."
Strahan is obviously personable, and has been making regular appearances on the ABC morning program. Those have primarily involved lighter and human interest type stories.
In making the announcement, ABC News President James Goldston said by joining "GMA," Strahan will have "more opportunities to tell stories that inspire, inform and empower people."
Yet the host is slated to land there in September, in the thick of what has already been an inordinately zesty presidential campaign, when politics will likely be front and center. That raises questions about how much more feel good news, for lack of a better term, Strahan will bring to a newscast that already features quite a lot of it.
The focus, inevitably, has been on ABC's determination to strength "GMA," a huge cash cow for the network, amid a pitched battle for morning supremacy with NBC's "Today" show. To the extent the announcement surprised Strahan's co-host, Kelly Ripa, one reason was likely an eagerness to have this news ready before ABC's upfront presentation to advertisers on May 17.
Related: Michael Strahan signs off on 'Live,' ending awkward month with Kelly Ripa
In the bigger scheme of things, there's no question which franchise is more important or lucrative. But for the move to make sense, "GMA" must reap benefits that justify destabilizing "Live," even without considering the public relations damage done when Ripa fleetingly skipped work as a sign of her displeasure.
While the emphasis has been on the horse race between ABC and NBC, it's worth noting the perennial also-ran in that ratings derby, "CBS This Morning," has posted gains, largely by adopting a newsier approach than its rivals. For the season, the program notched a 9% increase in viewers versus the same period last year, the only one of the three to do so.
ABC has consistently been unapologetic about the freewheeling, at-times morning-zoo-like nature of "Good Morning America," which helped break "Today's" competitive stranglehold. Asked about the distinction between "hard" and "soft" news in 2012, when he was still running ABC News, Disney/ABC Television Group chief Ben Sherwood dismissed such distinctions, saying the network's primary criteria involved "the relevance of the news in real people's lives."
Related: Kelly Ripa and Michael Strahan ready for final frosty show
Strahan should appeal to both the predominantly female audience that watched him on "Live" as well as male viewers who might be more familiar with his weekend work on Fox's NFL kickoff show.
At least initially, though, the news cycle should weight his contributions even more heavily toward "GMA's" lighter second hour.
"I'm not dying," Strahan told "Live" viewers at the outset of a final episode peppered with flashbacks from his not-quite four years there. "I'm still in the family." Ripa's parting gifts included a bronzed pair of stiletto-heeled shoes that Strahan had worn on the show.
As noted, Strahan's new role is part of a much bigger game. Yet whether that will advance the ball for the ABC program, to mix sports analogies, isn't a slam dunk.