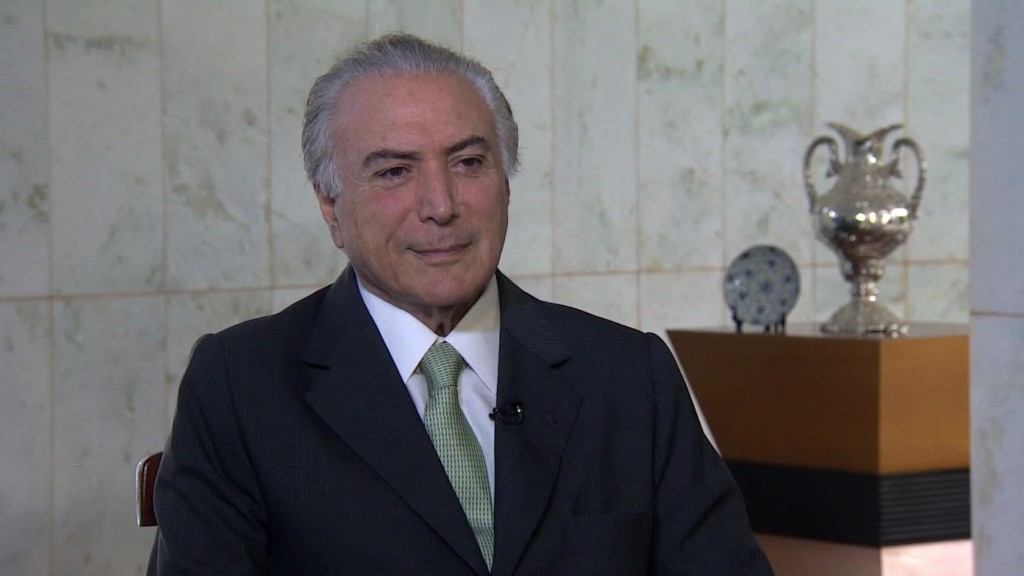 Brazil's new president just inherited all the same problems that doomed his predecessor, Dilma Rousseff.
The country's political crisis deepened Thursday when Rousseff temporarily resigned as president after Congress voted to begin an impeachment trail against her. Her vice president -- and now arch enemy -- Michel Temer took over as Brazil's president.
Temer wasted no time Thursday listing his top priority: Fixing Brazil's crippled economy.
"Brazil lives today in the worst economic crisis of our history," Temer said Thursday. "It is imperative that we rebuild the fundamentals of Brazilian economy."
He's inheriting an economy that's in its longest recession since the 1930s. Brazil's economy shrank 3.8% last year and its central bank forecasts that it will contract another 3.5% this year. The IMF predicts growth will be slightly negative even in 2017.
Related: Brazil's new president has long to-do list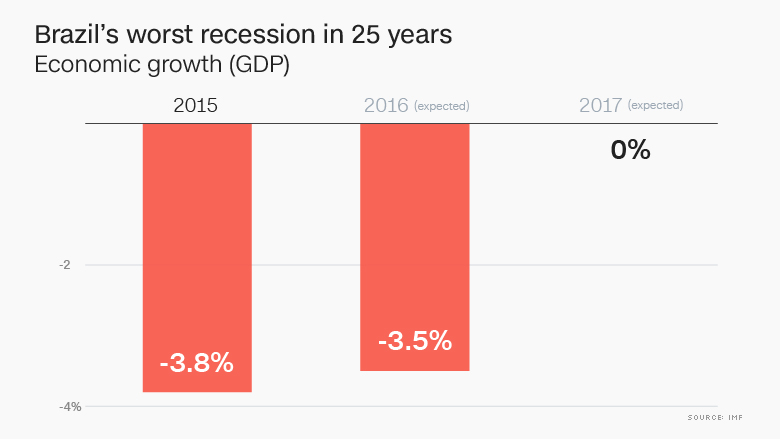 By Thursday afternoon, Temer announced his new cabinet. As a sign that he plans to lower government spending, Temer cut the number of ministries to 22 from 32. (Temer immediately drew criticism on social media for appointing all white men, no blacks or women. It's the first time since 1979 that a woman hasn't been in the cabinet).
Some on Wall Street were thrilled with Temer's economic team, led by finance minister Henrique Meirelles, Brazil's central bank chief during its boom years of 2003 to 2011.
"We're excited...the finance team is looking top notch," says Will Landers, portfolio manager for BlackRock's Latin America funds. Landers manages $2 billion in Latin American stocks. "You're getting the right people in the right places."
Related: 5 things to know about Brazil's new president
Investors like Landers gave two thumbs up to Temer. Brazil's stock market index, Bovespa, rose nearly 1% Thursday. Investors have cheered the path to Rousseff's impeachment trial, hoping for a more market-friendly regime. That optimistic anticipation has made Bovespa the best performing stock market in the world so far this year, up about 23%.
But the market doesn't reflect Brazil's economy. Temer and Meirelles have their hands full, expert say. Unemployment has shot up to 10.2%, inflation remains high, the government's deficit is deep and confidence in the economy has plummeted.
Meirelles is a Wall Street favorite because he never bowed to pressure to lower interest rates from former President Luiz Inacio Lula da Silva, widely known as Lula, during his term in office. He was also a bank exec in the United States before his term with Lula, a populist president who worried global investors.
Related: Rousseff: I'm the victim of great injustice
"[Meirelles] helped to really calm market concerns about Lula at the time," says Neil Shearing, chief emerging markets economist at Capital Economics, a research firm. "He's got a good reputation."
On Friday, Meirelles hinted that the government might need to raise taxes in the short-term to repair the country's deficit. Programs like social security and other public subsidies will be maintained, he said.
"The goal now is fiscal balance -- if it's necessary to add another tax, it would be proposed as a temporary measure," Meirelles told reporters.
Temer hasn't named a new central bank chief yet but news reports say he's strongly considering Ilan Goldfajn, the top economist at Itau Unibanco, one of Brazil's biggest banks. He would be in-line with Temer's more market-friendly cabinet, experts say.
Despite investors' optimism about Temer's team, major hurdles remain. Temer's approval rating is low like Rousseff's, and many in his political party, PMDB, have been implicated in the massive bribery scandal at the state-run oil company Petrobras. All those facts could make it hard for Temer to pass meaningful reform, some say.
Temer's presidency is also no guarantee. He was on the ticket with Rousseff in 2014 when she allegedly fudged the numbers on Brazil's budget. If it's found he knew about it, that could put his tenure -- and efforts to revive the economy -- in jeopardy.
"The really big stuff that needs to be done -- Temer lacks the political capital," says Shearing. "There's lots of ways in which this could unwind quite quickly for him."
--Julia Jones contributed reporting to this article.