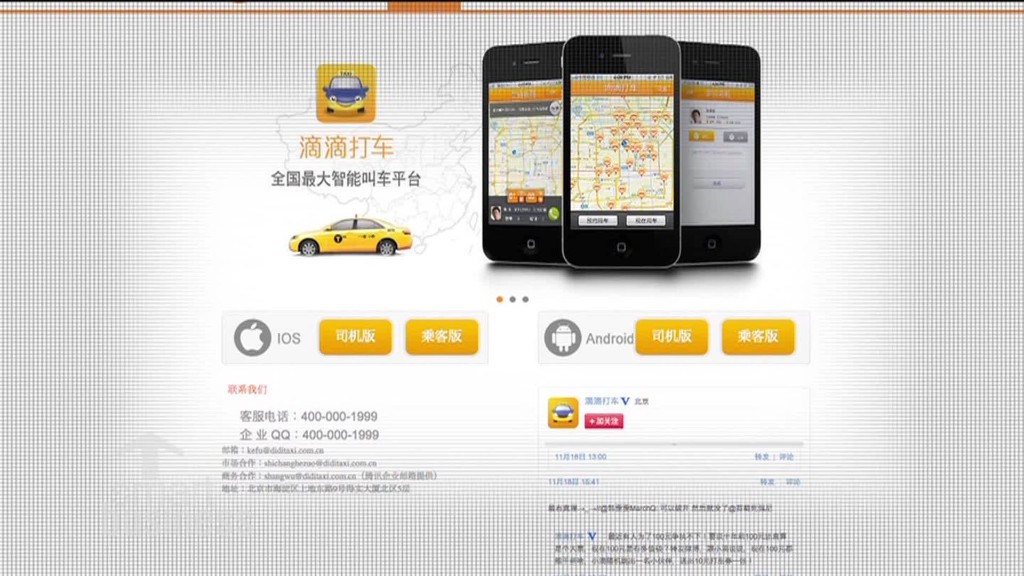 Tim Cook has arrived in Beijing just after making a very public investment in the future of China, betting $1 billion on the country's version of Uber.
The investment in Didi Chuxing is an unusual one for Apple, which typically swallows smaller companies whole. It does, however, reflect Apple's laser-like focus on China, which Cook predicts will one day surpass the United States as the company's top market.
The deal could benefit Apple's relationship with Beijing, and give Cook something positive to talk about during meetings with senior officials. On Monday, he visited an Apple Store in Beijing with a top Didi executive.
Apple hasn't commented on the trip, but there's much at stake. Cook is likely to focus on three major hurdles: slowing sales, cybersecurity challenges and an unfriendly regulatory climate.
China sales: Apple just suffered one of its worst quarters ever in China, with sales falling 26% during the first three months of 2016. The decline in China was steeper than in any other market.
A lot of that has to do with the iPhone. The marquee product was briefly the best selling phone in China last year, but it has since been overtaken by cheaper offerings from local rivals including Huawei and Xiaomi, according to research firm Canalys.
And there are signs that the iPhone will have a tough time reclaiming the top spot. China's economy is now slowing, and its smartphone market is beginning to mature. Sales of all smartphones fell 5% last quarter, according to Strategy Analytics.
Related: China troubles mount for Apple
Regulators: In April, less than seven months after Apple launched iBooks and iTunes Movies, the services were shut down in China. They disappeared as Beijing implemented new rules for foreign companies that provide online content such as videos, games and books.
Meanwhile, the Apple News app continues to be blocked in China. And Apple TV isn't sold there.
None of those businesses are huge moneymakers for Apple -- especially when compared to the iPhone. And other Western firms face similar roadblocks.
The trip is a chance for Cook to build and manage Apple's relationship with key regulators, and perhaps bring iBooks and iTunes Movies back online.
Cybersecurity: Apple's iTunes App Store was attacked by hackers in September, and the company was forced to remove dozens of popular Chinese apps that were affected.
In October, Apple (AAPL) removed hundreds more apps that were made in China. Those apps secretly collected personal information from anyone who downloaded them.
It's not yet known why the Chinese developers unwittingly downloaded malicious code from hackers, but it's possible the app makers were looking for a faster way to retrieve Apple's development software.
Because of slow download speeds, people in China often try to download apps and tools from alternate websites and servers -- but sometimes face bitter consequences for doing so.
Frequent visitor: Apple's CEO can't expect to solve all of these problems in a single trip.
But it's not his first rodeo: Cook has made frequent visits to China since taking over from Steve Jobs in 2011.
In some respects, the trips have been effective. But China's recent crackdown on foreign media companies, its turn away from the iPhone and growing cybersecurity challenges mean the CEO has his work cut out.
And, if Apple's investment in Didi Chuxing is any indication, Cook will be spending even more time in Beijing.