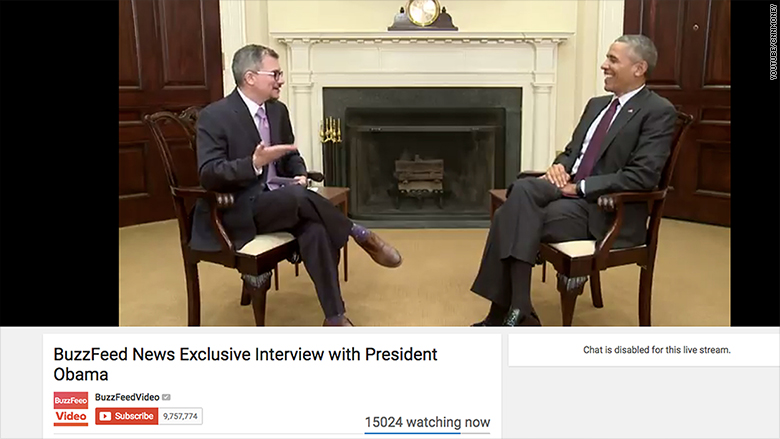 BuzzFeed scored a coveted interview on Monday: A sit-down with President Obama at the White House.
It was billed as the president's "first interview on Facebook Live," the relatively new live video service that Facebook is promoting.
There was only one problem: Facebook Live didn't cooperate.
Some sort of technical glitch stopped BuzzFeed from live-streaming the interview at 2:55 p.m. Monday. Thankfully BuzzFeed was simultaneously live-streaming it on YouTube, so there was another way to watch.
The snafu was embarrassing for both Facebook and BuzzFeed. After all, it would be a big deal if a television network's production of a presidential interview went awry.
Monday's interview was a bit different because it was experimental by nature. BuzzFeed as an organization had only interviewed Obama once before. And Facebook Live is still in its infancy as a platform for news.
But BuzzFeed and many other media companies have successfully used Facebook for a wide variety of live streams in recent months, so Monday's glitch was a surprise.
Related: Facebook's 'trending topics' spark debate
The incident also reiterates the big differences between traditional television and new forms of web video.
A Facebook spokeswoman did not respond to a request for comment Monday afternoon. BuzzFeed said the company is still assessing what went wrong.
BuzzFeed's producers at the White House were able to begin the live stream on Facebook at the same time it started on YouTube.
Legal editor Chris Geidner introduced himself and previewed the interview. But the Facebook Live stream stopped after less than two minutes, before Obama had even entered the room.
BuzzFeed's Facebook page then pointed people to YouTube to watch the live stream.
After the interview wrapped, BuzzFeed posted the full video to Facebook and streamed it there.
On YouTube, the interview had a maximum "live" audience of 18,000 simultaneous viewers, which is very low for an interview with a figure like the president.
Related: Why Periscope hired an editor in chief
But the White House calculated that the interview was worthwhile because of the buzz and attention it would receive for going live on Facebook and YouTube; the chance to reach BuzzFeed's youthful audience; and the "long tail" effect of the web.
Indeed, the video of the interview continued to gain views many hours after it was live-streamed. After three hours, it had about 200,000 views on YouTube.
On Facebook, it had 250,000 views. Facebook, however, has a much looser standard for what it counts as a "view." (Three seconds of exposure to a video clip is counted as a view of that clip.)
Facebook Live has been a top priority of the social networking company lately. It is paying a number of news outlets -- including BuzzFeed, CNN, The New York Times, Vox, Gawker, and others -- to have them "go live" on a regular basis.