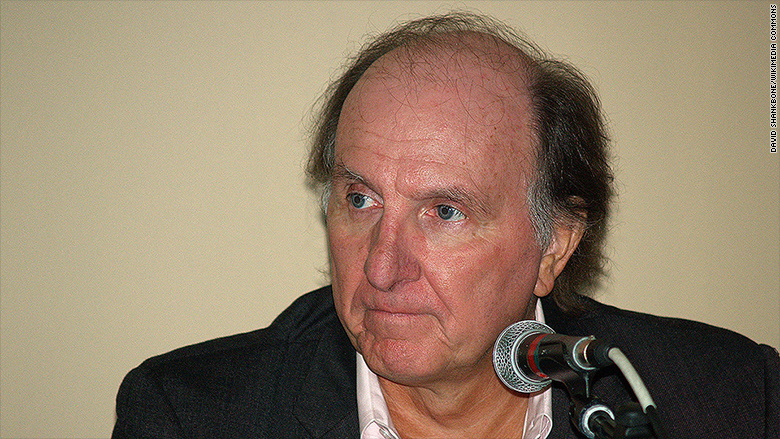 It might be hard to fathom, but there was a time when few people were all that interested in Donald Trump.
Wayne Barrett can attest to that.
When his biography of Trump was published in 1991, Barrett says it was a "total flop."
"Nobody took him seriously when the book came out, so nobody was interested in reading it," Barrett said. "It had a very short life."
After years of being out of print, the biography, "Trump," was re-released last week as an e-book with a new 9,000-word foreword. Before that, the book was tough to find, and usually exorbitantly priced when it was. One reporter told Barrett that he paid $500 on Amazon for a copy.
"This is its best life," Barrett said of the book. "All these years later."
Barrett has earned a reputation around New York as a tireless and fiery muckraker always itching to expose some bigwig's malfeasance. He spent 37 years at the Village Voice, and established himself as one of the toughest chroniclers of New York City heavyweights like Rudy Giuliani and Ed Koch.
That list includes Trump, who had Barrett escorted out in handcuffs in 1991 when the reporter crashed his birthday party.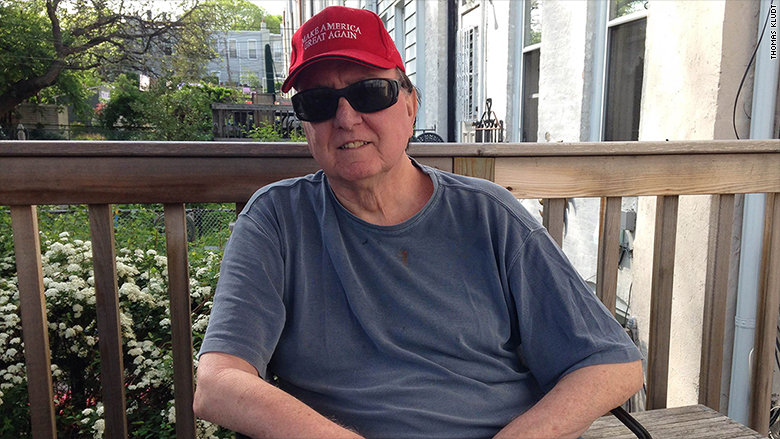 "For four decades Wayne Barrett was flat out the best reporter in New York City," David Cay Johnston, a Pulitzer Prize winning investigative reporter, told CNNMoney in an email. "No other journalists connected the corrupt dots with Wayne's insight."
Barrett's unsparing coverage of Trump began with a two-part series on the brash real estate mogul for the Voice in 1979. At that time, Barrett said "very few New Yorkers knew who [Trump] was."
Trump's profile is a bit higher now, and so is Barrett's.
These days, Barrett, 70, is largely confined to his Brooklyn townhouse, the result of his battle with both lung cancer and interstitial lung disease. He lives there with his wife, Fran Barrett, who works under New York Governor Andrew Cuomo as an interagency coordinator for not-for-profit services.
Ever since Trump launched his presidential campaign last summer, their home has played host to about 50 journalists looking for leads. Some paged through the biography at Barrett's bedside. Others sought the trove of files Barrett keeps in his basement, a motherlode of documentation spanning decades of reporting.
"I never throw any paper out," Barrett said.
Related: Dana Milbank swallows his pride and some newsprint
There are more files out at Barrett's summer home in Ocean City, New Jersey, a property financed by the advance from the Trump book. ("the house that Trump bought," as Fran calls it.)
Some of the files were digitized by Johnston who has shared them -- official documents, interview notes, published articles -- with other scribes.
Barrett said that most journalists came to go through the files, "not just to talk to this fount of wisdom here," but they would be hard pressed to find someone more knowledgeable about Trump -- or with a greater sense of righteousness on how the presumptive GOP nominee ought to be covered.
Barrett's new foreword in the Trump biography is packed with media criticism, specifically on what he described as the "cowardly silence" of the press when it comes to the role of race in the 2016 campaign.
"In a season of broadcast blunders, the worst was the race cover-up, with vacuous analysts, especially on primary nights, going on and on about anything but race explaining the Trump tide," Barrett wrote.
In a nearly two-hour conversation last week on his porch in his backyard, Barrett talked to CNNMoney about what he considers the biggest failures of the media in covering Trump. He wore one of Trump's signature "Make America Great Again" baseball caps.
Related: Invanka Trump on being the 'other' Trump
A quote machine with an irascibility that is famous in New York media circles, Barrett spoke with expert-level conviction on the media's performance in 2016. He was animated and profane in his critiques, and probably could have gone for another two hours if his lung capacity had permitted.
Barrett reserved his harshest criticism for televised news.
"All of my life, I have believed and said, we're in the truth-telling business. Our job is to tell truth," he said. "I can't say that anymore about broadcast journalism."
He doesn't think print media has done a great job covering Trump, but he said it's "done quite a reasonable job."
The problem, as Barrett see it, is that those stories often don't make it on TV.
"If it doesn't make it onto the screen, it didn't happen," Barrett said. "We're feeders, us print people. We're just feeders."
"I mean, every television newsroom in America has been relying on print as long as there has been a television news show," he added, his voice rising. "Walter Cronkite relied on print."
Barrett has fewer objections with the staggering amount of airtime Trump has gotten.
"It bothers me much less," he said. "This is a very profitable period for them. Go ahead, make as much money as you want to."
Barrett believes that Trump will ultimately be defeated in November, but he said that is at least partly contingent with the type of coverage he gets.
"I'm confident that we are still the same America we were in 2012, but that doesn't mean I don't worry," he said.
He added: "If the media continues to do the job as it has done it, and I am really talking about broadcast media, then he has a chance to win. If they report the campaign truthfully, I believe he has no chance to win."
But Barrett acknowledged that some in the news business can't pull off the stye of reporting that defined his career.
"I understand the limitations with TV guys," he said. "You can't do what I do, which is slam somebody. If the guy never talks to me again, what the sh*t do I care?"