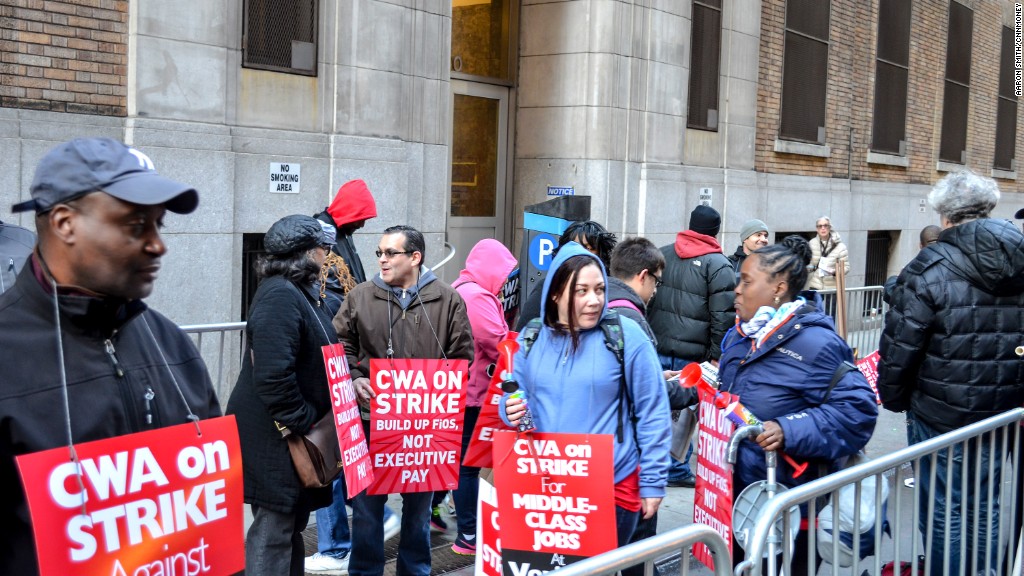 The Obama administration is trying to help negotiate an end to the Verizon strike, which has dragged for more than a month.
U.S. Labor Secretary Thomas Perez said the leaders of the unions that walked off the job on April 13 have agreed "to return to the bargaining table on Tuesday" with Verizon executives "to continue their discussion."
Perez made the statement on Sunday, after meeting with Verizon (VZ) CEO Lowell McAdam, Communications Workers of America president Chris Shelton, and International Brotherhood of Electrical Workers president Lonnie Stephenson.
The unions have been working without a contract since August, and 36,000 Verizon workers went on strike on April 13. Their long list of grievances includes the outsourcing of 5,000 jobs to Mexico, the Philippines and the Dominican Republic, and the capping of pensions at 30 years of service.
Related: Verizon workers: 'Why I'm on strike'
A big issue for many strikers is Verizon's policy of dispatching workers to distant job sites for long periods of time. Some strikers have told CNNMoney that they don't want Verizon to send them hundreds of miles away from home for months at a time.
But Verizon spokesman Raymond McConville downplayed the issue, and said that Verizon would drop the requirement if the workers could come to an agreement.
Toward the end of April, Verizon said 1,000 of the striking workers had gone back to work, though the union has disputed that number.
At that time, Verizon was making its "last, best and final offer," which offered a 7.5% wage increase and protection from layoffs.
Also at around the time, Verizon said it was investigating 57 instances of network sabotage, saying the activity had "accelerated" since the strike began, compared to a half dozen acts of sabotage in a normal year.
This is the biggest strike since 2011, when 45,000 Verizon workers walked off the job for about two weeks.