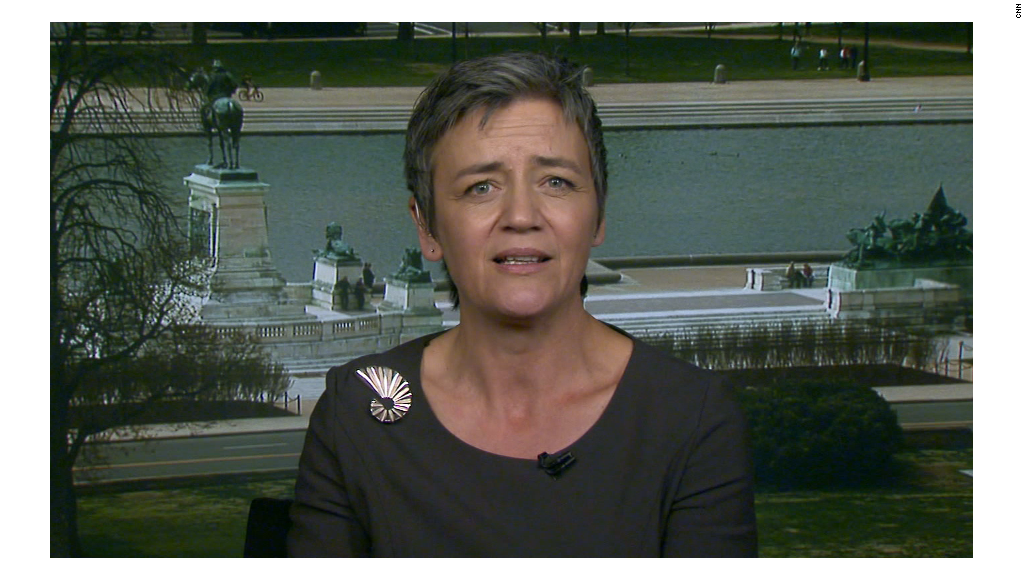 No one could blame Google for feeling like the enemy in Europe.
The company is facing yet another regulatory headache in Europe, after the head of EU's competition watchdog said she might open a third case against Google, this time focusing on its advertising contracts.
Google is already trying to fend off charges in two other EU anti-trust cases -- one over its search results and one over Android.
Margrethe Vestager, the head of competition policy at the European Commission, said her team is now reviewing Google's advertising services and hopes to reach a decision soon, according to Bloomberg.
The commission has first started investigating Google's AdWords business in 2010. The investigation was put on hold for some time, but Vestager revived it earlier this year.
Google did not respond to CNNMoney's request for comment. It has previously denied any wrongdoing.
The European Commission has been probing Google's business practices in fits and starts for six years, spanning two different commissioners who have made countless threats against the search company.
The European Union could fine it up to 10% of the company's annual global sales, translating into $7 billion fine for Alphabet, Google's owner.
Related: Google just got pounded by the strong dollar
Google has been fighting back. It rejected the charges, and stepped up its lobbying efforts in Brussels. Google shelled out about $4.5 million trying to influence EU policy making in 2014, its latest transparency filing showed. That was a threefold increase over its 2013 spending in Europe.
It appears that the lobbying didn't do the trick.
The commission first charged Google in April last year, saying the company systematically favors its own search results above competitors'. A report in the British newspaper The Sunday Telegraph said Europe will impose a record antitrust fine on Google in this case within the next few weeks.
Last month, the watchdog filed new antitrust charges, this time targeting Google's Android system. The EU officials argue that Google is abusing its market position by requiring smartphone makers to load 11 core Google apps onto the phone before a customer buys it.