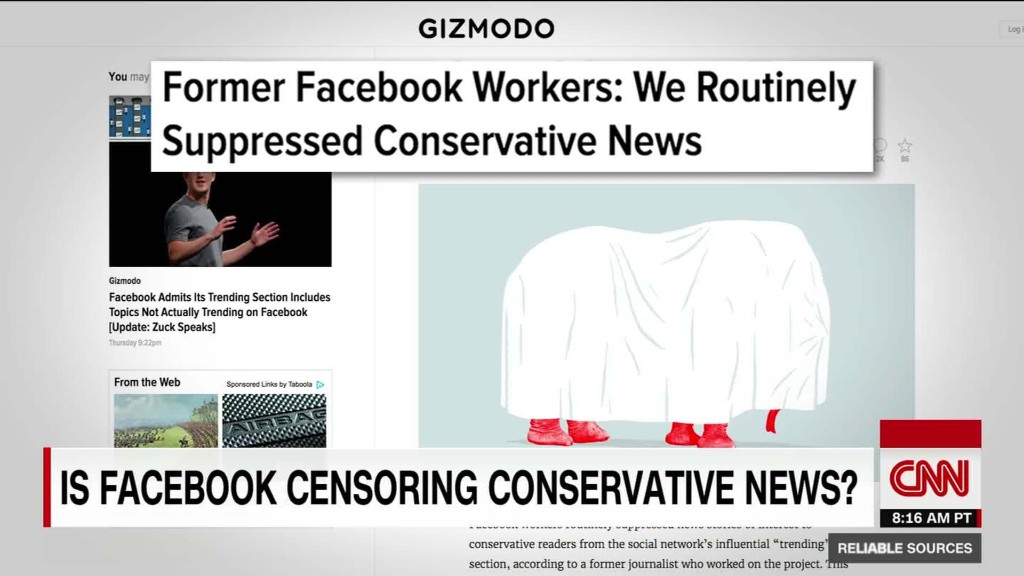 The guest list of A-list conservatives visiting Facebook on Wednesday has grown to nearly a dozen. But some have turned down Mark Zuckerberg's offer to meet, saying it would be a fruitless exercise.
"Facebook has a history of agitating against conservatives and conservative policies," Matt Schlapp, chairman of the American Conservative Union, said in a statement.
He listed several concerns, including claims that many Facebook employees donate to liberal politicians. "We know one meeting cannot possibly resolve all of the above mentioned issues," Schlapp said.
Commentator Erick Erickson, editor of The Resurgent, also declined an invite, but for other reasons. He said in a blog post that can't fly right now for health reasons, and besides, he believes Facebook has been fair to his site and toward conservatives in general.
A Facebook spokesman declined to comment on how many other people were invited.
One prominent conservative web publisher who wasn't, The Federalist co-founder Sean Davis, wrote that Facebook's gesture is cynical and calculated.
"Facebook cares about making a PR headache go away. Facebook cares about GOP senators halting their investigation into the company. And since Facebook has repeatedly failed on its own to make the whole thing go away, it's now going to enlist Republicans to make it go away for them," Davis wrote.
Related: Mark Zuckerberg to meet with conservative leaders
Davis urged invited guests to think twice about attending.
"Facebook wants you to help them get away with it. Just remember: you don't have to play along," he wrote.
The meeting was scheduled after Gizmodo published allegations that the company suppressed conservative news stories on its Trending topics section. Facebook (FB) has said it is investigating the allegations but has found no evidence to support the claims.
The company has not formally released a list of the attendees, but it shared some of the names, and others have confirmed their participation directly, including:
-- Barry Bennett, a senior political adviser to Donald Trump's presidential campaign
-- Glenn Beck, radio and television talk show host
-- Dana Perino, former White House press secretary and Fox News host
-- Jim DeMint, former senator and the president of the Heritage Foundation
-- Kristen Soltis Anderson, Republican pollster at Echelon Insights, a political research company, and Washington Examiner columnist
-- Alex Skatell, CEO, Independent Journal Review
-- Arthur Brooks, the American Enterprise Institute
-- SE Cupp, CNN conservative commentator
-- Jonathan Garthwaite, vice president and general manager of Townhall Media, which oversees conservative news sites including RedState.com
-- Zac Moffatt, former digital director for Mitt Romney
-- Jenny Beth Martin, Tea Party Patriots CEO
"Facebook is a critical communications tool and we must make sure that conservative voices are not blocked from fully participating in the exchange of ideas," the Tea Party Patriots wrote in a Facebook post on Tuesday.