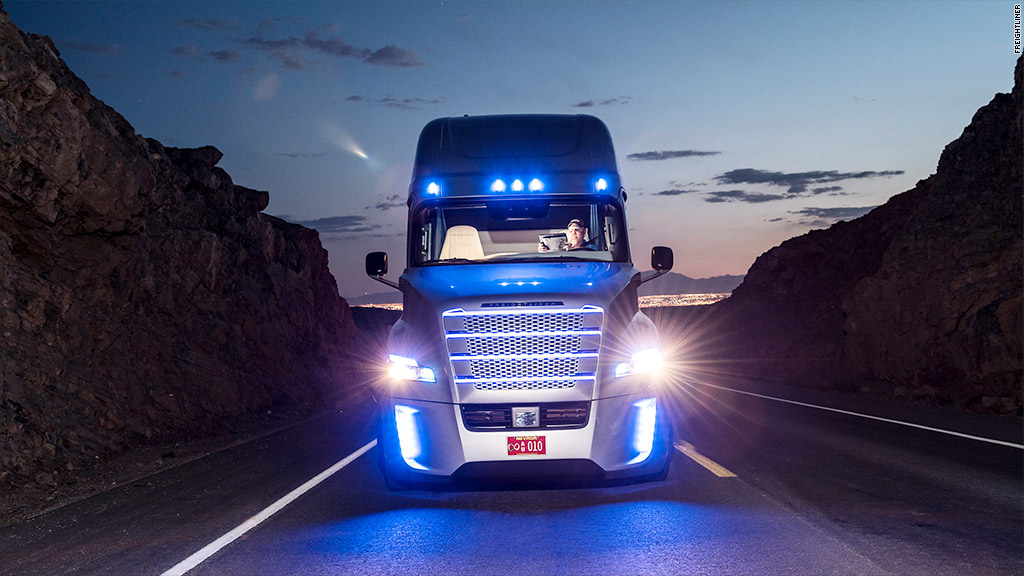 It's a heart-stopping mental image. A 50-ton commercial truck is hurtling down a highway at 65 mph, passing you in the left lane. You turn your head in your little Honda Civic, look behind the wheel and see ... nobody.
Trucks might be the last cars you'd want driving themselves, but the long-haul trucking industry is ripe for a shake up. Otto, a new startup created by self-driving and car industry veterans from Google, Tesla and Apple, has a plan to let truck drivers take the back seat.
In just four months, Otto's engineers have designed a kit that turns a regular semi-truck into a self-driving vehicle. This past weekend, an Otto-customized truck completed a driverless route for the first time.
Google has been working on self-driving cars since 2009. Since it was founded in January, Otto has already turned three Volvo VNL 780 trucks into vehicles capable of driving down the highway on their own.
Related: Self-driving semi hits the road
Part of the speed comes from Otto's approach. It's not building cars from scratch, but rather the company's technology modifies existing trucks. They use a combination of sensors and cameras mounted on top of the cab, hardware that can steer the truck and custom software.
Human drivers have limitations. They're only able to drive 9 to 11 hours a day and are prone to exhaustion. An automated truck could go all day and night, cutting delivery times in half. In theory, they would also cut down on the number of accidents by eliminating human error, and save money on fuel by driving more efficiently.
Going after the trucking market makes sense. What would make regular cars incredibly costly can help trucking businesses save money. Otto doesn't have a price for its final hardware, but it would be a fraction the cost of a new truck, which can go for $100,000 to $300,000. A small trucking company would be able to double its output without buying twice as many vehicles.
The self-funded startup has 40 employees, 15 of them former Googlers. It was founded by a former lead engineer of Google's self-driving initiative -- Anthony Levandowski -- and former Google Maps product lead Lior Ron. Other co-founders include and Don Burnette from the Google self-driving car team, and roboticist Claire Delaunay.
The team just moved from a cramped living room in Silicon Valley to an office in San Francisco and is testing its trucks in multiple states, including California, Nevada and Arizona.
Related: Truck drivers wanted. Pay: $73,000
Otto isn't the first self-driving vehicle company to tackle trucks. Last month, a fleet trucks successfully completed the European Truck Platooning Challenge. The trucks drove in rows and coordinated speed and distance over wifi to get the best fuel efficiency.
Additionally, Freightliner is testing automated trucks in Nevada.
If the technology takes off, the existing 1.7 million truck drivers in the US will not be out jobs -- at least not right away. Ron imagines selling the technology directly to truck owners who will use it at first to help drivers with some automation, taking over increasingly long stretches of time. Eventually the driver could just keep an eye on things.
"They'd be elevated from a skipper to a navigator, navigator to a supervisor, taking it on and off the highway, fueling and supervising," said Ron.