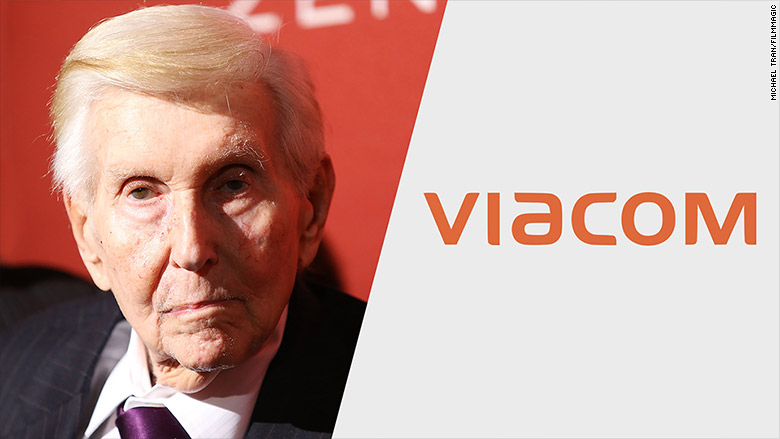 Viacom's board has voted to stop paying Sumner Redstone, the company's 92-year-old founder and Chairman Emeritus, CNNMoney has confirmed.
The news, first reported by Dow Jones, comes weeks after the ailing media mogul was embroiled in a legal battle over his mental competency. While that trial was dismissed by a judge, the nearly incoherent Redstone was forced to give an on-camera deposition that demonstrated the severe limits to his mental cognition.
In December, Viacom slashed Redstone's compensation. Viacom (VIA) said at the time that Redstone would received his $2 million salary in 2015, but was no longer eligible to receive a bonus or stock in the company. His total compensation in 2014 was $13 million.
Redstone is also chairman emeritus of CBS (CBS). The network declined to comment.
The competency hearing earlier this month was the result of a challenge by Redstone's former girlfriend Manuela Herzer who claimed Redstone was unable to decide for himself when he evicted her from his Los Angeles mansion and revoked her authority to make healthcare decision on his behalf.
Herzer's initial lawsuit described Redstone, who turns 93 later this month, as often incoherent and physically frail. More recent court documents stated he is "unable to walk, talk intelligibly, dial a phone, type on a computer.... Sumner is totally dependent on his nursing staff. His home is a virtual intensive care unit with 24/7 nursing care and on-call physicians."
Dr. Stephen Read, a psychiatrist who examined Redstone for Herzer's legal team, testified that Redstone as "a very thin shadow" of his former self: suffering from dementia and delusions, completely unable to function on his own, and often angry or tearful at his physical and mental limitations.
At one point, Read said that Redstone enjoyed betting on sports, but did not know who the teams were. So family members ensured Redstone would win every bet by showing him prerecorded games, the doctor said.