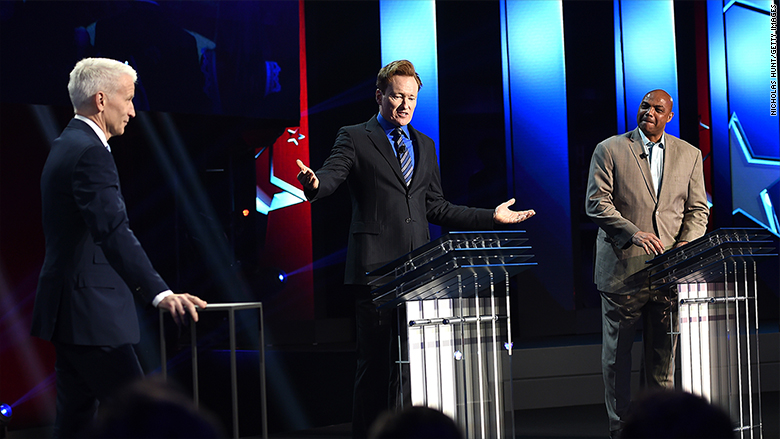 Television's upfronts week can be a network's chance to share data and upcoming projects. It's also a great time for comedians to poke fun at their bosses.
Here's some of the best digs and shots from this year's upfronts:
Conan versus Sir Charles at Turner
Turner's annual presentation to advertisers Wednesday opened with a CNN-style town hall about the state of TV between TBS late night host Conan O'Brien and TNT's "Inside the NBA" analyst Charles Barkley. CNN's Anderson Cooper "moderated" the debate.
"I love standing next to Anderson because it's the only time in my life where I get to feel ethnic," O'Brien said. "I thought I was pale. Anderson, you look like a fashion conscious White Walker."
Barkley was asked when he knew he had the potential to be a TV host.
"Well, they gave him a TV show," Barkley said gesturing towards O'Brien.
Cooper to Barkley: "Turner has really put its stake in the ground to reimagine television. What does that mean to you?"
Barkley: "I have no earthly idea."
Related: DVRs have taken strategy -- and fun -- out of TV's upfront presentations
Jimmy Kimmel at ABC
- "One alarming trend is that Millennials are leaving our network in droves, which I guess is a problem. But are we really going to let these vaping, Snapchatting, music-stealing little f*****rs determine how we do business? We are?! Oh, we are."
- He commented on other network's turning remakes and movie adaptations into shows for the upcoming fall schedule. "All your favorite VHS tapes are becoming shows."
- "Here at ABC, 18 to 49 isn't just our target demo. It's the number of people who watched 'Wicked City' last season."
Jimmy Fallon and Seth Meyers at NBC
Jimmy Fallon:
- "At least we can say we're the network that fired Donald Trump."
Seth Meyers:
- "Watching sizzle reels at the upfronts is like meeting your brother's new girlfriend at Thanksgiving. She seems great, but you don't want to get too attached because chances are she won't be around next fall."